Twitch has been in the headlines for 'hate raids' against LGBTQIA+ and black creators. But Laura Blake is hopeful that, with new moderation tools, more creators can build their queer utopia, and find their community as she has.
Being LGBTQIA+ online, doom scrolling and navigating trolls are exhausting. Trying to find a safe space online can be ridiculously difficult. But that's exactly what I've done on Twitch.
It can feel like being alive in 2022 is just that, being alive - not thriving. As a trans woman in the UK, I can't leave the house without abuse.
From couples nudging each other to have a look to full out verbal and physical abuse, being in public is scary at the best of times.
There are consistently days on end where I won't leave the house on purpose. I don't want to have to fake a smile. To pretend as if I don't notice the person getting her friend to come to have a look at me.
It's why the advice of many queer elders is simple: find your community.
During the pandemic, I turned to Twitch for simple entertainment, but I got something much better. I found my community.
Live video is so different to text posts that you read and reply to. An engaging host sets topics, fields questions and comments and introduces people to each other, keeping the conversation alive. It's possible to make Twitch chat a cosy safe space. That's why I started streaming.
Even with the tiny audience I had when I started out, it was magical. Coming from a radio background I love entertaining people and producing really good content - but layering that with building and creating a community was too alluring to turn down.
I can also control how others see me - what angle the camera is, what lighting I have, how much bass is in my voice - which helps with gender dysmorphia.
I don't get misgendered by my community because they respect and like me (otherwise they'd be watching someone else).
And I'm not alone. There are many amazing queer streamers who create great communities - my favourites include @mollymaecosplay, @missjsquared, @minhcredible and @angelinterceptor.
Support queer creatives and get a different underrepresented writer like Laura in your inbox each week with our newsletter
Is Twitch perfect? No. The Amazon-owned platform still has a lot of work to do to deal with hate on the platform.
So-called 'hate raids' even inspired some LGBTQIA+ and black creators to switch off for a day last year in protest. In response, Twitch released new moderation tools to reduce these coordinated attacks.
We face hate everywhere we go. But we can create community everywhere too.
For me, Twitch is one of the best places to build or join a queer utopian community.
As a viewer, you get to pick someone you gravitate toward and enter their queer space.
As a streamer you get to create that space for yourself and others - it's the one place I truly feel happy and comfortable being me.
The past two years have been rough for everyone - for me, Twitch has been my queer utopia.
Laura Blake is hosting Twitch's Pride Guide, Mondays at 7 pm throughout Pride month (June 2022) and is live every weekday morning at 9:30 am.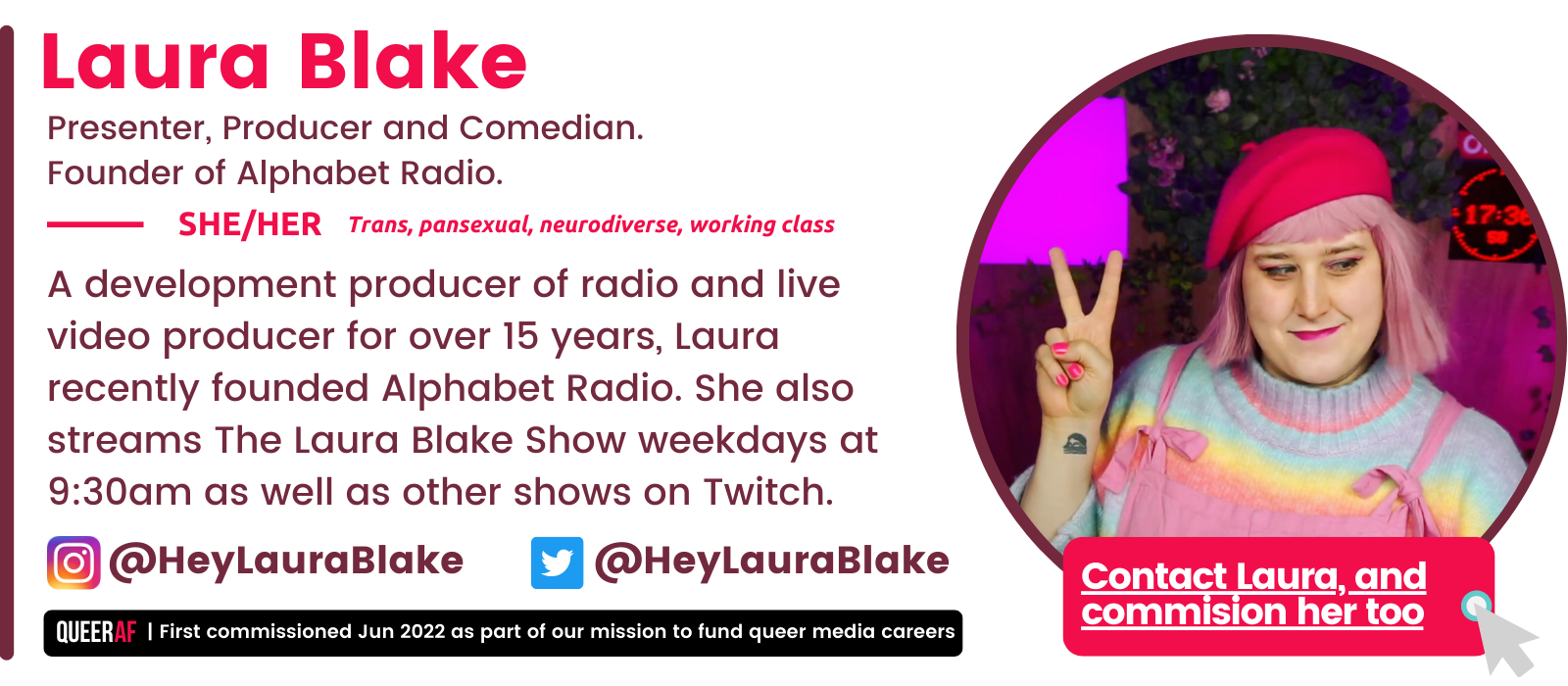 ---
Support Queer Creatives
This article was just one part of our free weekly newsletter that helps you understand the queer headlines and stay on top of the latest LGBTQIA+ content - all while we support queer creatives.
It's written by Jamie Wareham, and a different queer creative each week. Hundreds of people trust us to give them everything they need to navigate the ever-changing queer world, every Saturday morning. 🏳️‍🌈
We are an independent platform launching the careers of emerging and LGBTQIA+ creatives driven by people, not advertisers.
The Queer Gaze is our landmark scheme commissioning, mentoring and running skill sessions with queer writers.
We rely on members like David Bailey who directly funded this piece and told us to use their membership to work with pansexual writers. Become a QueerAF member to directly commission queer creatives - and see your name here too.
We are QueerAF, and so are you.
---
Subscribe
Sign up to our weekly round-up of the LGBTQIA+ world and support queer creatives kick start their career. Get started for free:
---
---