TL;DR: The EHRC has set out how the government could create a legal route for people to discriminate and exclude transgender people. It's been widely condemned by LGBTQIA+ groups, but welcomed by the government and Labour Party. Though it's only advice, the government is now expected to pursue a change in the law.
This week, a letter from the Equality and Human Rights Commission to the government set out how the Equality Act could be changed to create a legal route to ban transgender people from single-sex spaces, sports and organisations.
LGBTQIA+ organisations have condemned the action as creating the conditions for "transgender apartheid". Stonewall said the guidance "offers no substantive evidence of demand for this work."
This guidance could lead to laws that allow people, organisations and businesses to exclude transgender people from services.
Despite a post on Transgender Day Of Visibility setting out plans to "modernise the Gender Recognition Act", the Labour Party didn't critique the move but instead said that "clarification is a good thing" - The Times
What is the EHRC, and what did it say?
The Equality and Human Rights Commission is an independent watchdog.
Its role is to "promote and uphold equality and human rights ideals and laws across England, Scotland and Wales". It was established by the government in the Equalities Act in 2006.
The organisation wrote the letter in response to the equality secretary Kemi Badenoch. She asked the organisation to advise her on what redefining sex in the Equality Act to "biological sex", or sex assigned at birth, would mean - The Guardian
In response, the EHRC set out at length the "greater legal clarity" it would bring to eight areas.
It set out how the change in the law could allow organisations to exclude transgender women from sports, single-sex spaces, and women-only shortlists.
It also set out how the change would create "Freedom of association for lesbians and gay men." It said that if sex was defined as defined at birth, a lesbian group "could restrict membership to biological women" - EHRC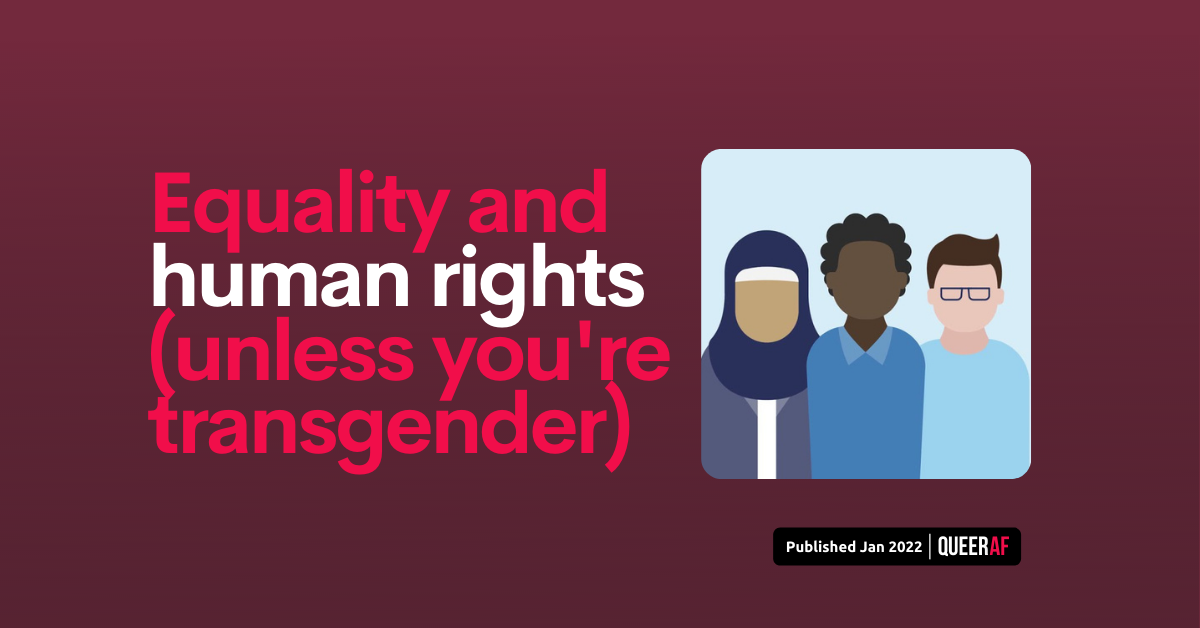 Why has an equality watchdog recommended removing equality protections?
During Boris Johnson's tenure as Prime Minister, his government-appointed Tory party grandees into the roles of once-independent bodies all across the UK.
The Charity Commission, the BBC, Ofcom - all set up to be independent of government - are now run or chaired by Conservative party members.
This is true of the EHRC too. Baroness Kishwer Falkner, the current Chairwoman of the Equality and Human Rights Commission, was appointed by Liz Truss when she was equalities minister. Falkner has a history of meeting with anti-trans lobby groups - Vice
Since she took over the EHRC has made several high-profile interventions in the civil debate over trans rights, consistently siding with those seeking to reduce the rights transgender people have - QueerAF
It's why LGBTQIA+ and human rights groups - including UK Black Pride, Stonewall and Liberty - called for its international status as a national human rights institution to be reviewed. Although the UN did not downgrade its status, charities like Mermaids, Gendered Intelligence and the LGBT Foundation have severed all ties with the body.
Analysis: Defining sex as 'biological' will allow discrimination against transgender people to become legal
A human rights body should be ensuring that protections for all people, across characteristics, are equal and clear in order for us all to live in a fair and equitable society. A change in the Equality Act to define sex as 'biological sex' would not achieve these aims.
- Statement by anti-LGBT abuse charity Galop
For now, this letter does not change any laws. However, given the increasing anti-trans rhetoric from the government over the last five years, it's now expected the government will seek to press ahead with the EHRC's recommendations - OpenDemocracy
However, this could result in a breach of both domestic and international human rights laws. Of course, the current government has shown it's prepared to break international law, as it did with the Brexit treaty.
It also relies on a definition of "biological sex" which, in a meeting with trans rights activist Helen Belcher, the organisation couldn't even define - Jane Fae/Medium
Meanwhile, a Gov.UK e-petition is gathering thousands of signatures to protest the guidance.
In the meantime, Badenoch's request and the advice from the EHRC make the government's priorities clear: using culture war as the key player in their upcoming general election campaign.
While they pursue this rhetoric, designed to distract from scandals and mishaps, transgender people - one of the most vulnerable communities in the UK - are living in increasing fear for their lives and livelihoods.
In these dangerous times, the LGBTQIA+ community must continue to stand together. An attack on one of us is an attack on all of us.
---

‌This week has been scary. Not just for transgender people but everyone in the LGBTQIA+ community.
If the Government moves forward with this guidance, it will roll back the rights of transgender people.
It could make discrimination against transgender people legal. It's a frightening prospect.
The Government is spurred on by a media that is cashing in on hate clicks, transphobia and clickbait.
While we're hit daily with culture wars, they're making money.
It's time for a different kind of media. For a better way to be seen, heard and celebrated.
As well as putting out our huge weekly newsletter, we're working tirelessly to change the media so that we can change the country.
If you think what we do is valuable, please consider a membership.
We're stronger together, and you'll join a community of QueerAF members who believe in supporting marginalised queer creatives. Please, sign up today.