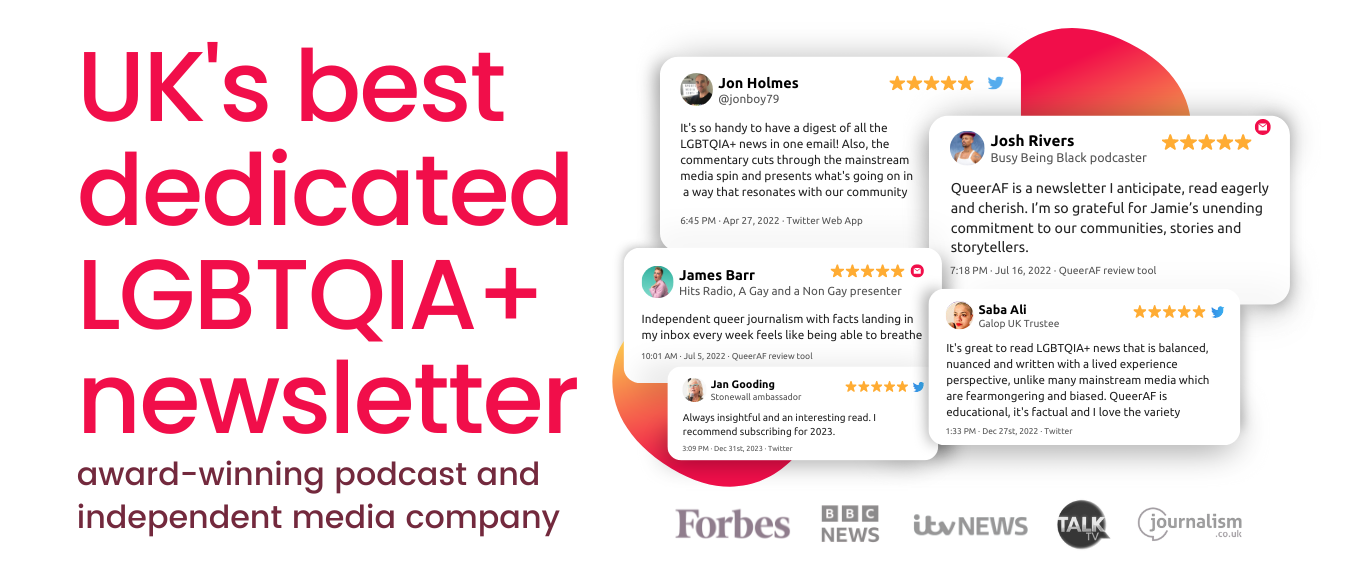 Don't take our word for it.
QueerAF's top-rated free weekly newsletter is publishing, mentoring, and building the resilience of queer creatives. It's loved by senior media professionals, queer business owners, LGBTQIA+ community leaders and all kinds of queer folk.
It has an average rating is 4.8/5 ⭐ In fact, a bunch of people value QueerAF so much; they help make our more than a newsletter and mission to support queer creatives possible.

---
Get a gift, or give a gift?
We help you understand the LGBTQIA+ world. Each week we give you the gift of our vast knowledge of LGBTQIA+ news, content and perspectives. It takes us a week to put it together, but you can read it in five minutes.
But our members help us to change the media. They give us the gift of being able to support queer creatives. We're driven by people, not advertisers, so members are critical to our sustainability.
That's why we give back, when you help spread the word and help us grow.
You can claim a free QueerAF membership to get early access to content, the chance to directly commission an article, and we'll list your name next to the content you fund – just by reviewing us.
Claim one month free for a review, or three months free if you post your review to social media. Existing subscribers can claim credit towards their next renewal.
The details
New subscribers:

- Can claim one month free of '100% QueerAF' for a review.
- Or can claim three months of '100% QueerAF' membership for a review posted to social media .
- These discounts are only available to new subscribers

Existing subscribers:

- Can claim £5 credit for a review.
- Or £10 credit f0r a review posted to social media towards their next renewal.
- This offer is only available to be claimed once per member.

What social media?

- The review can be posted on any social media account
- The account must be public, not private
- The post must not disappear, be deleted or be posted by or on a time-limited platform or method. eg Instagram stories are not eligible
How to claim

- After you've posted your review, you must email your claim and any evidence or links required: to soareyou@wearequeeraf.com

The legal

- QueerAF reserves the right to withdraw or change this offer at any time

We keep our feedback from each edition anonymous to keep it honest. It also helps us protect our reader's privacy. Here's a sample...