We explain the LGBTQIA+ world and support queer creatives (to change the media)
We're an award-winning independent platform launching the careers of emerging and underrepresented LGBTQIA+ creatives driven by people, not advertisers.
We publish, mentor, and build the resilience of queer creatives. We give creatives their first commissions, help them build a media career and work with them to change the industry.
The UK media industry only thrives when it's bursting with queer talent. Only a media industry that represents hires, and understands us – can help shift the narrative on being queer in the UK.
We are QueerAF – and so are you.
We believe there's a better way for our LGBTQIA+ community to be seen, heard and celebrated in the media. Let's rewrite the narrative and change media for good.

Our partners
It's time to change the way the media tells our story
We live in a saturated world of doom scrolling and constant media. Online, digital, mobile, it bombards us wherever we are. But it doesn't reflect us.
Our stories and our lives are forgotten, or worse - misrepresented, by an industry that is fundamentally broken.
For too long, the media has been driven by short term, revenue-led incentives. The beautiful spectrum of the queer community has been sidelined in the pursuit of clicks.
The diversity of those who write our stories has barely changed.
And now these advertising-based media models are struggling. It's seeing journalists chase divisive content options to deliver for adverts. It's making the situation worse.
QueerAF is going to revolutionise the way in which LGBTQIA+ voices are heard and flourish. Our community-led platform's editorial decisions are in the hands of readers, not advertisers.

How to fix the media
With a new way of creating and consuming fairer, more inclusive media, we can re-write the way in which LGBTQIA+ journalists are funded. We can change how LGBTQIA+ stories are heard.
Together, we can build a more considered approach to our media. One where we value the full spectrum of voices in our community.
That's why we're funded by people, not advertisers. So we can make content that counts - for the community, not clicks.
Our members set the agenda and tell us what to create. We've created an 'open newsroom' culture designed to tell the best version of the story, not simply the fastest.
While our free weekly newsletter, which skips algorithms that filter queer content, explains the queer world, with valuable analysis.
QueerAF is a platform where creators, journalists and producers can get paid and commissioned directly by the QueerAF community. This, while we mentor them to build a career, work in the industry - and then, change it.
We believe there's a better way to be seen, heard and celebrated. Join us to change the media for good.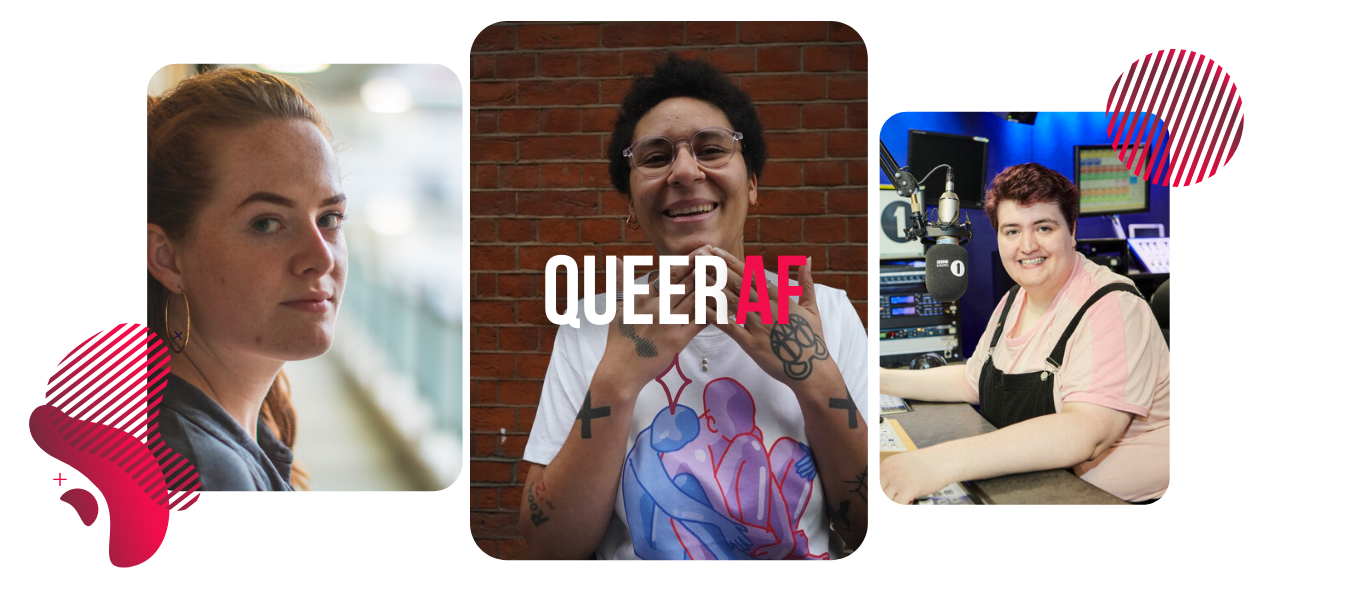 Then vs now
We first launched the QueerAF podcast with National Student Pride funding after our founder was told by a newsroom editor to 'stop pitching gay stories' because – 'there is no money or audience in them.'
Four seasons later, our podcast has an international audience, British Podcast Award wins, ARIAS nominations and industry recognition that our project is vital. 17 budding queer audio producers created an episode of our podcast with mentoring that guides them from pitch to payment.  Using their QueerAF portfolio they went on to work for the likes of the BBC, PinkNews and Gaydio.
Now, to continue this work at scale, we've locked our profits and assets into helping the LGBTQIA+ community as a community interest company.

Our newly launched newsletter supports queer creatives - hundreds of people read our summary of the queer news, bursting with LGBTQIA+ content, every Saturday morning.
10% of readers love it so much – they pay for it (even though it's free). They get analysis and explanations of the LGBTQIA+ world, queer content and stories written by emerging and underrepresented voices.
It takes us a whole week to put together, but you can catch up on the queer world (with your iced coffee) in just 5 minutes.
Our newsletter has an average rating 4.8/5 ⭐ - it's loved by senior media professionals, queer business owners, LGBTQIA+ community leaders and all kinds of queer folk. Our award-winning podcast and newsletter have been featured in:

---
Our Values
Queer creators should be paid for their work.
LGBTQIA+ information should not be a luxury.
Putting the well-being of LGBTQIA+ people above all else is the best way to make an impact with queer media.
Our community and members are our most valuable editors, not gatekeepers.
Every queer story (must) count.
The media has an incredible power to shift the narratives - but is currently failing us. Our values model the change we want to see and ground our work.
But it's members who drive this mission forward. By chipping in monthly or annually they get exclusive early access to content, a greater say on what we commission - and fund our vital work.
Our members include the likes of the MD of Forbes in Europe, the founder of National Student Pride and the Head of Strategic Partnerships at the UK's biggest radio group Bauer.