We're looking for ten writers, to help us launch an audacious queer project
QueerAF is setting out to support, mentor and build the resilience of queer creatives to get their first commissions and kickstart their media career.
And we're going to do that, by creating a platform where we can commission them that skips divisive algorithms that filter our lives with an email newsletter, where the audience is our most valuable editors.
But that's just the start, later we'll be a platform funding all kinds of queer creatives and LGBTQIA+ content.
It's a direct response to:
The rise of LGBTQ hate crimes in the UK,
A building undercurrent of transphobia in our society led by the press,
Attacks in the media on even our community's largest and most respected charity Stonewall - that saw our media regulator Ofcom, and the BBC next, devastatingly withdraw their support.
We've set up QueerAF as a community interest company, and locked our assets and profits into benefitting the LGBTQIA+ community.
Why you?
Our mission is going to be to support, pay and commission underrepresented (marginalised genders, sexual/romantic orientations and races, low-income backgrounds, disabilities, migrants) LGBTQIA+ people to help them kick start a media career.
But to do that, we need a platform for them to write on. That's where you come in.
Our first ten writers, will lead the charge with a paid commission and write for our newsletter.
We're asking you, because we've seen you blaze through the media, and open doors for the stories we need more of.
We hope, that we can work with you, and your prowess, to launch our newsletter with a clear statement to the industry: We are the change, and it's time to embrace it.
What are we asking you to do?
We're hoping to launch in January 2022. We're asking for a couple of hours of your time to:
Write 300 words, in our 'Queer Gaze' feature: (more about this below)
Try out the process our emerging creatives will go through and offer suggestions so we can make sure it is amazing for them
Introduce us, suggest voices or inspire our work with our first emerging creatives
We'll pay you for this commission, or you can pay it forward to an emerging creative or a charity of your choice.
You'll be joining the likes of Yasmin Benoit (Model and award-winning aromantic-asexual activist), Ugla Stefanía (Non-Binary My Genderation co-founder) and Paisley Gilmour (Bisexual journalist).
---

What is the Queer Gaze?
The Queer Gaze gives our readers eye-opening insight into the experiences and viewpoints in our community they may not have encountered before  
It leaves you feeling intrigued, introduced to new perspectives and inspired to read more about underrepresented LGBTQIA+ lives.
The format was developed and designed by our first commissioned emerging queer creative since we launched as a CIC, Matilda Davies.
I created The Queer Gaze feature to give a platform to people who don't ordinarily have access to a platform. It's going to put money in the hands of queer creators that don't always get funded by mainstream media organisations. I am excited for it to play a part in helping queer creatives take their first step with their career.

– Matilda Davies, QueerAF Alumni, Journalist
Ultimately, it's going to be a place for underrepresented creatives to get published, receive mentorship and ultimately, kickstart their career.
See this feature in our newsletter
The rate for our work, based on Journo Resources collated similar industry rates in this space is going to be 17p per word, which means 300 words in the Queer Gaze is a rate of £50. How does this compare? It's higher than most queer media, but as we grow our membership base and have a steady income to fund this work, we will increase this to be closer to the big players.
Wait, how are you going to fund all of this?
Great question. We're tired of an industry that asks people to do things for free. it devalues the work of creatives everywhere. That's why one of our founding values is queer creators should be paid for their work.
Our email-based model, which skips algorithms that filter out LGBTQIA+ stories, is a paid membership model where those who can afford to pay - do, while the rest enjoy for free.
We hope this will empower the LGBTQIA+ community to be the most valuable editor of our content. All while being free from the distraction of chasing advertising. That's going to let us fulfil and focus on our mission – to fund a new generation of LGBTQIA+ creatives, who go on to change our world.
We've already built a cohort of founding members – mostly media professionals and LGBTQIA+ community leaders – who are already funding this work with paid memberships. They include the likes of:
Alex Wood, Forbes in Europe Managing Director
Kyle Taylor, Digital rights activist, Fair Vote UK (Background fundraising for Hillary Clinton)
Chris McKenna, Brand Advance CEO (Media agency that runs mentoring schemes)
James Barr, Hits Radio & Gay And A Non Gay podcast
Robin Gray, Co-Founder Gray Jones Media (Media group focused on niche LGBTQIA+ communities)
Sarah Baker, Bauer Media (Radio group including Magic, Kiss and Absolute)
Karen Bevan, AudioBoom producer (Podcast platform and agency)
We've also been given some grants to cover a bunch of this work upfront, and advertising revenue from our podcast (that's done this work with 17 creatives already) as a base to get going.
Now, all we need is to create a platform - so we can give the new generation of queer creatives a solid foundation.
We'd love for you to join us, to help us launch the careers of even more queer media professionals. Will you be one of our first writers?
---
Get to know us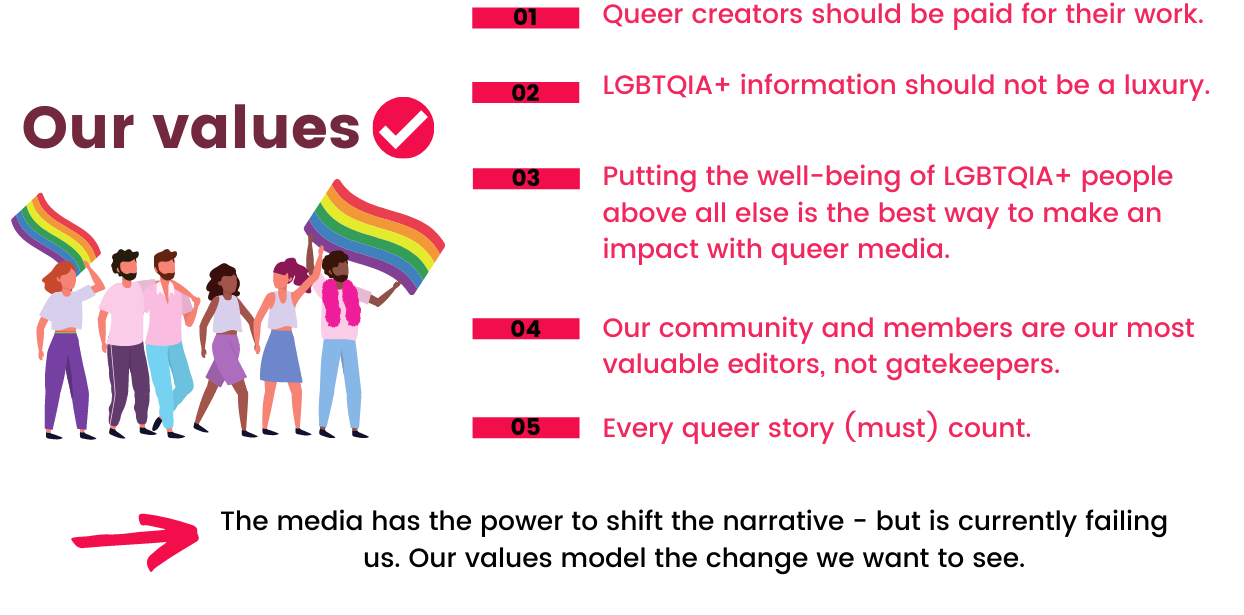 See our mission
Read more about the Queer Gaze
Take a look at our newsletter
---
Subscribe
Sign up to our weekly round-up of the LGBTQIA+ world and support queer creatives kick start their career. Get started for free:
---
---