TLDR: The Labour Party has dramatically rolled back its promises to reform the Gender Recognition Act, in a move broadly welcomed by anti-trans campaigners - though it doesn't go as far as they'd hoped. It's part of a wider trend of Keir Starmer trying to come off the fence, while characteristically not quite managing to land firmly on either side of it.
The shadow Women and Equalities secretary Anneliese Dodds wrote a Guardian op-ed to share Labour's plans to reform the Gender Recognition Act (GRA). In doing so, she confirmed that the party has dropped its commitment to bring in self-ID.
In the article, she criticised the SNP's now-blocked landmark gender law reforms while calling out Conservative party chair Lee Anderson's controversial comments that the party should fight the next general election on "culture wars and trans debate" - PinkNews
It's left trans activists infuriated with the party. 'Gender critical' Labour MP Rosie Duffield cautiously welcomed the new stance, saying it was self-ID that was the red line for many in the movement. What remains to be seen is how much further anti-trans activists will want to see the party go now.
Meanwhile, political commentators have said it's part of a wider "flip-flop" approach from Keir Starmer's Labour that will leave voters wondering just what the party stands for.
What has changed?
Dodds' key change was dropping the Labour commitment to self-ID, retaining the medical diagnosis part of the Gender Recognition Act.
This is a big deal for trans activists, who argue this medical diagnosis is unnecessary. Many countries have dropped the requirement after the World Health Organisation removed being transgender from its International Classification of Diseases list in 2019.
However, Dodds set out how Labour would simplify the process. Currently, after a trans person has built up two years of evidence, an anonymous panel of people need to confirm the legal change. Under Labour's plan, just one doctor can do this.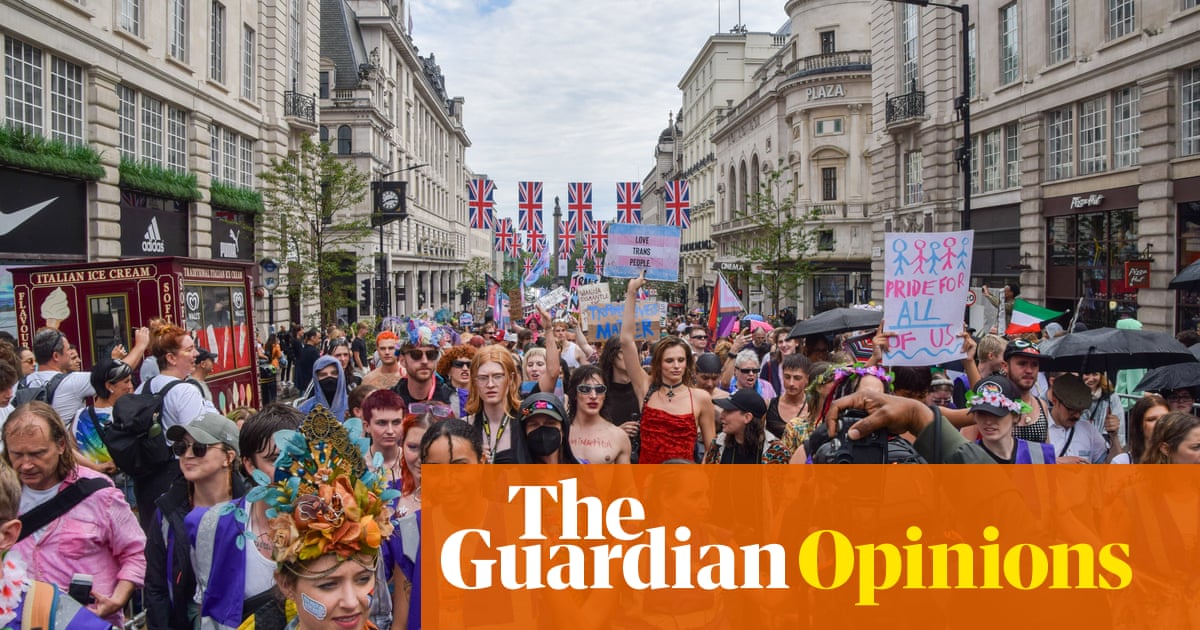 What's the rationale?
Dodds' article argued this new policy was a reflection on two key moments.
First, it repeated anti-trans dog whistles in criticising the SNP's landmark self-ID law, one of the most consulted-on pieces of legislation the UK has ever seen.
Its other key theme was that the Conservatives can't be trusted on trans rights, because they're only interested in using it as a political football to win votes and distract the public. However much you agree with this sentiment, Dodds' use of it was to justify what Labour are framing as a more "reasonable" approach - an approach that doubles down on the need to 'protect single-sex spaces'.
These protections are already enshrined in the Equality Act, and no-one disputes them. Our analysis is this is a capitulation to 'gender critical' arguments.
Analysis: An attempt to draw a line, that pleases no-one
Dodds acknowledges the trouble the new policy will face.
It may be an attempt to draw a line under the matter, but it leaves both sides of the polarised issue wanting. In her words, it will be "attacked from all sides, in good faith and bad."
This will see Labour lose votes from progressives. In the same week that Labour joined the Conservatives in distancing itself from progressing trans rights, the Green Party has been capitalising on and attempting to reclaim its commitments to trans rights after division from an anti-trans minority in its ranks.
Labour's policy flies against the building global trend showing that none of the dog-whistles, falsities or horrific claims from anti-trans campaigners about self-ID are borne out in countries where it is made a reality.
In an interview on BBC 5 Live this week, Starmer couldn't even explain why some women could be in danger from trans people.
That's the trouble with all of this rhetoric. When you scratch beneath the headlines and into the real context - it's clear where anti-trans rhetoric is at a place of hate and prejudice.
Yet, in an effort to please the papers, and calmly saunter to a general election majority, Labour have opted for the easy route. One that does a great injustice to the LGBTQIA+ community.
---

This story sits in a much bigger picture:

The UK press is owned by a few individuals who, for the last few decades, have had a massive sway on how the UK votes.
Both Conservative and Labour leaders have long courted Rupert Murdoch for his papers and broadcast influence.
The approach of the two main parties in the upcoming election will reflect where the media is at: An anti-trans crusade that's cashing in on hate and division and whipping up culture wars.
This isn't the media we deserve.
That's why, week in and week out, we model the change we want to see and show that a different approach to journalism is possible.
We're a non-profit publisher so we can reinvest our funds into changing the media. We do that by supporting a new generation of LGBTQIA+ creatives to build and grow their career, every week.
But if a few more people become paying members of this newsletter, we could scale our work responding to the urgent need to end transphobia in the media.
We could spend even more time doing vital lobbying and advocacy work to build a movement for change - and make it happen.
We've already built strong ties with some media organisations. We need your support to create even more.
If you can, join our community of members who know how valuable and vital this work is.