We are so starved of queer representation. When our stories are told, our expectations of the validation we could receive are hard to meet.
As a storyteller, I feel pressure to represent my community. My short film, Temple, is about a queer brown friendship in turmoil. It is personally and emotionally cathartic to tell.
People keep telling me how they are excited to see it because it forefronts queer brown characters. Yet, I cannot help but wonder: will they be disappointed when they watch it?
After all, it is based on my lived experience and the representation I need to see on screen. I can only tell my story, not theirs.
The current hype about Heartstopper - a cute cis gay white male high school romance - comes to mind.
The story didn't resonate with me in the way it did with others. It was so far removed from my queer experience that to call it representation feels like a stretch.
I was disappointed. I wanted to see a story that felt more familiar. After all, white cis straight people can find those in abundance.
Still, I think Temple is going to disappoint queer audiences as much as it may excite them. But, I want to embrace that.
Because yes, I can celebrate Ncuti Gatwa's recent casting as Doctor Who - while simultaneously wondering when a queer South Asian will lead a British primetime show.
I know there will be queer brown individuals who will have imagined Temple as the film they want to see. I will likely not deliver that.
And if I don't, I hope it inspires them to tell their own stories instead.
Hopefully, the pressure to represent will continue to get easier, because a plethora of diverse queer stories will be released where people can draw validation of their experiences from.
Until then, let's talk about the disappointment. In our hunger to see more stories, we'll finally acknowledge what lived experiences are missing from our screens.
That's how we'll get the validation we deserve.
This is an edition of the Queer Gaze, part of our free weekly newsletter that understands and explains the queer news of the week. Support underrepresented queer creatives by signing up and sharing this piece.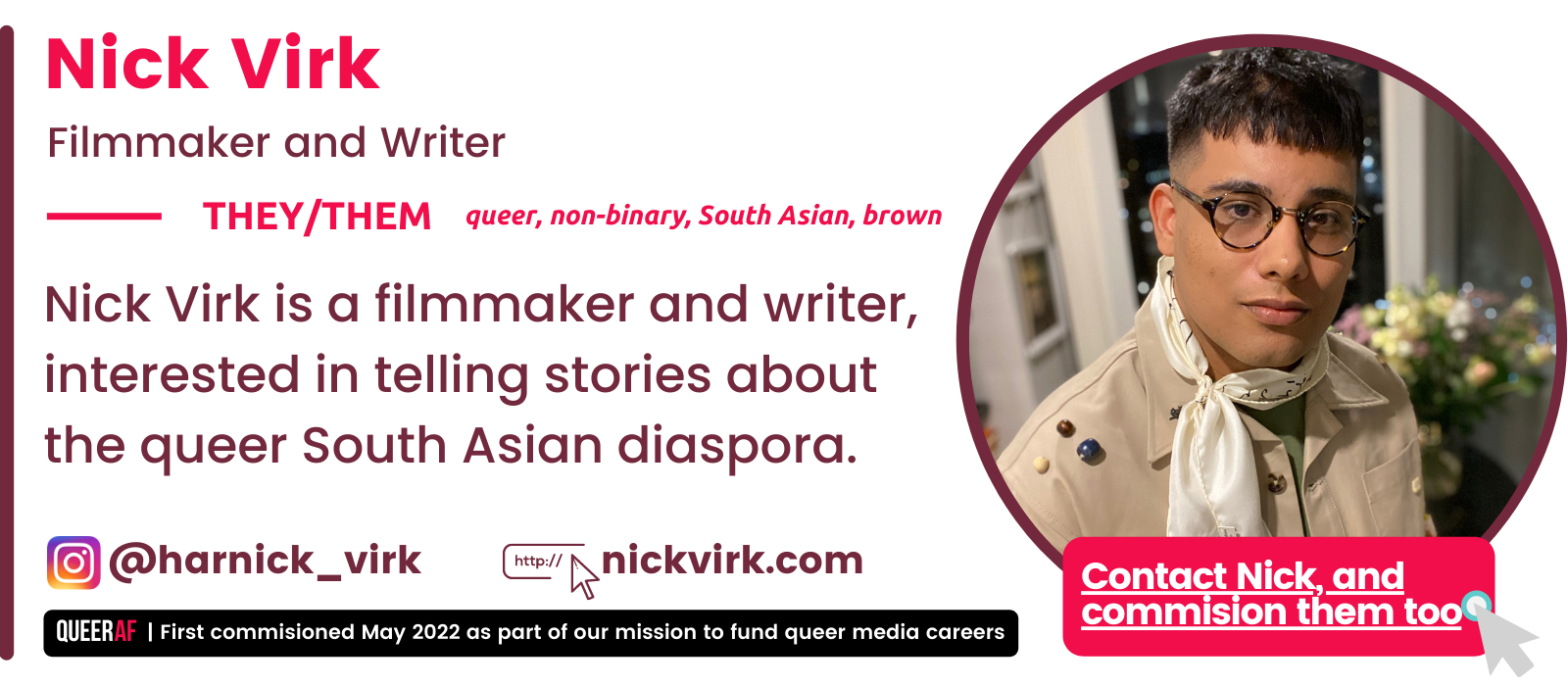 ---
What is the Queer Gaze?
We are an independent platform launching the careers of emerging and LGBTQIA+ creatives driven by people, not advertisers.
The Queer Gaze is our landmark scheme commissioning, mentoring and running skill sessions with queer writers.
This article was just one part of our free weekly newsletter that helps you understand the queer headlines and stay on top of the latest LGBTQIA+ content - all while we support queer creatives.
Hundreds of people trust us to give them everything they need to navigate the ever-changing queer world, every Saturday morning 🏳️‍🌈 It's written by Jamie Wareham, and a different queer creative each week.
We rely on members like Jaron Soh who directly funded this piece and asked us to use his membership funds on stories that centre on the intersectionalities between ethnicity and sexuality.
Become a QueerAF member to directly commission queer creatives, tell us what to create next, and see your name here too.
We are QueerAF, and so are you.