It was an uncertain time when I came out as transgender five years ago. But with the incredible love and support from those around me, I muddled through and found my way. My choice to medically transition was welcomed.
Back then, I thought it was a one-way journey. I never thought about detransitioning. It wasn't until I looked at the bigger picture that I wondered: what about those who do choose to detransition? Where is their support?
People commit to things in all areas of life only to find it's not for them. Going to uni, getting married or coming out as one LGBTQIA+ identity - only for our understanding of sexuality to grow and change later in life.
We don't cast out people who change their minds. We applaud their bravery in making a tough decision. So why is detransitioning any different?
Detransitioning does not mean regret. It does not mean being transgender is a phase. It certainly does not mean that every other transgender person will also detransition.
According to the government Equalities Office, in 2018 transgender people made up approximately 1% of the UK population. A 2019 report published by EPATH found that of 3,398 patients at a gender clinic, only 0.47% regretted transitioning. Even fewer went on to detransition, most only temporarily (0.44%).
Let's compare that with another major life decision. In the UK, one in twelve parents (8%) say they regret having children - YouGov, 2021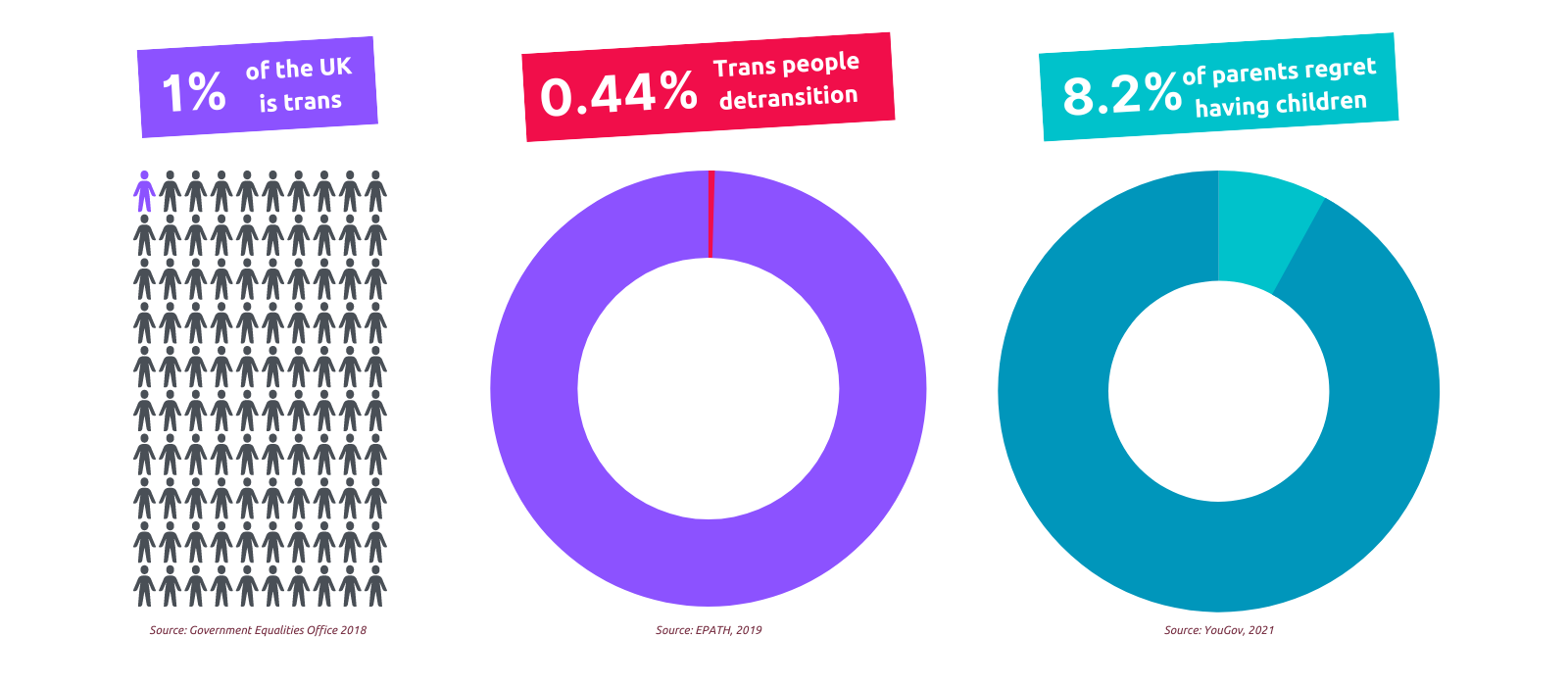 The reasons for detransitioning include lack of family support, social stigma, financial pressure and opinions from others -  EPATH, 2019
These external factors are incredibly important because they define the world around us. We are all victims of a construct.
So much emphasis is placed on knowing who we are and sticking with it. But that very approach contradicts the fluidity of gender and sexuality.
If we apply the principles of inclusion we hold so close, we must find compassion and acceptance for people who detransition. We need to accept it's ok for people to detransition - and it's ok if they choose to retransition in the future.
Understand the LGBTQIA news
Detransitioning has become linked to a variety of negative connotations, largely thanks to mainstream and social media sensationalising people who detransition. Most stories try to frame their lived experience as the fault of a so-called (and now widely disproved) transgender "social contagion."
Gender-critical groups have framed detransitioning as a dramatic escape. They conveniently offer explanations to vulnerable people who are still trying to make sense of their gender identity journey. Just look at Bell v Tavistock - an example of what happens when gender critics and the mainstream media embrace people who detransition before the trans community does.
Of course, transitioning saves lives. That is the case for many, including me, and yes, even some of those who later go on to detransition.
"Detransitioning does not mean regret. It does not mean being transgender is a phase"
Eva Echo
People who are questioning will always look for answers. Social media has seen a significant rise in transgender support groups and accounts offering advice to those questioning their gender. All the advice is positive.
Over the last few weeks, I've taken the time to read the advice for people who detransition. It is very different. Broadly speaking, it affirms anti-trans misinformation rather than acknowledging that it's a valid choice to detransition.
Gender is a spectrum - and there are lots of identities on it. Detransitioning is not a u-turn or a step backwards into regret. It's another form of coming out.
Like anybody that comes out, people who detransition deserve our support and compassion. It's the only way we can work towards the bigger picture: the day when we don't need to come out at all.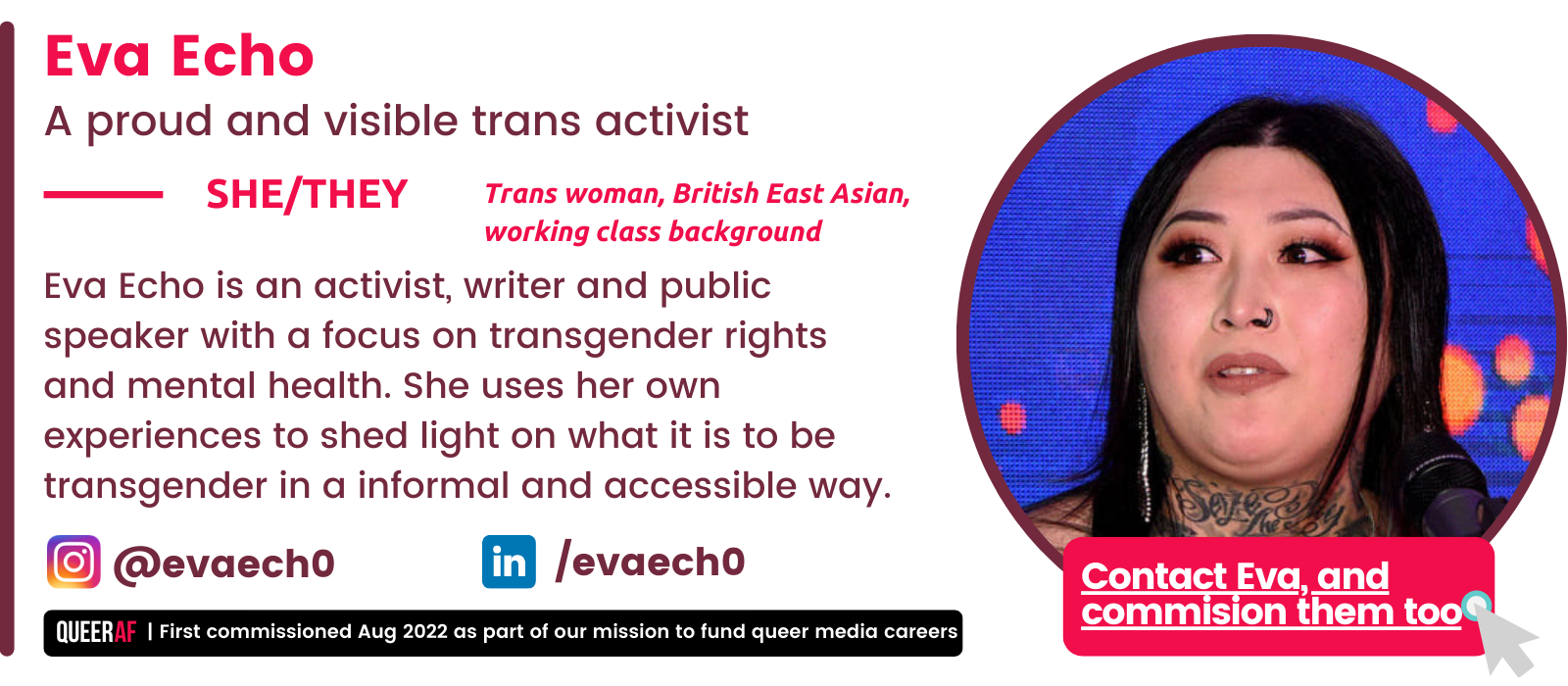 ---

Thanks to members, we can commission brave, bold queer content that counts, like Eva Echo's article on detransitioning.
We're ad-free because if it were up to advertisers, everything would need a clickbait angle, so we could farm traffic to serve their profits.
Instead, we've locked our profits and assets into the LGBTQIA+ community, so anything we bring in as a community interest company is regulated, transparent, and redirected back to our mission - and the community.
But we can't support queer creatives without you. Recurring memberships ensure we have the ongoing support we need to plan ahead. It helps us create award-winning schemes that benefit LGBTQIA+ creatives, like this top-rated newsletter and our award-winning podcast.
We know not everyone is in a position to pay for news. But as a reader-funded outlet, we rely on the backing of those who can. Every contribution, however big or small, powers our approach to journalism and sustains our future.
78% of QueerAF members choose an annual plan to secure the future of our work with one easy payment. In return, you get early access to content, the chance to directly commission an article, and to see your name next to the content you fund.
With everything that's going on in UK politics, if there were ever a time to join us, it is now. You can support QueerAF from as little as £4.20 a month.