TL;DR: After the Westminster government controversially blocked gender recognition reform using a Section 35 veto over devolved powers for the first time, Scotland has confirmed it will seek a judicial review. A court will decide whether the UK veto can stand.
Scotland has confirmed it's taking the UK government to court after being blocked from pressing forward with reforms to the Scottish Gender Recognition Act.
The SNP's new leader Humza Yousaf delivered on his election promise just two weeks into the job, confirming on Wednesday that the Scottish government would challenge the controversial 'veto' from the UK - Guardian
Section 35 of the Scotland Act, which had never been used before, was described as a 'nuclear option' for devolved matters - so it's a big deal that the Conservative government chose to use it for the first time to counter a trans rights policy. Scotland will now seek a judicial review against the decision.
Section 35: what is it, and how did we get here?
The veto overturned a vote in the Scottish parliament that was overwhelmingly in favour (by 86 votes to 39) of allowing transgender people to 'self-identify' - Gay Times
The new legal process would remove the need to be medically diagnosed with gender dysphoria before obtaining a gender recognition certificate.
Critics argued it had been "rushed", despite being one of the longest and most consulted on pieces of legislation Scotland has ever brought into law.
Transgender rights were a big part of the SNP's leadership race after Nicola Sturgeon's shock resignation.
The party's new leader Humza Yousaf was the only candidate to promise he'd challenge the UK's controversial use of Section 35.
He won with 52.1% of the vote against Kate Forbes, who spoke out against same-sex marriage and trans rights as part of her campaign.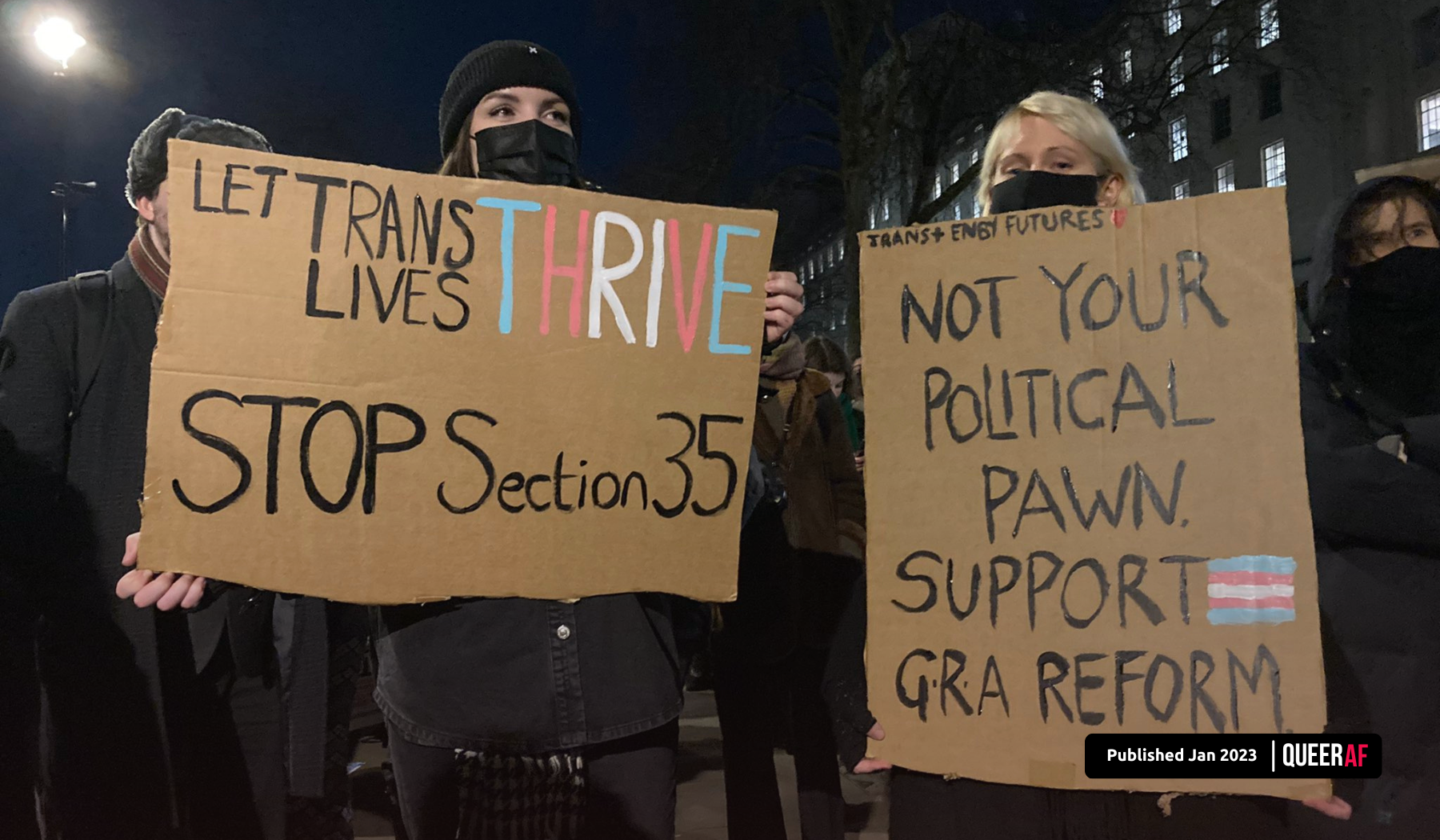 What has the UK Government said?
The UK published a lengthy explanation of their use of the parliamentary veto.
It boils down to a limited set of 'concerns', arguing that allowing more trans people to access services for their new gender is an "adverse effect".
The government also says a "significant" rise in the number of people getting a gender recognition certificate is bad news - though it acknowledges that the increase will only be up to around 250-300, from just 30.
That's worth considering: the UK government risked a constitutional crisis over a law that will impact less than 300 people.
It also argues that if Scotland makes the change, gender recognition "will be different" in Scotland compared to other parts of the UK - BBC
Under devolution, Scotland already has different laws from the rest of the UK on the economy, education, health, justice, rural affairs, housing, environment, equal opportunities, consumer advocacy and advice, transport and taxation.
Analysis: a constitutional debate, not a trans rights debate
The SNP aren't likely to argue the case for trans rights in court. The matter is resolved in the eyes of Scottish lawmakers, who consulted extensively on their self-ID law. Instead, Yousaf's SNP will focus on the constitutional aspect of this fight - Guardian
It's refreshing. Amid a quagmire of anti-trans hate from the media and politicians, the SNP is standing by trans rights reforms. After all, it got a mandate for them from its parliament and the SNP membership.
Last week the Conservatives and Labour welcomed guidance that suggests excluding transgender people from some spaces. The Lib Dems were the only Westminster party to decry the move.
Even if the party is engulfed in a scandal over its finances, LGBTQIA+ people will remember that the SNP and Scottish Greens stood up for trans rights as we enter local elections in the UK.
---

I'm back at the helm after my time off recovering from a multiple organ transplant. It's so wonderful to be back helping you understand the LGBTQIA+ news.
You might have seen we've launched some new ways to support QueerAF this week. New members now have three tiers to support us. You can now support our mission for just £3.99 a month.
We run without ads - a hefty revenue stream we've rejected - so we can do this work without outside pressures. We need your help to change the media. I think we can agree just how vital and urgent that work is.
To celebrate the launch of our new tiers, for one week only we're running a flash sale on our new plans. Subscribe now, and so long as you don't cancel, you can keep your discount forever! The more you can support us, the bigger the discount you can get.
Please, if you can - sign up today and support queer creatives to change the media: