TL;DR: The Government's top lawyer this week argued in a speech to a think tank that the law allows schools to discriminate against trans children, despite the Equality Act preventing this. Her interpretation has been disputed by lawyers and charities.
This week Suella Braverman, the Attorney General (a.k.a. the government's top lawyer) gave an inflammatory speech. It sent a worrying signal about the increasingly hostile direction of the government on trans rights.
Her speech was full of the run-of-the-mill dog-whistles, transphobia and ignorance we've come to expect from many government representatives.
But this time, the danger is not promises of future policy to harm children in our community – but because she argued the current law should be read as enabling direct discrimination of our community, primarily in schools.
What did the Attorney General say?
Speaking at a Policy Exchange think tank event, she argued:
That Trans women "were not women"
That therefore it was OK for schools not to support trans pupils
That this is how the "current" law should be read and interpreted
That teachers who support trans pupils are "socially transitioning" them
Braverman also said the UK should withdraw from the European Court of Human Rights. Only two other countries have done so: Russia and Greece, which did so temporarily amid a military coup - The Guardian
What's the bigger picture?
This speech builds on previous signals from the government of returning to a Thatcherite 'Section 28' style approach to the discussion of LGBTQIA+ lives in schools.
In just the last few weeks, Rishi Sunak suggested curtailing sex education, a move many likened to Section 28 - iNews
Meanwhile, former equalities minister Liz Truss has been influencing the once-independent EHRC. Leaked documents show a guide to support trans kids was scrapped after her intervention -  Vice World News
But this speech went further. Braverman argued the need to discriminate against trans kids actively. That bears repeating: the Government's top lawyer's interpretation of the law is that it's OK to discriminate against trans people - despite the Equality Act explicitly outlawing this kind of discrimination.
She suggested that schools should not let a trans girl use facilities that match her gender. She wrongly said it is legal for a "school to refuse to use the preferred opposite sex pronouns for a trans child." She also said teachers should out young people to parents - which could put their safety at risk.
We need a change in the media. Join the movement to make it possible with our free newsletter.
What is the significance of the speech?
It's another marked shift in the government's already rapid increase in anti-trans sentiment. But it's not a change to the law. It was a speech at a think tank. It reflects Braverman and Sunak's belief that the Equality Act should be repealed or reviewed.
For now, lawyers and charities, including Mermaids have disputed the validity of her claims and understanding of the law.
"The contents of Braverman's speech do not reflect our understanding of the Equality Act 2010 or the realities of being a trans child in schools. Her speech is not legally binding on schools and does not mark a change in school's duties toward trans children in their care." - Mermaids statement
And ultimately, the speech was based on an interpretation of the law that has already been tested in the courts. A judicial review on similar grounds to Bravermans interpretation was refused permission because the case was "not even arguable" - Trans Safety Network
Indeed, the Good Law Project recently put out some guidance on what the law says to counter the kind of misinformation featured in speeches like this.
But the speech alone will create a chilling effect on the support trans kids deserve. It will leave teachers uncertain about what they can and can't say. Like previous interventions - and misleading headlines around them - it's building a new Section 28 environment long before any new laws are passed.
All kids should be able to go to school and be supported to be happy and safe. This speech will have the opposite effect.
Read more from Owen J Hurcum about Suella Braverman's speech in Trans Writes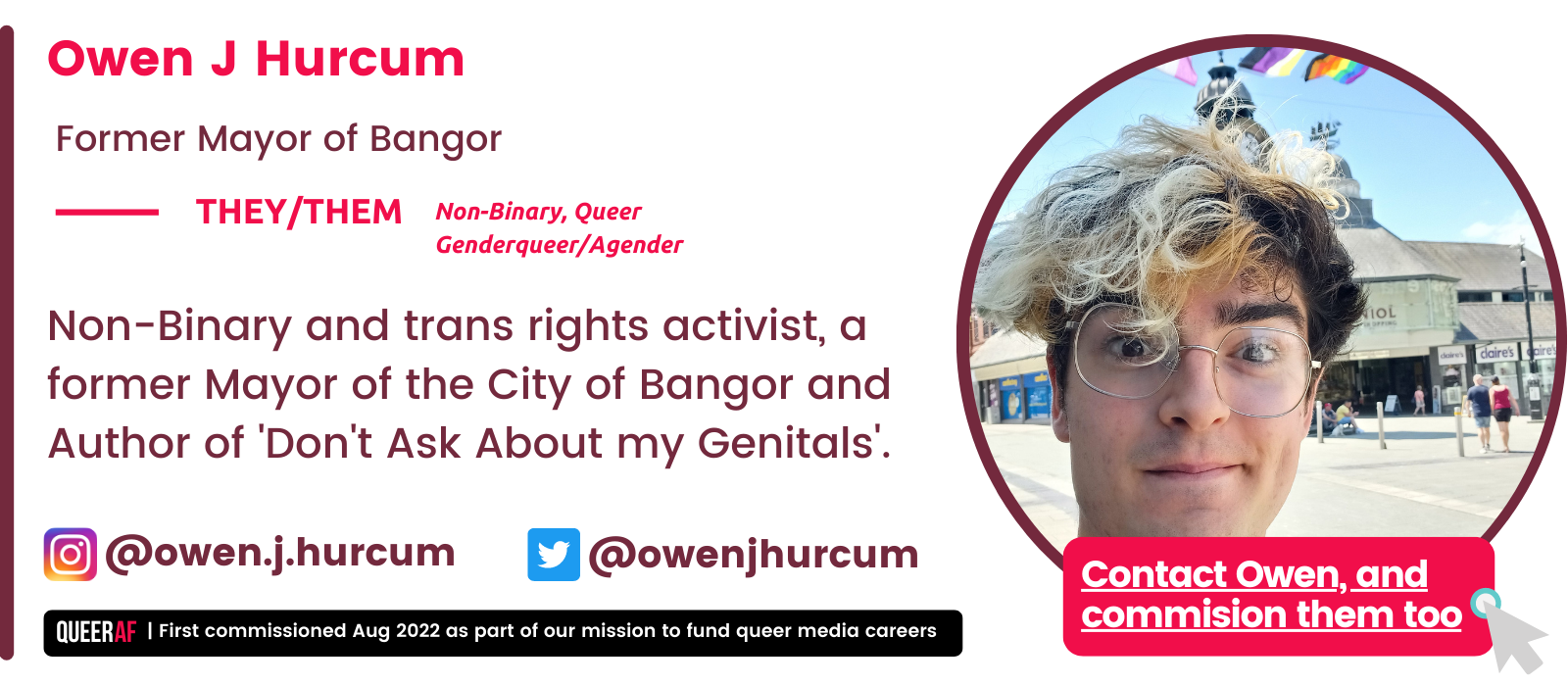 ---

"How do you find it trying to counter the vast misinformation about the queer community that comes up in the mainstream media weekly?"
That's what the hosts of The Guilty Feminist's Media Storm podcast asked me recently.
I said our community's stories are constantly sidelined in the pursuit of clicks, but our resilient community is desperate for valuable journalism. For analysis that cuts through and trusts our contributor's lived experiences.
In July, 89% of our readers loved how useful our newsletter is.
We think it's important that original reporting — like you'll find in the newsletter every week — is available to everyone, regardless of their financial situation. That's why we don't have a paywall.
But, to maintain our independence and be free to tackle misinformation, we don't accept any advertising on this platform or in our newsletter. We rely exclusively on support from readers.
So if you've learned anything from reading QueerAF and can afford it, please support this work with a paid subscription.
Know that as a community interest company, all the funds will support queer creatives and create LGBTQIA+ journalism that counts.