The Lionesses firmly beat Australia 3-1 on Wednesday, taking England through to the Women's World Cup Final for the first time.
As they head into the final this weekend, we can already reflect on these women's impact on LGBTQIA+ rights and representation in the football world.
Five of the ten British LGBT+ Sports Personality of the Year nominees were current or former Lionesses this year. Four of the current squad are openly queer.
The Lionesses show us two things. Not only can football be a place for queer people, it is already a place for queer people.
It feels as though change is happening in men's football too. Arsenal goalkeeper Aaron Ramsdale recently spoke out for the first time about his brother being gay. He vowed to ensure that football is a "welcoming place for everyone", and to call out homophobia within the sport.
Ramsdale admitted that in the past, he hasn't been as vocal in his support for the LGBTQIA+ community as he might have been. Writing in The Player Tribune, he said:
"Over the years, I've probably bit my tongue a few too many times […] whenever I hear homophobic comments or stupid things being said... I think maybe my brother has done the same, thinking it would make my life easier. Well, all that ends today."
Ramsdale went on to say that he wants his brother Ollie, and indeed anyone regardless of sexuality or faith, to be able to come to football matches without having to fear abuse.
Queer Arsenal supporter and Women's Football Magazine writer Rosie Hall welcomed Ramsdale's statement. She told QueerAF it's a step in the right direction and made her feel proud as an LGBTQ+ Arsenal supporter.
Hall stressed that she doesn't believe making these statements should be seen as brave or heroic, but said Ramsgate deserves applause for showing a level of empathy which is often missing in men's football.
Hall also commented on the disparity between women's and men's football regarding accepting queerness and queer allyship. Jake Daniels coming out was a huge moment for queer football fans, but work still needs to be done.
Queer people should feel safe and feel that they belong in football spaces. Interventions by major figures like Ramsdale make me feel like that dial is turning towards inclusivity. It's particularly heartening to see right now, as the Saudi League's emergence makes it profitable for some players to continue biting their tongues.
But with over 13% of the athletes who have competed in the 2023 FIFA Women's World Cup identifying as openly queer, women's football is truly leading the way.
Hopefully, Ramsdale's comments will be the first of many steps that help men's football become just as inclusive – after all, football is for everybody.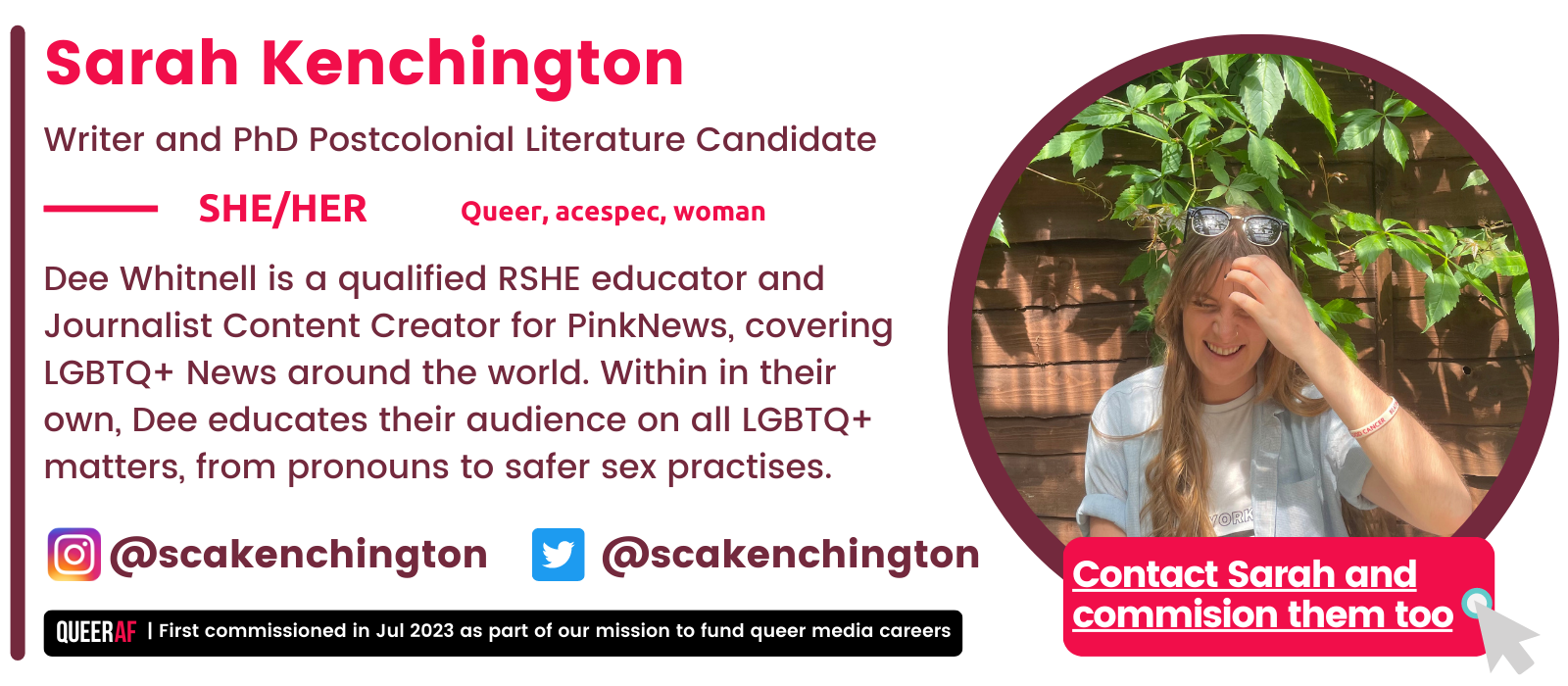 Get the Queer Gaze in your inbox each week with our free weekly newsletter or pitch to write an edition for us now.
Related: Our pals at Sports Media LGBT+ have teamed up with Football vs Homophobia for a symposium celebrating our LGBTQIA+ communities within the beautiful game. It's a fully packed full day line up, Fri 25th, Manchester - Eventbrite
---
The idea is simple.
Support queer creatives to get into the newsroom - and then help them change it.
One of the most significant barriers to starting a media career is getting those first and early commissions. We deliver that to our creatives, while you get award-winning content from fresh marginalised voices.
We ask every creative to rate our process. 90% gave us a perfect score on our communication and approach. The retro, our unique way of editing their work, has an average rating is 9.8/10.
Our approach is award-winning and industry recognised across multiple platforms, including our newsletter and podcast scheme - but we can't do it without you.

We believe there's a better way to be seen, heard and celebrated. Join us to change the media for good.