Working with trans youth in a secondary school in London in 2020, I witnessed hardship.
Trans pupils struggled as their support network and trusted adults didn't support them or affirm their gender identity.
There was casual misgendering of pupils who had made their pronouns clear — teachers and pupils ignoring transphobia in the hallways. The on-site counsellor attended LGBTQ+ lunchtime clubs in case anything 'sensitive' was mentioned.
I know the potential impact of the guidance - I was a teacher
As a trans teacher, I became a sort-of mentor for the LGBTQ+ pupils at the school.
In particular, the trans and gender-diverse kids had little to no support from many other adults in their life. I was likely the first trans adult they had met in person.
But I also experienced the same misgendering and ignorance that my pupils faced within the school walls.
That's what's so worrying about the multiple leaks about government guidance for trans kids in schools. If it goes ahead as we understand it, it will not just encourage but also mandate the already- rife misgendering and ignorance in schools.
The Education Secretary Gillian Keegan confirmed that the government intends to make schools out trans children to their parents. That could be the case even if parents hold anti-trans views.
The leaks suggest it could also make it acceptable to not 'agree' with a pupil's identity. It could also mandate teachers not use a trans kid's preferred pronoun and ban trans kids from single-sex spaces like toilets.
The guidance was due by the end of the school term this week. It has now been delayed after plans to strengthen it were deemed unlawful by the attorney general.
The government would be giving the go-ahead for transphobia to flourish within schools
The changes are designed to put 'the right of the parent' over the safety of the trans individual.
The result? Many people, including myself, fear this guidance will lead to higher rates of deaths, both from suicide and violence, amongst trans youth. To more abuse at the hands of anti-trans households. Trans students left with no choice but to hide their identity at school for fear of being outed.
We have already seen the community and allies be vocal over the leaked guidance - this likely had some effect on the delay. We must keep this outcry going and remain loud if, when the official guidance is released, it still endangers trans kids.
If I only had one impact on the pupils I worked with, it was to let them know that trans adults exist.
That trans kids can grow up and have jobs, relationships, a home, and a life. trans kids need to see trans adults - and feel able to talk about their true identities
Trans kids deserve to grow up safely and happily - as everyone should. They can with our support.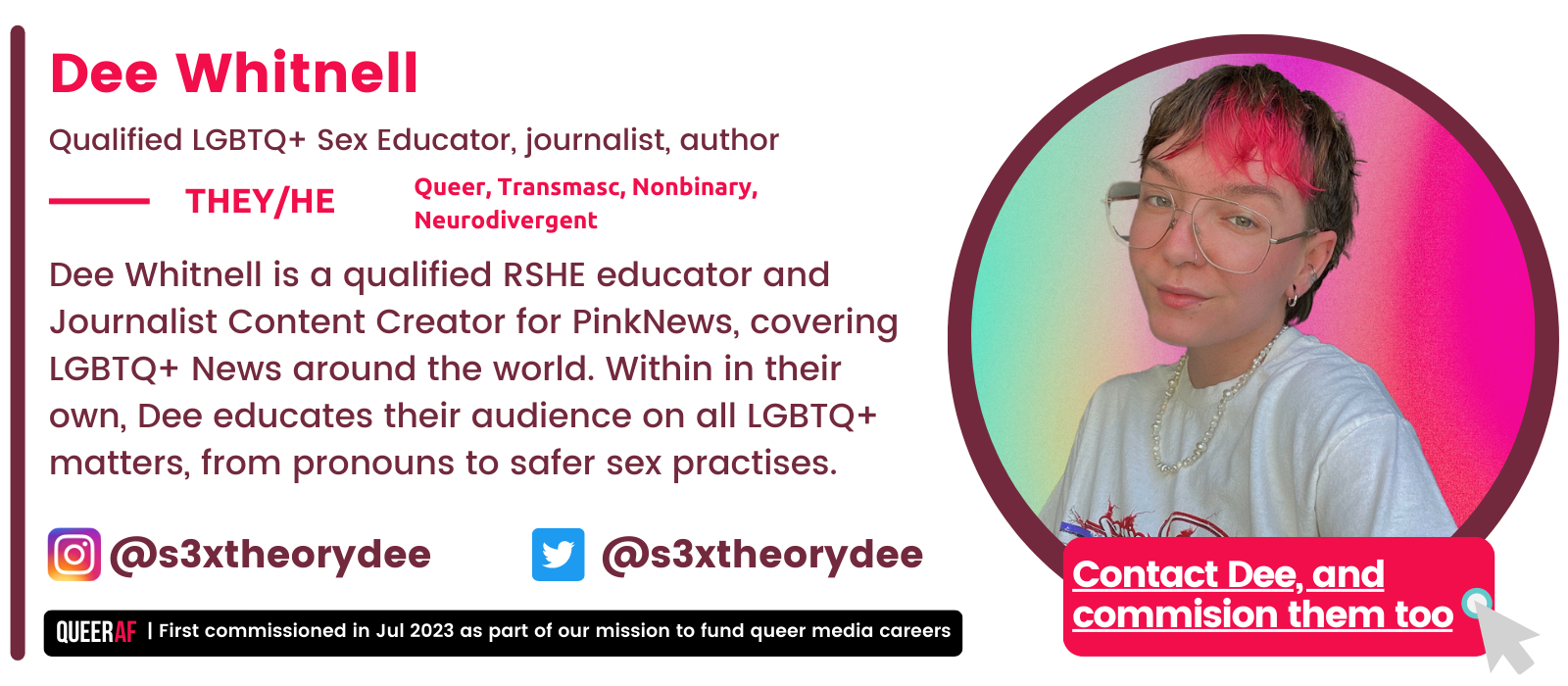 Get the Queer Gaze in your inbox each week with our free weekly newsletter or pitch to write an edition for us now.
---
The idea is simple.
Support non-binary and queer creatives to get into the newsroom - and then help them change it.
One of the most significant barriers to starting a media career is getting those first and early commissions. We deliver that to our creatives, while you get award-winning content from fresh marginalised voices.
We ask every creative to rate our process. 90% gave us a perfect score on our communication and approach. The retro, our unique way of editing their work, has an average rating is 9.8/10.
Our approach is award-winning and industry recognised across multiple platforms, including our newsletter and podcast scheme - but we can't do it without you.

We believe there's a better way to be seen, heard and celebrated. Join us to change the media for good.