Every Saturday QueerAF helps you understand the queer headlines and stay on top of the latest LGBTQIA+ content - all while we support queer creatives. It's written by me, Jamie Wareham, and a different queer creative each week.
💬 This week:
Human Rights Act. The government has announced its plans to replace the act with a 'Bill Of Rights'. It's part of a post-Brexit drive to rewrite laws, but we explain why it could be bad news for the marginalised people it purports to help.
Not Safe To Be Me. This week's Queer Senses section includes the details of an important date next week, and content marking the 40th anniversary of Terrence Higgins' death.
Sports. Dame Kelly Holmes is a huge coming out, but we look at her support for gender-critical groups. On a related note, the Queer Gaze explores bans against transgender athletes.
Skip the doom scrolling and support queer creatives instead. We are QueerAF – and so are you.
---
🤔 Bill of what rights exactly?
TL;DR - Replacing the Human Rights Act with the Conservative-written 'Bill of Rights' looks set to make it harder for marginalised communities, like LGBTQIA+ folk, to access justice.
Deputy Prime Minister Dominic Raab this week unveiled his long-held plans to bring in a British Bill of Rights, and replace the Human Rights Act. He argues it's all about breaking from Europe and making "common sense" changes to the law.
But criticism says the move will undermine human rights in the UK, in an apparent "power grab" that will make it harder for the courts to challenge the government.
What is the Human Rights Act?
It lets you defend your rights in UK courts and compels public organisations – including the government, police and local councils – to treat everyone equally, with fairness, dignity and respect. - Liberty
It also sets out that the European Court of Human Rights (ECHR) is the final arbiter on human rights issues in the UK. It means after you get a ruling from the UK Supreme Court, you can appeal it in Europe. - The Know Daily
That's one of the key things the Government wants to change.
What will the Bill Of Rights do instead?
It would make the UK Supreme Court the last place you can take action. On the surface that sounds fine: British laws tested by British courts.
But it's the European Court of Human Rights where many LGBTQIA+ equalities have been protected and enshrined after UK courts failed to.
The Bill would also:
Restrict foreign-born people convicted of crimes being able argue their right to family life trumps public safety in a bid to prevent their removal from the UK.
Protect government plans to increase the use of separation centres for extremists in prisons from legal challenges based on the right to socialise.
Boost press freedom (or so the government claims) by introducing a stronger test for courts to consider before ordering journalists to disclose their sources  - HuffPost
Analysis
In this new bill's policy paper, the government complains that the Human Rights Act is being used for "more and more purposes."
As Open Britain wrote to its subscribers this week, it's framed as if that's a bad thing.
It's allowed people to challenge their doctor's "do not resuscitate" orders; it's protected women from abusers and helped them seek justice; it's underpinned the Good Friday Agreement maintaining peace in Northern Ireland - Open Britain
Brexit was all about 'freedoms'. Freedoms that could have been used to accelerate LGBTQIA+ rights in the UK. But without the protections European Union membership gave queer communities, we've seen the UK government roll back and slow down both trans and broader queer rights reforms.
It's seen us slide in international rankings and place alongside Russia, Hungary and Poland as countries where being queer is getting harder.
There is already opposition to this change by many different types of human rights organisations. It's largely because they don't feel this administration is best placed to rewrite laws that underpin the most fundamental rights we've come to enjoy.
If you're looking to deep dive into the proposals and see what is and isn't changing - this piece by the Public Law For Everyone project is a good (but an extensive) read.

👋🏽
Welcome to our latest Early Adopter members this week Ruth, Paula Murphy and Julian Phatarfod.

Your support of our ad-free member-funded newsletter is helping us stick to our values that LGBTQIA+ information shouldn't be a luxury, without having to bow to corporate and advertising pressures.

Thanks for helping to keep it free for those who can't afford it.
---
🐤 Why did it trend
Skip the doomscrolling. We tell you what happened in as few words as possible so you're in the know - without giving hate more clicks.
JK Rowling - Was caught out by Russian pranksters Vovan and Lexus - who have tricked many high-profile politicians and celebrities - into thinking she was speaking to the Ukrainian president. They asked her questions about 'cancel culture', Boris Johnson's gender and Fantastic Beasts. She joined the call under the impression she'd be talking about her Ukrainian charitable work.
Sudocrem - The antiseptic healing cream (often known for nappy rash use) caused a storm by replying to a Twitter post suggesting the cream could help a skull fossil with a spike through it. The brand said they were legally obliged to point out that that's not one of its intended uses. Anyway, the internet got involved and lots of people found uses for Sudocrem, including the UK's lacklustre approach to trans rights.
Quick news for queers
🎓 Stephen Port
Initial investigations into the murders of serial killer Stephen Port's victims failed to connect the dots between the deaths of young vunerable gay men. New evidence has come forward, which means the Met Police will face a second independent investigation into their failings.
Metropolitan Police officers who failed to spot serial killer Stephen Port are to be reinvestigated, a watchdog announced on Thursday - Evening Standard
The Independent Office for Police Conduct already investigated the force in 2015, but none of the 17 officers involved in the case faced disciplinary action.
As the devastating BBC drama Four Lives explored, in the community's and families' eyes there were blatant opportunities to prevent the serial killer from taking more victims. Their murders were not seen as suspicious until the fourth victim died, despite clear connections.
However, it was the new inquests last December, which revealed evidence previously unknown to the IOPC, that sparked this new investigation - BBC
Related: The Met Police has a lot to answer for. In 50 years of pride in the UK, many of us have seen members of our communities hounded by the police. Here Met Assistant Commissioner Matt Jukes reflects on some of those wrongdoings, including the Stephen Port case. He says the police need to work harder to win our community's trust - as was made clear in the scandal around homophobia in the force earlier this year - Met Police
🏃‍♀️ Dame Kelly Holmes
It's a huge coming out - Kelly Holmes is a massive household name known for her Olympic feats and broadcasting career. However, her previous support for anti-trans groups weighed heavy for some.
The Olympic champion Holmes came out as gay last weekend - The Mirror
"It was my decision. I'm nervous about saying it. I feel like I'm going to explode with excitement. Sometimes I cry with relief. The moment this comes out, I'm essentially getting rid of that fear."
In a near-tearful exchange with Phillip Scofield on ITV's This Morning, she opened up about the decision and her tough mental health experiences. It's all ahead of her new ITV documentary 'Being Me', due to air this week - Digital Spy
Some observers noted that the athlete has lent her support to Fair Play For Women, a gender-critical group. In a video from 2019, she applauded the group for getting together but also said "we need to find solutions too."
More sports analysis below in this week's Queer Gaze on trans athletes being banned from multiple sports.
🚀 Elon Musk
The billionaire is well known for making anti-trans social posts on Twitter, which he is still supposedly trying to buy. His daughter came out as trans and cut ties with the Space X and Tesla CEO (and world's richest man) this week.
Elon Musk's transgender daughter has filed a request to change her name because "I no longer live with or wish to be related to my biological father in any way, shape or form." - Reuters
Her mother Justine Wilson, the ex-wife of the Tesla and Space X CEO, shared a conversation with her daughter about it on Twitter, congratulating her.
Elsewhere, despite Musk saying he's an LGBTQIA+ ally (alongside massive red flag comments that suggest otherwise), Tesla laid off both the president of its LGBTQ+ community and a lead involved in diversity and inclusivity programs at the company. Though they could just be part of a sweeping 10% cut to the workforce, notably the move follows comments from Musk about the "woke mind virus." - Electrek
📰 In brief
Spotlight: Ukraine Pride
Our spotlight on content that sparks hope or pure joy. The change we want is out there.
This video created by Ukraine Pride with support from the dating app Taimi is touching. It shows both the peril queer Ukrainians are still facing while presenting moments of hope that keep the community there going. A poignant reminder of the global solidarity and unity Pride Month requires from us.
"PRIDE IS NOT AVAILABLE IN YOUR REGION describes the life of Ukrainian queer people during the war. It shows how we are fighting for our freedom."
Must reads
Stop using TERF
We need to keep reexamining language - just as we explored in QueerAF last week around the use of the phrase 'womxn'. Here Kaylin Hamilton argues why TERF isn't a helpful term. The TL;DR is to use transphobe instead - because that's what they are. - Medium
Queer Migrants
Pride Month also has World Refugee Day in it, held on June 20th. This primer, which is super easy to scan and understand, is a great introduction to the nuances (and toughness) of barriers the UK puts in place for LGBTQIA+ asylum seekers. - Rainbow Migration
Changing the media
From Heartstopper to BBC Radio 4 documentaries. There is some stellar work going on behind the scenes to make the media represent our stories better, in a way that shifts the narrative, instead of stalling it. Ugla Stefania, one of our contributors, also works with All About Trans and talks about their amazing work here. - Radio Times
Queer Gaze: Sports can be fair and include trans people: Look at Germany
Our landmark scheme for underrepresented or emerging creatives to share their gaze and get a writing skills session. This week, it's trans parent Marley Conte.
TL;DR: This week the German Football association bucked the trend of sweeping and sudden decisions banning trans women from sports, by allowing trans athletes to compete in all football leagues. The science behind trans people in sport may still be evolving but at least we can all agree, everyone deserves to enjoy the wellbeing and community that sports brings.
When we talk about trans sports bans, we need to pose a crucial question: is it about fairness, or about policing bodies and transphobia?
In case you missed it, FINA, the world governing body for swimming, became the latest to issue a blanket ban for transgender women. It's the third sports ban (after rugby and cycling) directed at trans women in the past year.
FINA's new rules require trans women athletes to have transitioned by the age of 12. No matter where you are in the world, because of the difficulties of transitioning, legalities around getting trans healthcare and limited access to puberty blockers, this effectively rules out trans women from being able to compete in sports that match their gender identity.
As a trans/non-binary person myself, I know the effect these bans will have on trans kids. Knowing that you are not welcome in certain spaces can make you take a step back from playing sports altogether.
I cannot remember the last time I stepped foot in a swimming pool or gym for fear of judgement or alienation. I work out on my own, from home mostly, when I can have easy access to a shower or toilet break, and be able to change without feeling everyone's eyes on me.
Think how a young kid must feel. As a parent, the last thing I would want for my kid would be to feel like they don't belong or are not wanted.
Transgender athletes are not a new phenomenon. They have existed for years, undergoing intensive testing and following requirements on hormone levels, rules that only apply to trans women, not all women.
That's why, as Human Rights Campaign Interim President Joni Madison stated, this "sudden" FINA ban is a "discriminatory decision" and "is a blatant attack on transgender athletes who have worked to comply with the longstanding policies that have allowed them to participate for years with no issues."
These bans across sports are happening now thanks to transphobic, divisive media pressure.
Sports organisations should be focused on uniting athletes through practices which benefit everyone - just like in Germany, where their football association found a way to make sports fair for all.
The Deutscher Fußball-Bund (DFB) recently announced that transgender, intersex and non-binary players will be able to decide if they want to play in women's or men's teams.
'"Experience has shown that this does not jeopardise the integrity of the competition," the DFB told The Guardian. "After all, all people have different physical strengths and abilities that only lead to success together in a team, regardless of gender."
The science behind trans people in sports may still be evolving but total bans and FINA's suggestion of creating a separate category are not a solution at all.
Trans women deserve to play and belong in sports - as we all do. Sports organisations should be working with trans people, who deserve - as Stonewall says - "to benefit from the sense of wellbeing and community that sports brings".
We can make positive strides in trans inclusion in sports by recognising that all bodies are different, regardless of being trans or cis. It's because we have different bodies and abilities that we like to compete.
Sports organisations should follow Deutscher Fußball-Bund's lead: celebrate our differences so we can all enjoy the benefits of great sport.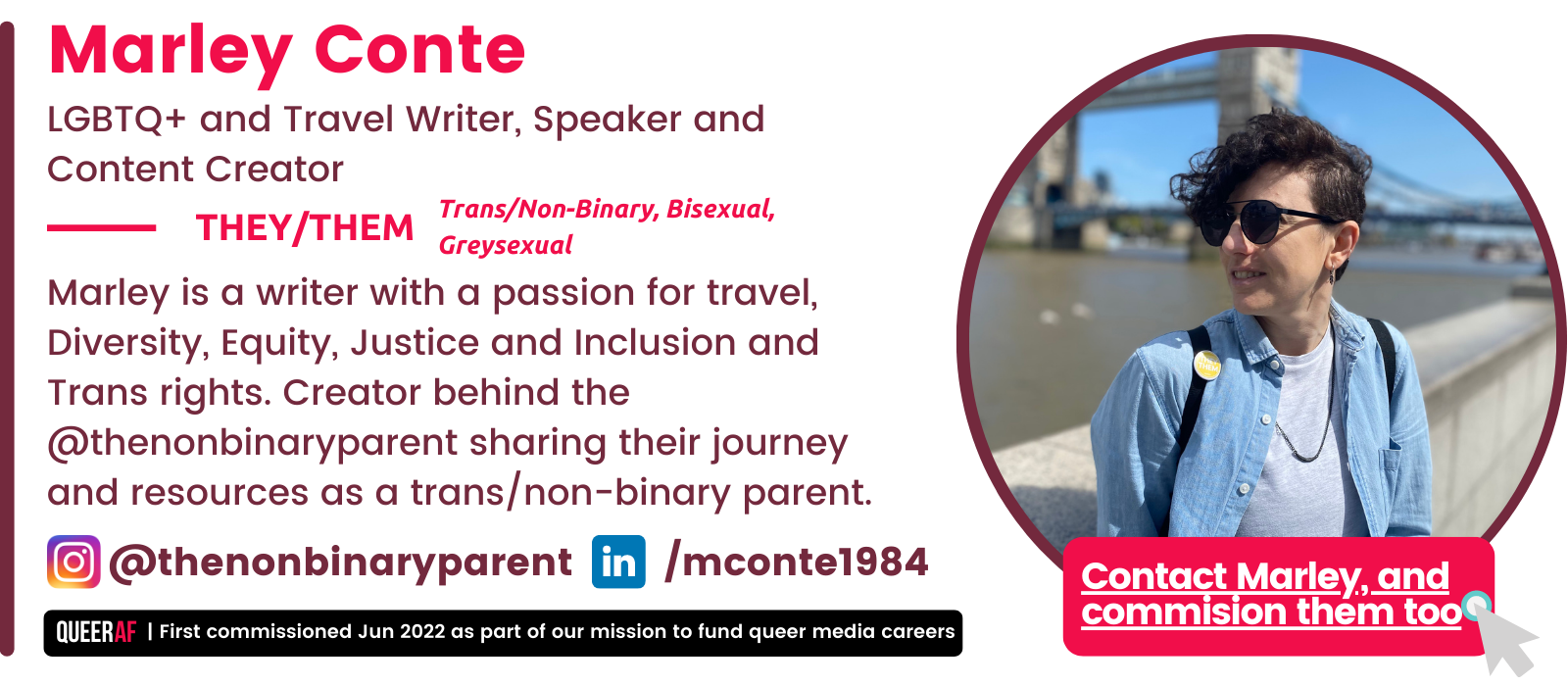 The Queer Gaze is our landmark scheme supporting writers to build their craft, portfolio and careers. It's funded by members like Alex Wood who asked us to focus his funds on content for queer families. Tell us what to create next. See your name here. Directly commission a queer creative too.
---
Tickle Your Queer Senses
📺 Watch
To mark 40 years of veteran HIV Campaigner Terrence Higgins' death, a new documentary is out on Monday. It uses recorded interviews by researchers in the '80s with people living through the AIDS crisis, brought to life by actors - 27th, 9:30pm BBC2 (and iPlayer)
🎙️ Listen
Welcome to Provincetown is a new podcast documentary that follows seven people in an iconic LGBTQIA+ community 'at the end of the world.'
Provincetown is a literal spit of land located at the extreme tip of Cape Cod in Massachusetts, United States. This documentary is a gorgeous look into a unique queer community - Stitcher
📚 Books
Peter Staley was a leading figure in ACT UP - the HIV group that brought us that now-infamous phrase. It united people at the height of the HIV crisis. His autobiography reflects on that time, and what's changed - Gay Pride Shop
"Things have changed so much for HIV since the 80's. We're now in a state of frustrated optimism. We have the tools to dramatically wind down the HIV epidemic and the only thing standing in the way of that are our governments, both in the UK and the US. We just have to push the right political buttons." - Peter Staley
This evening with a tonne of readings by great LGBTQIA+ authors also looks awesome - IRL and Virtual tickets from Hachette Pride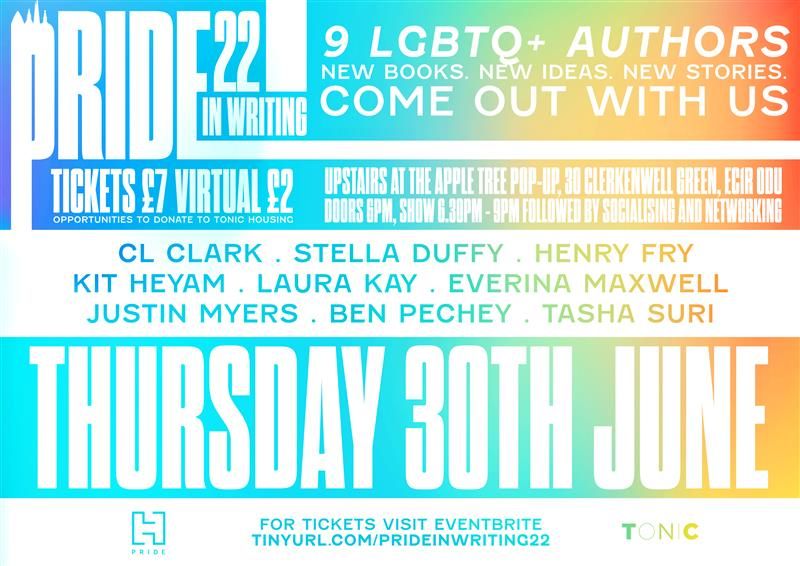 📆 What's on?
Next week would have been the UK Government's now widely boycotted and cancelled international 'Safe To Be Me' conference. Trans Activism UK has planned a protest to mark the day, and remind the Government just how far behind 'world-leading' we are, especially on trans rights. It's on Weds 29th June in Parliament Square - the details.
😻
Follow and tag us on social media to let us know your fave queer content and events.
Twitter: @WeAreQueerAF or Instagram: @WeAreQueerAF_
Enjoy QueerAF? 🦄
Thanks to Rowan Gavin for sub-editing this week's newsletter, if you're looking for a top-class sub. We recommend.
In pride,
Jamie Wareham - QueerAF Founder
😍
Know a friend who will love the QueerAF newsletter as much as you do?
Share this link
to sign them up.