TL;DR: As brands like Adidas, Bud Light and Nike are targeted by a wave of anti-LGBTQIA+ sentiment, even Target's infamous pride line has been partially retracted. After years of the community calling on businesses to do more than a rainbow logo, this year may take us back to an era when that alone was a radical act.
Just painting rainbows on products is not enough, of course. But when huge brands like Target and Bud Light are bowing to anti-LGBTQIA+ backlash, this Pride Month could be pivotal.
Whether you like them or not, in a world primarily driven by capitalism, what corporates think, say and do matters. It's why Stonewall's Diversity Scheme was so influential in business - at least until it too was caught up in a media storm.
When 130 corporates wrote a joint letter to the government warning them to protect trans rights, some of the expected, rumoured discriminatory plans for reforming the Gender Recognition Act ebbed away.
To see them feel like they have to water down their LGBTQIA+ commitments is a potential watershed moment.
Target bows to anti-LGBTQIA protesters
The US giant, which provides discount clothing - think Primark - has an infamous Pride line. Some of its tackier items are well-hyped and extremely memeable.
It all began after the brand gave political donations to a homophobic governor in Minnesota, where its HQ is based. Its Wear With Pride line was launched two years later.
But this year, they've faced a great deal of reaction to it - amid other anti-Pride Month media hyperbole. Disinformation from right-wing campaigners and media suggested Target was "grooming" children with what they said was swimwear aimed at children.
The tuck-friendly swimwear was actually aimed at trans adults, but the lack of fact-checking from media reports saw Target withdraw this product, along with others in the line - Them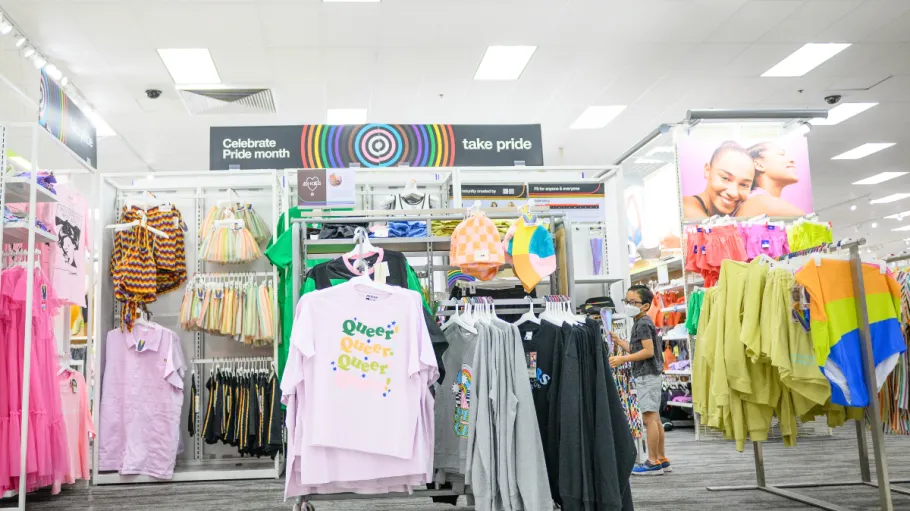 There is a growing backlash against Pride month products
Target isn't the only brand facing coordinated action from anti-LGBTQIA+ voices. They also aren't the only ones to disenfranchise the queer community by withdrawing items and support.
Bud Light is perhaps the most vivid example - their sponsored content with trans TikToker Dylan Mulvaney saw both sides boycotting the brand after it backpedalled on its support for trans people.
Elsewhere, Nike and Adidas have faced heat for trans-inclusive marketing. The most recent target is North Face, following the release of its Pride Month advert.
Analysis: Businesses, brands and corporates need to play the long game
What this means for Pride itself isn't getting much discussion. It's creating an uncertain funding environment for local and major prides which rely on sponsorships to deliver large-scale events. It's also creating security issues, as right-wing groups like the Proud Boys and Patriot Front in the US plan to disrupt Pride events - Rolling Stone
Meanwhile, the retreat from some corporations is sending the message that brands are only interested in supporting us when it helps their bottom line - not when it matters.
These decisions may seem right from the perspective of short-term profit. But in the long term, these brands will damage their reputation not only within the LGBTQIA+ community, but with a generation of young people who want to see better from business.
As Aby Hawker, TransMission PR founder and QueerAF member, tells us, the impact organisations can get from Pride month is about showcasing their year-round foundational understanding of our community:
"Where change is really made is in companies and brands going all in. They need to understand how being inclusive of LGBTQIA+ people plays into their values and then develop their strategies accordingly. Once brands have a clear picture of why it matters they can bring stakeholders along and more convincingly defend themselves against any potential backlash which ultimately ensures they come across as authentic and with integrity."
I remember when businesses going rainbow for Pride month was a radical act. In some ways, it still is, especially in this climate. But now more than ever, it's an act that must be paired with a year-round, long-term commitment to supporting our community.
Bowing down to a hateful minority this year will damage brand's bottom lines for years to come.
---

Pride month is just around the corner, so you're probably already inundated with Pride merch ads.
Some of it includes donations to LGBTQIA+ non-profits - which is great. But most of it goes straight into the pockets of brands and organisations.
This Pride month, we urge you to think carefully about who you give your hard-earned cash to. Who do you want your money to support?
As a not-for-profit publisher with a purpose, we rely on readers like you to donate, support and get involved.
Our memberships deliver more than just funding for us, though. They're an opportunity to join a community that helps define our editorial philosophy.
Every reader is important to us, and responses to our annual survey have been incredibly valuable. But as a member, you'll join a community that tell us what kind of content and creators we should focus on.
Every penny you give us supports a mission to change the media - vital and urgent work in the current climate.
As Pride month comes around, consider upgrading. Help us fund quality queer journalism and marginalised LGBTQIA+ creatives all year round.