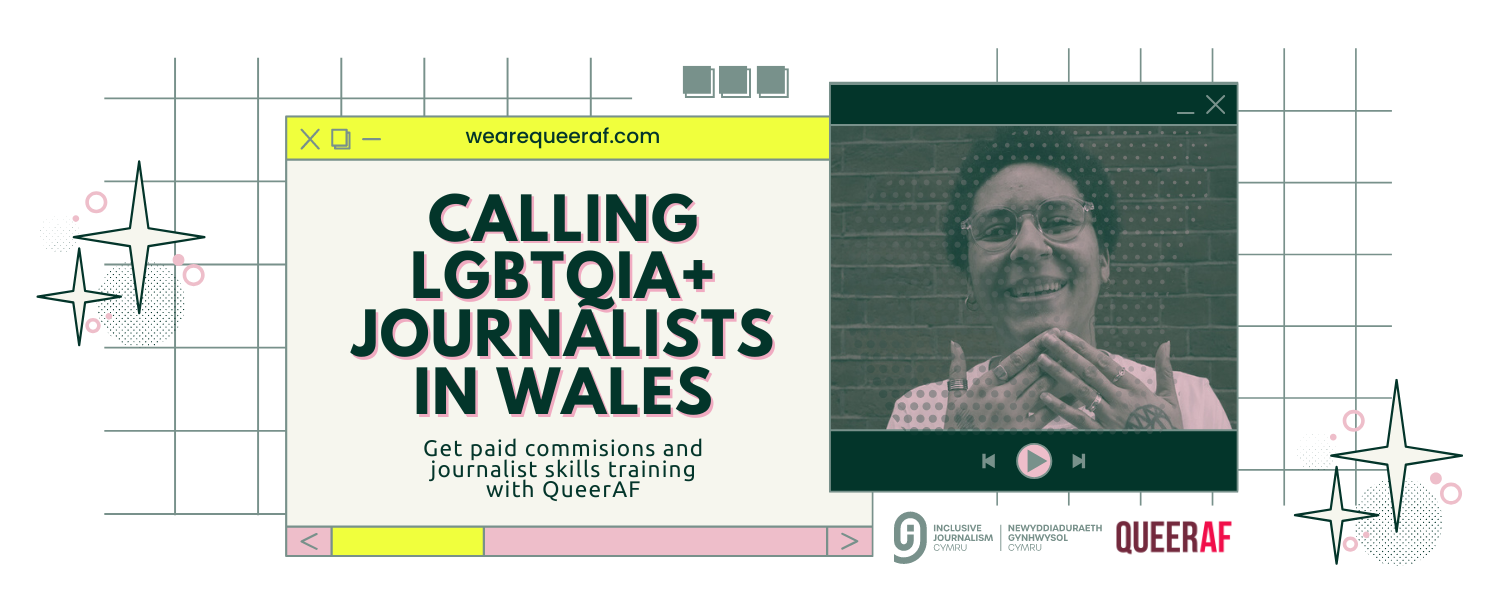 QueerAF has partnered with Inclusive Journalism Cymru.
We're running a dedicated series of think pieces as part of the Queer Gaze - our landmark writing scheme. And you could be one of our writers.
The opportunity
Three LGBTQIA+ journalists from Inclusive Journalism Cymru's network will each be given:
Three QueerAF commissions of a 500-700 word think piece, using the Queer Gaze format - paid at a rate of £100 each
QueerAF's unique 'retrospective' skills-based sub-editing sessions with each commission so you can understand the editing process, grow your journalistic craft and strategic communication skills
Multiple portfolio-building opportunities with content published across QueerAF and Inclusive Journalism Cymru platform
What is QueerAF?
We help you understand the LGBTQIA+ world and support queer creatives to change the media.
We're an award-winning independent platform launching the careers of emerging and underrepresented LGBTQIA+ creatives driven by people, not advertisers.
Ultimately, QueerAF is a platform where creators, journalists and producers can get paid and commissioned directly by the QueerAF community. This while we mentor you to build a career, work in the industry - and then change it.
Unique approach to journalism
"I loved the whole process, there are few places and organisations that have made it this easy for me to work with them. Plus the fact that I could write about what was important to me and that I didn't have to justify why." – Shivani Dave
What about the Queer Gaze?
'The Queer Gaze' is a space in our newsletter to commission emerging and underrepresented queer creatives so you can get published, receive mentorship and ultimately, kickstart and build your writing career.
The Queer Gaze gives readers eye-opening insight into the experiences and viewpoints in our community they may not have encountered before.
Afterwards, our audience feels intrigued, introduced to new perspectives and inspired to read more.
It's one part of our weekly newsletter that helps LGBTQIA+ people understand the news, latest queer content and perspectives.
Great - how do I apply?
Super simple. First up:
Make sure you're a part of the Inclusive Journalism Cymru network - you can join up here.
Then - have a read of our detailed brief of the Queer Gaze. It's crucial that you understand the concept and have read multiple previous examples.
Check out QueerAF's contributor guidelines - you'll need to agree to them to take part.
The application task is to pitch an article as if you were writing it for this weekend's newsletter, with a deadline of Friday at midday.
This article likely isn't what you'll write in the scheme, but it will let us know if you understand the task. Be ready to tell us a headline, your story in three bullet points, and what three sources you'll use to back up your think piece.
We'll also ask for some details about you and your previous experience.
The deadline is August 7th 11:59pm. We'll let you know if you've been successful by August 24th. The first commissions will begin in September.