Have you ever got bogged down into a discussion online that you wish you hadn't?
If you're anything like me the answer is probably yes.
Recently I was stuck debating whether that famous British author, at the heart of trans moral panic, was transphobic or not.
I try to avoid such discussions online as I rarely feel like they achieve anything (and I feel like my soul is slowly being eroded in the process sometimes.)
But every now and then I engage in hope of someone learning something new, even if it isn't necessarily the person I'm speaking to.
The thing is, for trans people and their allies, it's clearer than day when people use transphobic language under the guise of 'concern' and 'safety for women'.  Both feed fear and distrust towards trans people.
But I've now learned a lot of people aren't always able to see what's really going on — especially if it's not an experience they relate to.
It's because many transphobes use what's called a dog whistle. It cleverly expresses views that might seem innocuous to most.
However, they speak directly to an already radicalised group of people. All without provoking opposition from the general public.
The trouble is, it's often hard to pinpoint because the person isn't saying anything directly transphobic.
A perfect example? The constant comparison of trans women, to abusive and violent men in discussions about gendered spaces.
Establishing a dog whistle is easy to do — you just have to repeat it enough times. Our brains are hardwired to remember things if we're told them enough times. Dispelling them is a lot trickier.
That's why framing the discussion of whether someone is transphobic or not rarely achieves what we want.
We have to find other ways of addressing what is at the core of transphobia. Meanwhile, we should focus on the actual challenges trans people face, not get bogged down into fear-mongering toxic twitter debates.
Instead of the narratives that are just about as real as the fiction authors write? Let's lift up the joy and euphoria in our lives - we deserve that.
This article was just one part of our weekly newsletter that summarises, understands and explains the queer news of the week:
---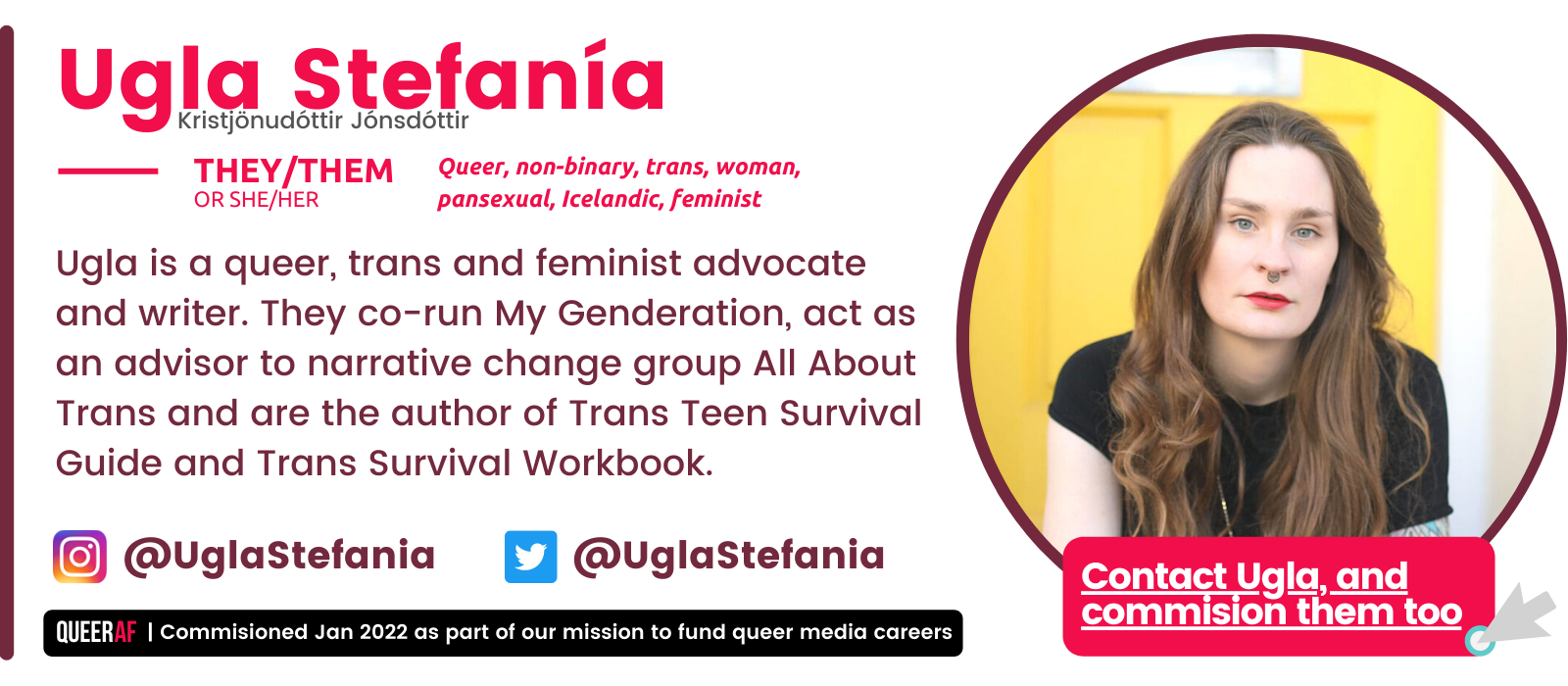 We are an independent platform launching the careers of emerging and LGBTQIA+ creatives driven by people, not advertisers.
The Queer Gaze is our landmark scheme commissioning, mentoring and running skill sessions with queer writers.
We rely on members like Rae Langford who directly funded this piece.
It was produced by queer creative Ugla. You can support them by; following them on social, sharing this article, or even better? Join Rae, and become a QueerAF member to directly fund more of Ugla's incredible storytelling - and see your name here.
We are QueerAF, and so are you.
Join the movement