Every Saturday we send you a summary of the week's top LGBTQIA+ news, queer content you don't want to miss and a beyond the binary spotlight on the voices that deserve to be heard.
💬 In this week's issue:
Swim. There have been a lot of stories about transgender sports star Lia Thomas, we take a look 🏊
Love. It's the antidote to fear and the vibe behind our fave social post this week, from writer and all-round rockstar Alok V Menon 👏🏿
The beeb. Olly Alexander is clearly too sexy for his shorts, or at least the BBC. OH, and his new album is out 💙
Skip the doom scrolling. Live your best queer life, on your own terms.
We are QueerAF – and so are you.
👀
This is a preview of the QueerAF newsletter. It is usually only available in your inbox, or to members. The good news? It's free to sign up for our newsletter, so if you like what you see - be sure to subscribe before you leave.
🏊 Transgender athlete Lia Thomas is an excellent swimmer
Over in the US, there has been a big d̶i̶s̶c̶u̶s̶s̶i̶o̶n̶ media frenzy over transgender college athlete Lia Thomas over the last few weeks.
It's seen broadcasters stir quite the moral panic. They've even managed to get the most decorated Olympian of all time to weigh in on the matter. So what's the deal?

Who is Lia Thomas?
She's an excellent swimmer, who's been making headlines because she's winning, a lot. She's also transgender, and it's seen the media swirl around and put her at the centre of a national debate.
It's all-around guidance for transgender female athletes from the National Collegiate Athletic Association. This states:
"A trans female treated with testosterone suppression medication may continue to compete on a men's team but may not compete on a women's team without changing it to a mixed team status until completing one year of testosterone suppression treatment." - Issued in 2011
Lia has done this and complies with the rules. It's why she's backed by the Ivy League and her college Penn. - NBC
Though in a classic example of transphobia in the press dividing and conquering: Following the media buzz, the NCAA has now announced they're going to review the guidance. - The Independent
What's the real story?
We thought this quick Instagram scroll by educator Schuyler Bailar unpacks this story perfectly.
In a nutshell, Lia is a great athlete because she's trained so hard to be one.
And while the debate is questioning her biology, it's key to remember elite sport depends on biodiversity.
So even though Michael Phelps who took great care when being asked about Lia this week:
"It's very complicated. We all should feel comfortable with who we are in our own skin. But I think sports should be played on an even playing field." - Michael Phelps on CNN
What is important to consider is how Phelps (a cisgender man) is often described as a biodiversity phenomenon by news media. Indeed, celebrated for it.
But when transgender athletes, and indeed women, defy norms like this? The conversation often frames this as 'unfair'. So what's really at play? (Your usual run of the mill transphobia.)
If you're talking to friends about this story, remember biological sex isn't binary. Like many things we talk about in QueerAF, it sits on a spectrum.
And if you want to be well equipped to hold the conversation, this deep dive into the matter is fair, balanced and a great read. - Pink Mantaray

⏰
This is your last chance to become a founding member of QueerAF. We're launching to the public on Tuesday at 9 am, and the discount and perks of being a founder will no longer be on offer.

Make sure you join Joe Lycett, the MD of Forbes in Europe, founder of National Student Pride and our latest to join the circle of founders, celebrity influencers Whitney & Megan Bacon-Evans. You might know them as 'Wegan' or because we've been talking about their fight for IVF equality in this newsletter, thanks for joining us.

Do you want to see the media change to better represent queer lives? Make it possible.
---
Elsewhere in news for queers
🕵️ Overblocking
In a test of the top parental control apps on Google Play, 92% were wrongly blocking at least one LGBTQ or sex-education site as "adult content". - Forbes
This is little surprise to me, and as many replied when I shared this on Twitter; This is by design, not an accident on some of them. For the rest, it's a classic example of 'overblocking', and why AI algorithms, designed by straight folk, will always fail us.
I've worked in a number of gay newsrooms and heard more than one editor call to an internet service provider to see whether our site can be unblocked, and if not a quote for a story explaining why. We're a newsletter that comes directly to you, to skip these nasty algorithms. If you want to make sure you we always get to you add soareyou@wearequeeraf.com to your contact book.
💙 Inclusive cancer care
It was super seeing the love pour in for this post on Twitter this week. At first glance, you might not even be able to tell why our community is loving it. Indeed, why a bunch of the vocal minority group of transphobes didn't like it.
It's because instead of talking about women, getting cervical smear tests - a vital cancer prevention care - the post replaces gender or sex words with 'you'. And as Macmillan explains, it's a super simple way to make language inclusive (by not excluding anyone).
Related: We also loved this clip on GMB with Radio1 Dj Adele Roberts talking about their bowel cancer treatment.
🍆 Too sexy for my public broadcasting corporation
A grand total of 179 complaints were made about possibly the queerest new year show ever shown on the BBC. Olly Alexander was joined by Kylie Minogue and The Pet Shop boys. It was a classy show, and in the wake of a tiny amount of upset viewers Olly says:
"It's hard to be this sexy. I've done my job well if I'm getting complaints."
- Olly Alexander speaking to Metro
There has been a lot of chatter about the beeb this week. It's after a populist measure was announced by Boris Johnson's government to defund it. It was an attempt to distract us from the 'party gate'. Their coverage of transgender lives is at times egregious. It's led PinkNews to run a 'save or change the org?' piece this week.
But I urge caution about feeding a divisive conversation about the BBC. It's also done so much for queer lives. To lose it would be terrible news for LGBTQIA+ content in the UK, and around the world. The BBC has made some awful and unforgivable mistakes. But working with it, to change it - that's what we need for the future of all kinds of diverse content.
---
🍵
Will you buy us a coffee to help us change the media?
Memberships won't be for everyone on launch day Tuesday. But chipping in the price of a
'Ko-Fi'
might be. Will you help us get started and
chip in £3?
---
📰 In brief
🤔
Did we miss a story? Be our news editor. Tell us what stories should be in QueerAF. Just reply to this email, anytime this week.
---
Live Love Laugh: Love is the antidote to fear
A social post that we live for, love or laughed at this week.
Handling trolls 101 is this week comes from 'ALOK' V Menon. We love their insta anyway, but this post is particularly 💯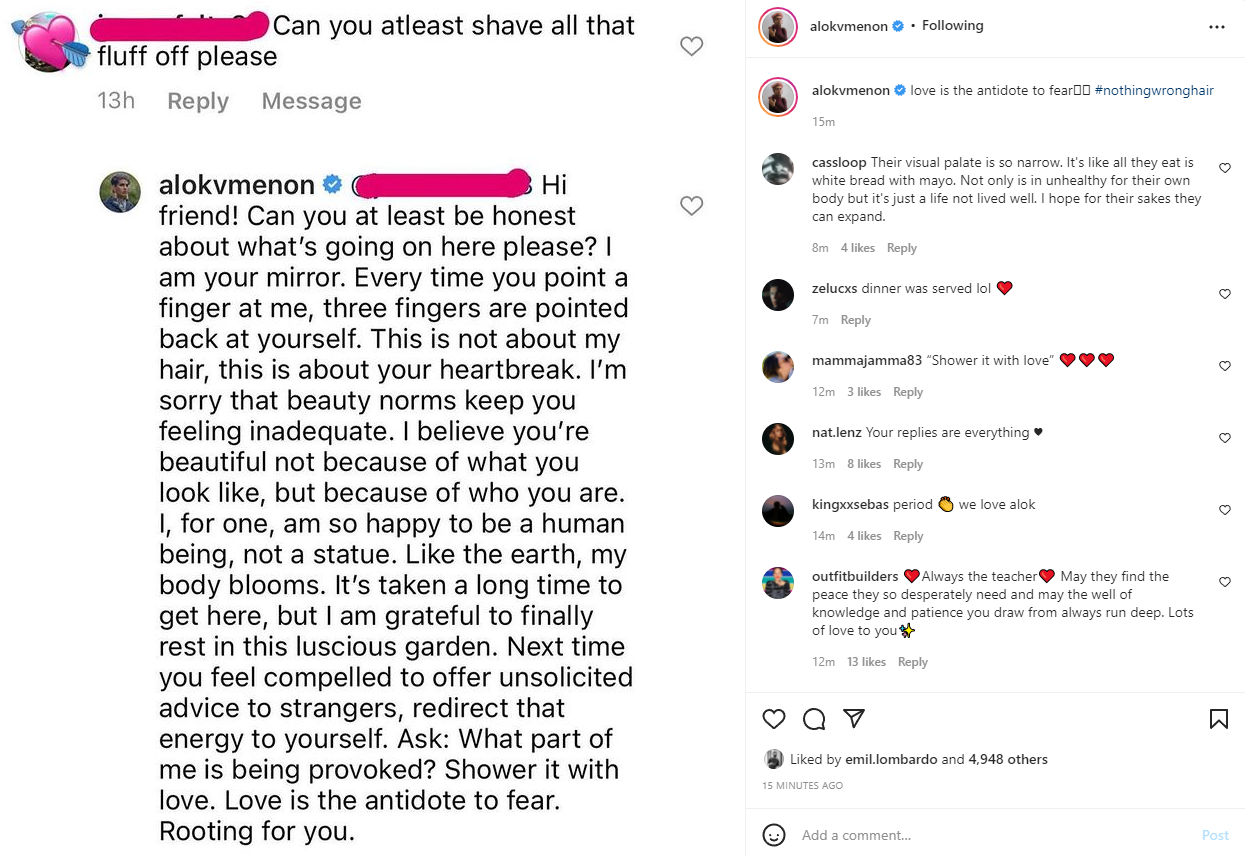 🤣
Follow and tag us on social media
with the viral posts we should include here (they'll have a bunch of content on them very soon) -
Twitter:
@WeAreQueerAF
or Instagram:
@WeAreQueerAF_
---
Must reads
Reframing scars
While surgery is not something all trans folk have - after comes a healing process. These trans people spoke to Emily Bashforth about their journey - LGBTQ Nation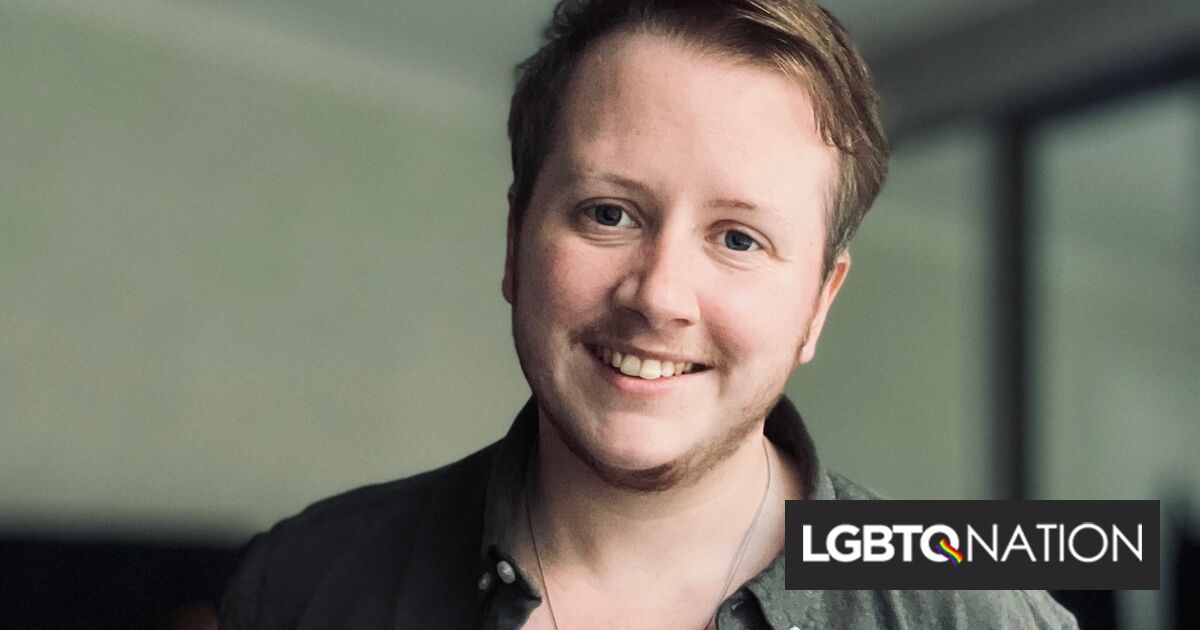 Eastenders
The soap's storyline just saw gay character Ben Mitchell face an awful homophobic attack. The Media Trust's comms lead Matt Harwood shared how the TV moment captured how he felt about his own attack. It's a great example of the power of popular culture, to get us talking (and change minds) - Metro
Don't forget queer Afghans
Also in this year's GLAAD media awards is UK journalist and editor of Openly Hugo Greenhalgh. His piece about LGBTQIA+ Afghans has been nominated in the online journalism category. As this reaches your inbox it's been 160 days since the Taliban takeover, and so this story is as pertinent as ever.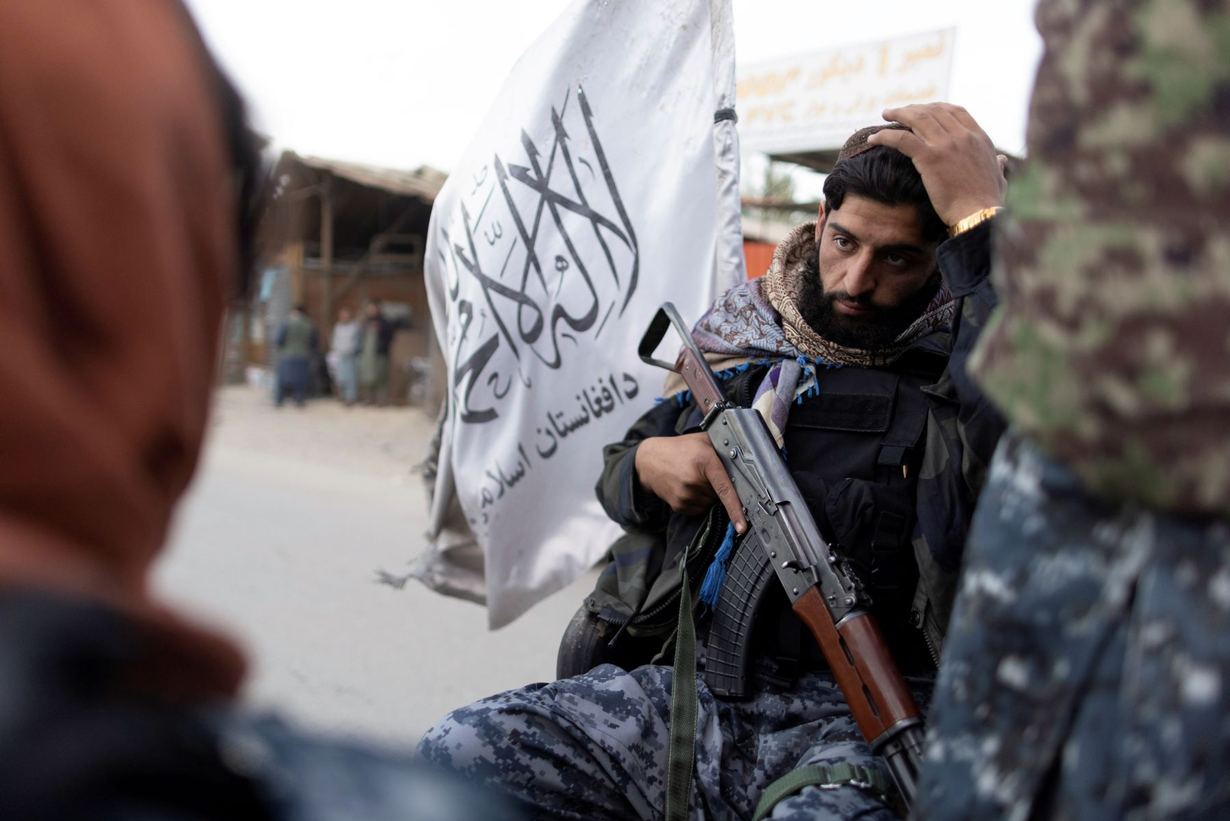 ---
The Queer Gaze: Starts next week
Each week an emerging queer creative will share their view on the week, through their unique queer sensibilities.
As a behind the scenes reader, do you want to take a sneak peek at the first ten writers who will be coming to you right here when we launch Tuesday? Take a look.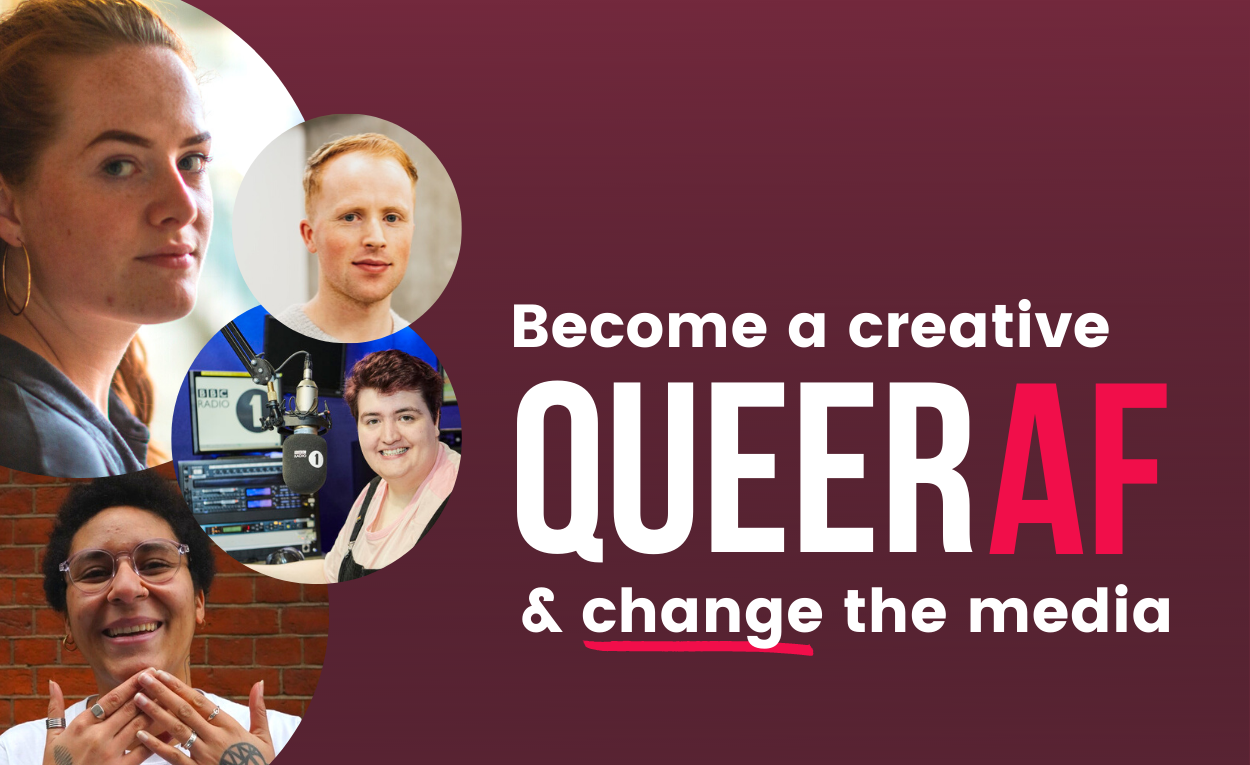 ---
Tickle Your Queer Senses
📽️ Film
"Subconsciously, I think the Scream movies are coded in gay survival." - screenwriter Kevin Williamson, speaking to the Independent
It's a quote many queer Scream fans found vindicating, and Digital Spy has taken a look at the new movie, to argue it rights a wrong of the series' LGBTQ+ representation. (and covers why Mindy is a breath of fresh air...) It dropped in cinemas this week.
If horror's your thing you might also want to check out The Last Thing Mary Saw, a queer horror that just dropped on Shudder.
Also - Elliot Page has given his backing to Transgender Doc 'Into My Name' joining as Executive Producer - Variety
📺 TV
Jeopardy! champ, who-is-still-on-a-record-breaking-winning-streak, Amy Schneider said she would 'certainly consider' hosting the show. COMMISSIONED. - People
🎮 Play
A video game story that follows the Stonewall Riots? Italian game designer Stefano Burchi is running a Kickstarter to create a game that follows a diverse group of LGBTQIA+ characters caught up in the pivotal night that sparked the modern queer rights fight. - Gayming Mag
🎵 Listen
Olly Alexander is now a mermaid! No, but can you imagine? His new release 'Night Call' with this classy album cover image is out though. And it's his first solo album (the rest of the Years & Years parted ways recently.) The reviews from many mainstream titles aren't great. But we think it's got some QueerAF bops. We like Intimacy.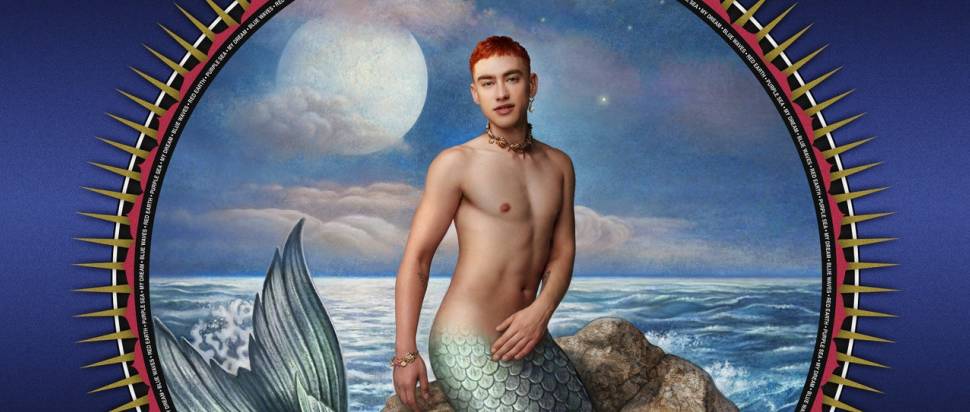 🗓️ What's on?
Tell us what's on in your diary (no matter where you are in the UK) and we'll include it here next week.
---
Follow of the week:  
Each week we bring you a QueerAF social account for you to follow and burst social media filter bubbles.
In honour of our launch Tuesday. Why not follow us so you see our content before anyone else? This is a preview of what you'll see on @WeAreQueerAF on Twitter and @WeAreQueerAF_ on Instagram very soon...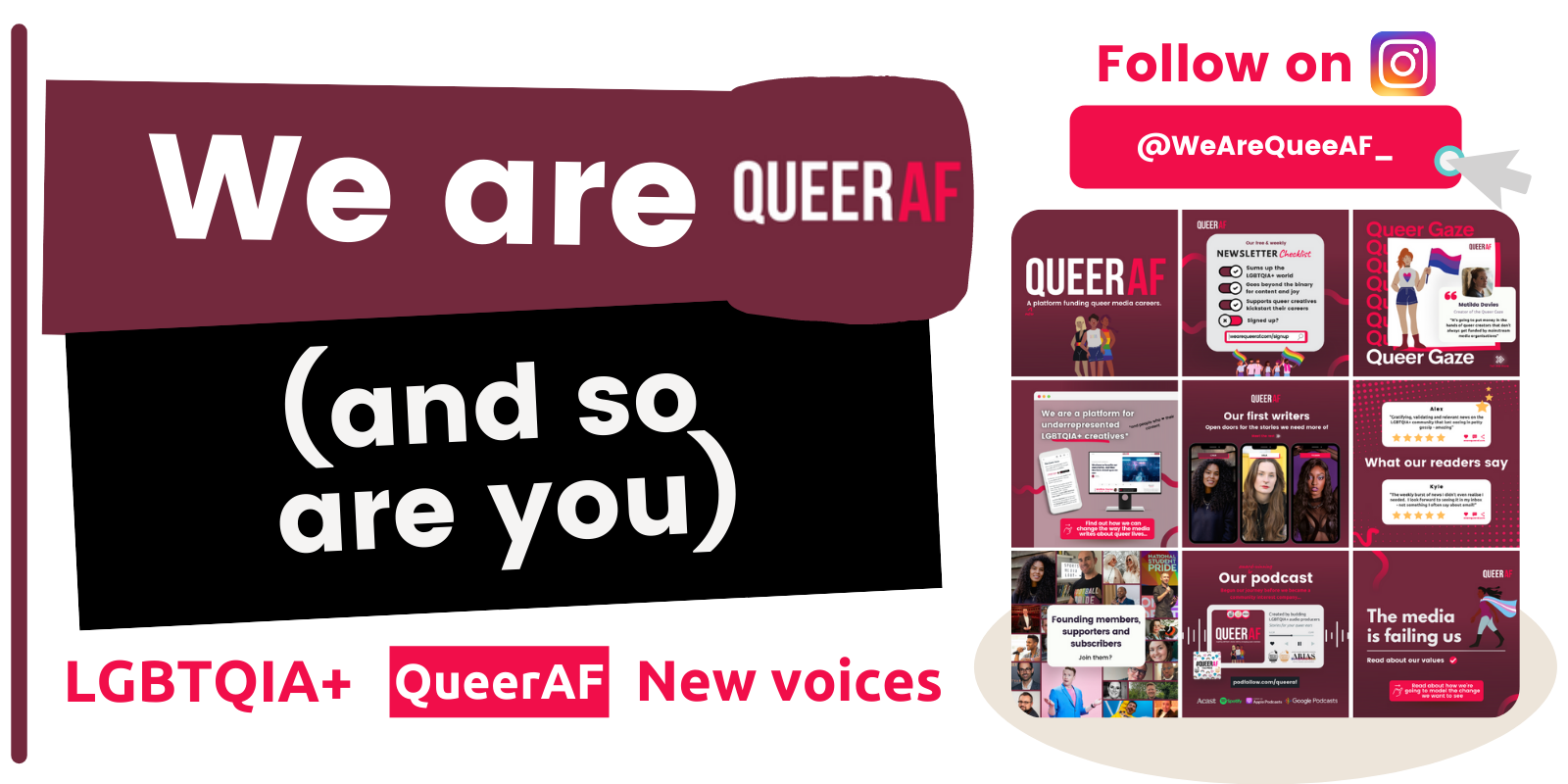 Follow us on Instagram
---
Enjoy QueerAF? 🦄
If the cost of this newsletter (£7/month or £59/year) would create any kind of financial strain, I hope you make use of this free QueerAF newsletter list. We love all of our readers, regardless of their ability to pay because LGBTQIA+ information shouldn't be a luxury.
But, if you can afford it will you consider becoming an early adopter member, to fund queer creatives? You'll get a discount on our monthly membership and if you pay annually, you can lock in the discount forever.
Reading on the website? Get QueerAF for free, every Saturday morning
With thanks to our QueerAF developer Grace Hayhurst, for their work on our site.
In pride,
Jamie Wareham - QueerAF Founder