When queer films pander to a straight gaze, I can't help but feel at a loss.
So many filmmakers fall into a trap. They want their work to be universal so it gets lots of views - for it not to be labelled a queer film.
When this happens, the queer audience gets cheated and the film loses its magic. So I ask, who is the audience for queer cinema?
I've been at BFI Flare the last few weeks. A queer cinematic experience, the film festival transcends genres and is incredibly varied. But the thread that ties the festival together is a focus on LGBTQIA+ life.
Watching a bunch of queer films in one sitting was a privilege. It's not something that I'm used to. And seeing them all together made me realise much of the queer content was 'about us' but not necessarily 'for us'.
Non-queer filmmakers have the luxury of creating content they assume will be enjoyable for all. It feels like the purpose, for them, of adding a queer character is often diversity.
But what we need is a space for our content to celebrate us, not explain us.
One of the highlights of the festival for me was the 2021 short film Coming Out with the Help of a Time Machine by Naman Gupta
The main character, Sid, comes out to his parents repeatedly. But, unlike most of our coming outs, when things went wrong he pushed 'reset' and did it all over again.
The film felt like it was for us, like an inside joke; it felt relatable.
Like in Queer Parivaar, where director Shiva Raichandani creates a world where queerness is the norm.
Or in Warsha, where Dania Bdeir tells the story of a Syrian crane operator working in Beirut - a cinematic masterpiece that peaks with the main character dancing from a crane.
They both show us a liberating world created with a Queer gaze. They don't seek to teach, only to entertain.
I want to see queer filmmakers adapt their approach – entertaining us with their storytelling rather than 'explaining us'.
Our identities should inform the plot, not be the plot. This is a radical approach. And it's what we need.
Let's focus on creating content that's for us, not just about us.
The Queer Gaze is just one part of our weekly newsletter that summarises, understands and explains the queer news of the week. Support queer creatives by signing up and sharing this piece.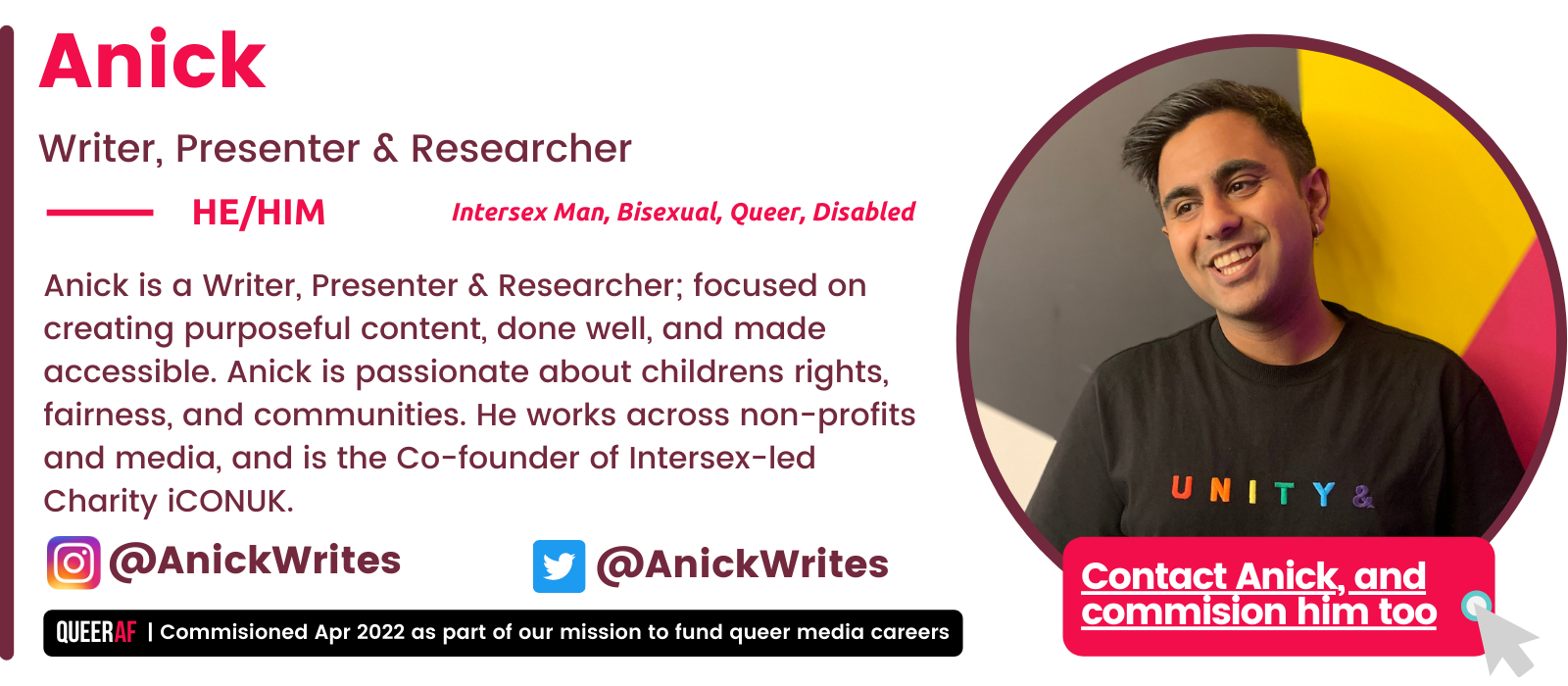 ---
We are an independent platform launching the careers of emerging and LGBTQIA+ creatives driven by people, not advertisers.
The Queer Gaze is our landmark scheme commissioning, mentoring and running skill sessions with queer writers.
We rely on members like Paisley Gilmour who directly funded this piece. Adrian asked us to focus their membership to fund stories from intersex or asexual writers.
It was produced by queer creative Anick. You can support them and other underrepresented LGBTQIA+ creatives now.
Join Paisley. Become a QueerAF member to directly fund more Anick's incredible storytelling - and see your name here.
We are QueerAF, and so are you.