Monkeypox. The virus has changed, and it's spreading across the world.
Even if the European outbreak shows signs of slowing, what's clear is this is something new. After years of being endemic in Africa, the virus is on the move. Right now, it's mostly affecting sexually active gay, bi, and queer men who have sex with men.
And though you have to be careful when comparing viruses, familiarities with HIV and AIDS in the 80s are plain to see. So when Martin Joeseph called me, home alone in all kinds of pain, feeling very scared with monkeypox - I had lots of questions.
But he didn't have the answers. Not for want of trying either. He'd already been online to see if he could get them for himself, but guess what? There wasn't much official advice. Classic. Together, we vowed to change that.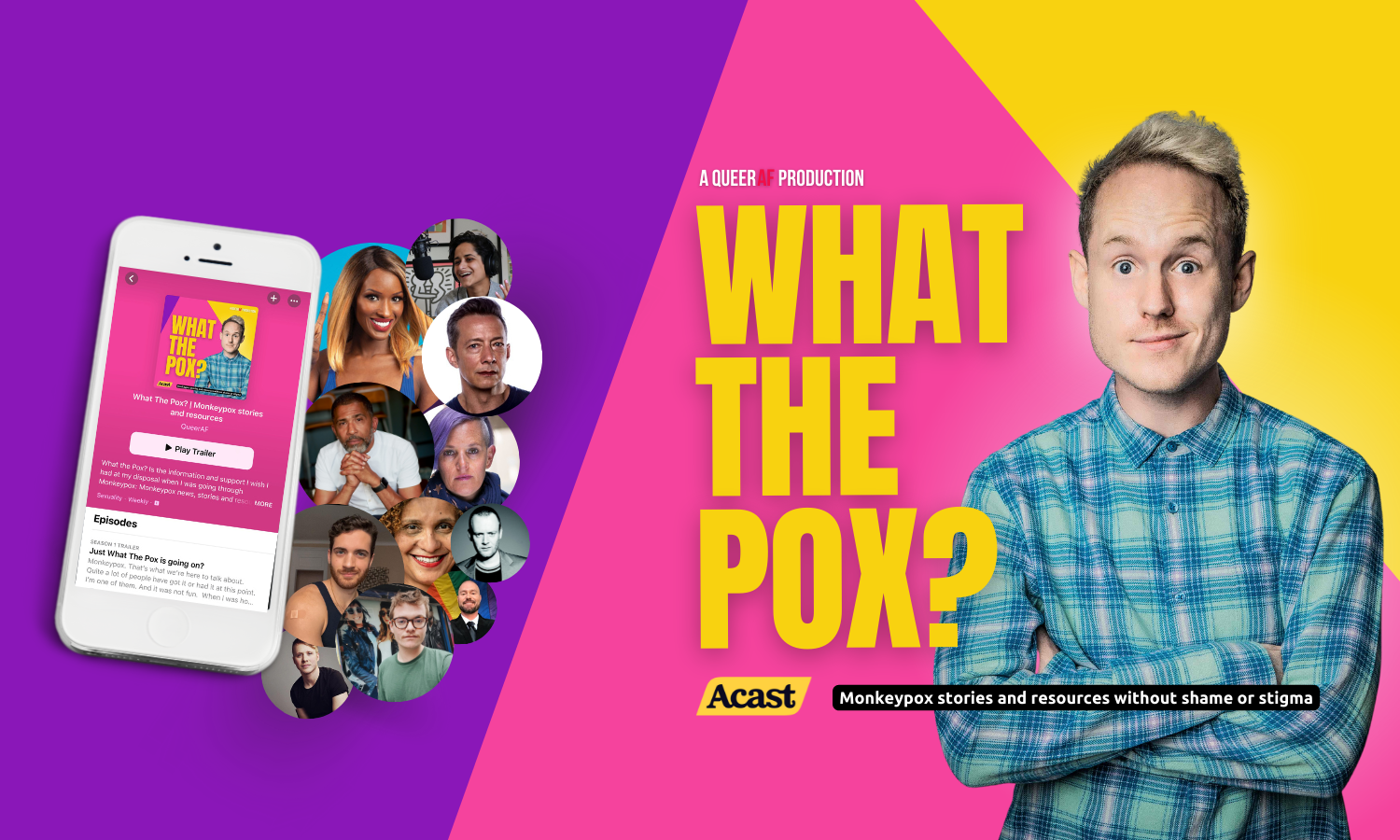 A few weeks later, we're here to bring you What The Pox? It's stories and resources about the virus, all shared without shame or stigma.
This latest podcast from QueerAF features experts, people who've had the virus, and those who see this outbreak as part of a much bigger picture.
Because what became clear very early on production is it's simple not enough to know what the virus is. We also need to understand why it's spreading.
So as ever, we're doing something incredibly queer. We've created the extensive, rapid response resource the officials should have.

Though many of the experts we've spoken to have praised some of the UK HSA response, there is a disconnect between it, the health service and those who need to hear this information the most.  
Monkeypox has become the latest virus to once again expose incredible health inequalities in the UK.
So join us every Wednesday as, together with Martin Joeseph, we not only share the resource he wishes he had - but help you understand:
What we know about the virus, and how it spreads
Why we feel shame and stigma about catching it
What the parallels are with the HIV outbreak in the 80s
Why this sits in a bigger picture with conversations about queer sex and health inequalities
And crucially: What can we do next?
Understand the LGBTQIA news
Why we're not keeping the IP
No one could make this podcast as Martin could. We've trusted him and his lived experience to guide every step of the production.  
For those who know QueerAF's mission well, you'll know our platform is dedicated to helping queer creatives careers. As well as helping you understand the LGBTQIA+ world of course.
Which is why I'm proud to announce that the creative Martin Joeseph will retain the intellectual property of What The Pox?
We hope it will set up a model that allows creatives to grow a brand with us until a time they may want to pursue it on their own. It's part of a suite of experiments we're going run to find new ways to fund queer content. And ultimately to put the commissioning into your hands.
We're using the podcast to begin rasing money for a 'queer content fund'. We hope it will help us deliver more projects like this as well as support our current mentoring schemes.
By supporting creatives to develop not only their talent but their ideas, we're going to kickstart a queer content revolution. One that can change the way the media tells LGBTQIA+ stories, that helps shift the narratives on our lives.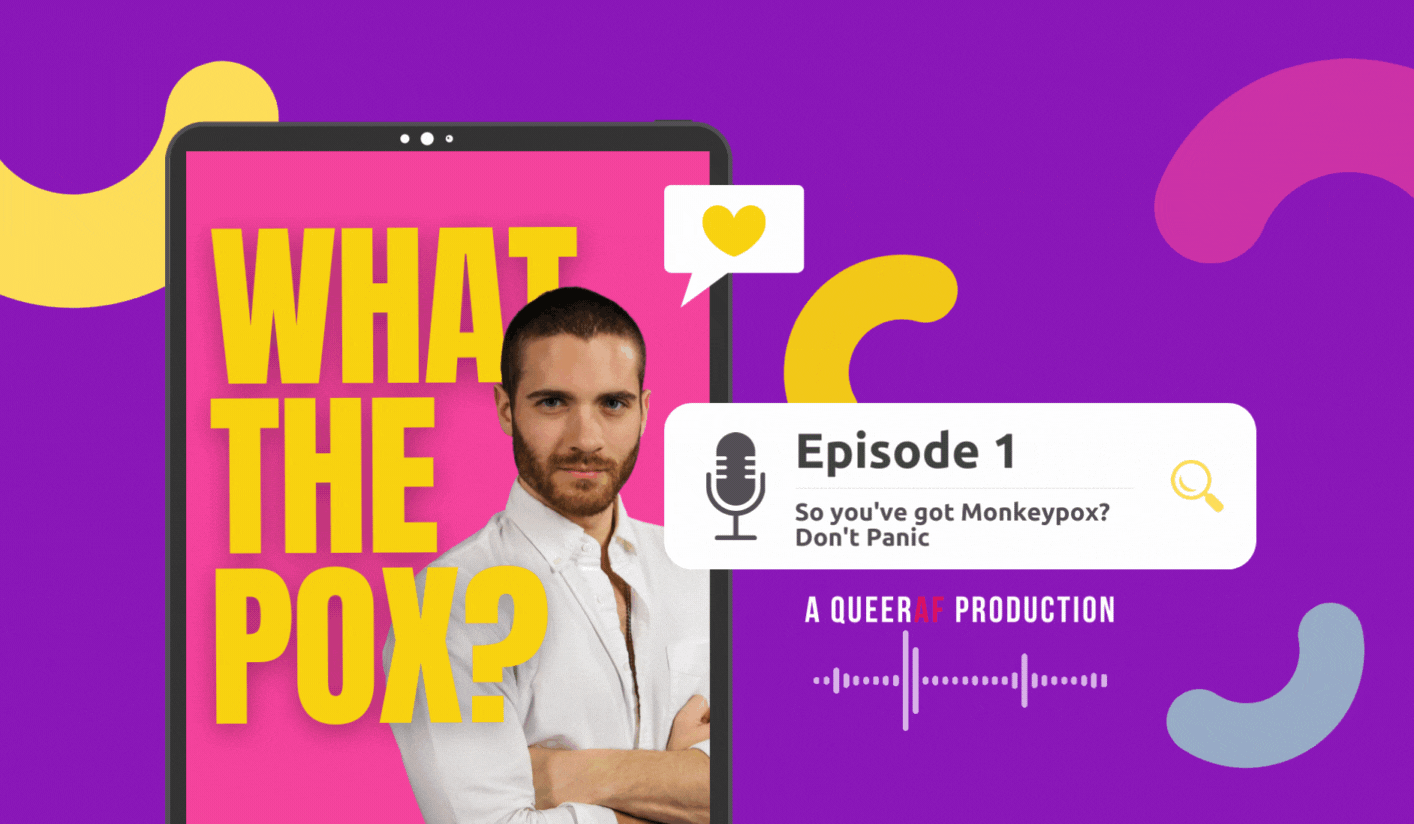 Support the What The Pox?
If you think that our approach is great, good news. We've launched a new membership option so you can help us keep the show (and our work) sustainable. It's going to directly fund:
Future episodes of What the Pox?
Monkeypox stories and resources
The QueerAF content fund, which commissions marginalised LGBTQIA+ creatives
In return, you'll get:
Early access to the episodes as soon as they are ready,
The chance to listen ad-free here on the QueerAF platform
And we'll email you new episodes when they are out (as soon as they're ready)
And in a continuing effort to make our memberships great, we're extending these perks to all existing '100% QueerAF' members, including 'Early Adopters.' If you're already a member, we'll email you later today with information about how to turn these perks on.
There has never been a better time to support our work, and you can get started for as little as the cost of an iced-coffee? Hard to say no right?