No spam, no ads, unsubscribe anytime - supports queer creatives

2300+ people trust us to give them everything they need each week to navigate and understand the ever-changing queer world 🏳️‍🌈
Every Saturday they get:
1 in-depth explainer: Understand the biggest queer story this week
3 TL;DRs: Get the top LGBTQIA+ news summarised with valuable analysis (and even more stories listed 'in brief')
3 must-reads: Articles, threads and long reads you shouldn't have missed
5 senses: Queer content everyone is talking about. What to watch (film, tv) read (books), play (video games) or listen to (podcasts, music)
1 Queer Gaze: an underrepresented queer writer's take on the week
It takes us a whole week to put together, but you can catch up on the queer world (with your iced coffee) in just 5 minutes - all for free 🤯. Try it now.
QueerAF is an award-winning community interest company supporting, mentoring, and building the resilience of queer creatives to get their first commissions and kickstart their media career.
What our readers say
Read even more reviews - or just ...
Our average rating is 4.8/5 ⭐ We're loved by senior media professionals, queer business owners, LGBTQIA+ community leaders and all kinds of queer folk. Actually, a bunch of readers love it so much – they pay for it (even though it's free). These members get early access and tell us what to create.
Why do people pay for QueerAF's free newsletter?
People who pay for this newsletter do two things.
They

help keep this newsletter free for everyone

because information about LGBTQIA+ lives shouldn't be a luxury.




They

fund our work supporting a new generation of queer creatives

to start and build their media career.
Our members know that our newsletter is more than a good read. It's where we commission and publish the work of the queer creatives we're mentoring.
Our approach means you get a top-quality read, held to the highest standards while helping to change the media landscape with a new generation of queer creatives.
We're doing this because the media doesn't represent, hire or understand us - it's failing us.
By helping underrepresented writers to build their media careers together we can change the media so it works for all LGBTQIA+ people.
Right now we have a 40% early adopter discount, which means you can chip in just £4.20 a month to make this possible, get a shout out on our socials and have early access to our content.
We've only been around since January 2022, but very cool people like comedian Joe Lycett, the MD of Forbes in Europe, and the founder of National Student Pride have already joined our movement - and become QueerAF members.
In fact, over 75 people have already claimed their discount and there is only a limited number left.
But right now, all we ask is that you give our newsletter a go. Then if you think we've earned it, sign up to support our queer creatives anytime.
Our award-winning podcast and newsletter have been featured in:

Do you relate?
I'm overwhelmed by the news
Hard agree. That's why we don't simply write up the news, we explain it.
Our newsletter calmly summarises and understands the LGBTQIA+ world so you don't have to.
Think of us like a TL;DR for the queer news.
I love top-notch LGBTQIA+ content
Us too. It's why we find the newest and best queer books, podcasts, YouTubers, TV shows, films, video games, and music... and then:
You guessed it, we put it all in the newsletter.
I want the media to change and represent us
Our newsletter supports, commissions and funds underrepresented and emerging queer creatives.
We are working with them to launch and grow their media career so they can work in the industry - to change it.
Only a media industry that represents, hires, and understands us – can ever shift the narrative for queer lives in the UK.
That's what you support when you sign up for our (more than just a) newsletter. You join a movement, that is demanding change.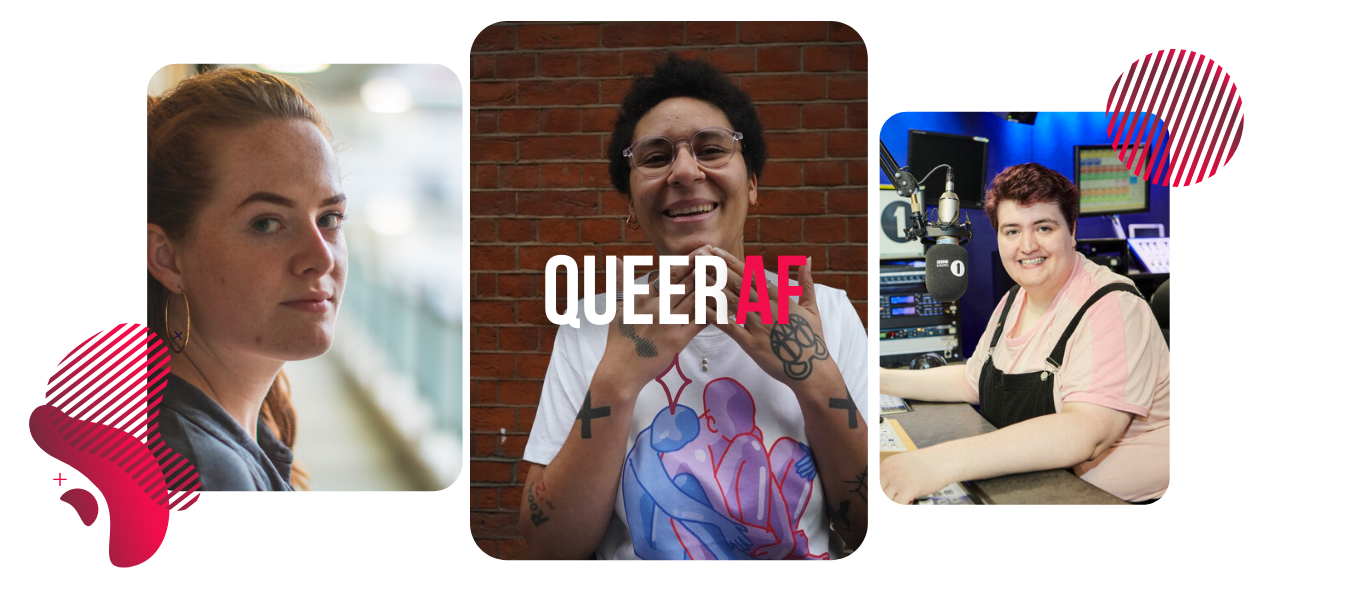 Understand the queer news