QueerAF's newsletter has the top LGBTQIA+ news you need to know. Queer content you don't want to miss. And a beyond the binary spotlight on the voices that deserve to be heard.
Our newsletter calmly summarises, explains and analyses the queer world.
It means you can skip the doom scrolling and live your best queer life, on your own terms.
Let us come to you every Saturday (for free 🤯) with analysis and explanations of the LGBTQIA+ world, queer content to tickle your senses and emerging and underrepresented voices to follow on your socials.
It's packed full of top-notch LGBTQIA+ content. We have everything you might want to watch, play and listen to. Books, podcasts, YouTube, games, music - it's all in there.
Plus we'll inspire you to burst your filter bubble by letting you know which emerging and unrepresented voices we follow on social media.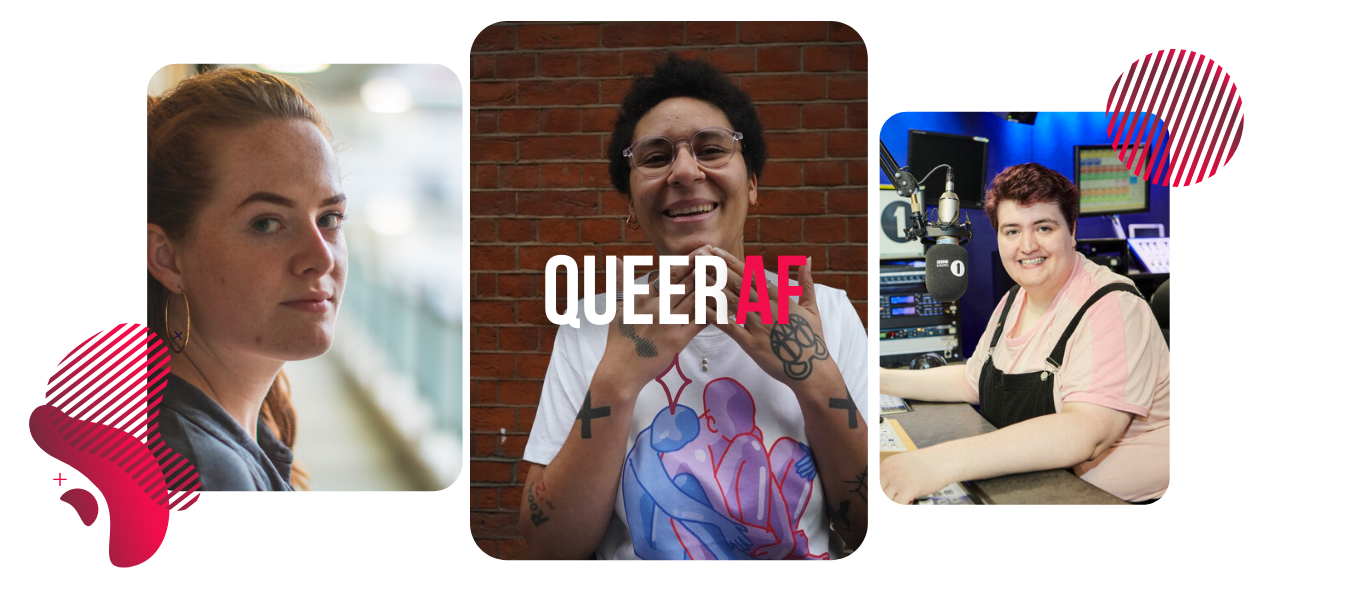 Our newsletter is loved by media professionals, LGBTQIA+ community leaders and all kinds of queer folk.
We talk with a queer gaze and write for the LGBTQIA+ community. The newsletter is perfect queer people (and our allies) who want to keep up-to-date with LGBTQIA+ sensibilities - and are too busy to read the overwhelming world of queer news.
And it's going to let you focus on your life in the week, knowing we'll keep you in the loop when we arrive in your inbox.
Skip the doom scrolling and get our summary of the queer world this Saturday (for free 🤯)
---
What our readers say
Average rating 4.8/5 ⭐ - Reviews from community of media industry superstars, LGBTQIA+ community leaders and real queer people who tried our newsletter ahead of launching it to the public in 2022.
---
People pay for our free newsletter
A bunch of people love our free newsletter so much - they pay for it.
Media industry leaders like Alex Wood (Managing Director in Europe, Forbes), Steve Parkinson (Chief Strategic Partnerships & Events Officer, Bauer Audio UK), Rae Langford (Head of Corporate Comms, Banijay) are all paying to subscribe.
Not to mention producers, presenters and journalists like James Barr (Hits Radio, Gay and a NonGay presenter), Karen Bevan (Producer, AudioBoom) and Jon Holmes (Sky Sports and Sports Media LGBT+) who are also proud members of QueerAF.
Queer business leaders like Chris Kenna (CEO of Brand Advance), Robin Gray (Co-founder, Gray Jones Media) and Gary Stewart (CEO of Founder Tribes) are making this work possible as members.
Plus LGBTQIA+ community leaders including Char Bailey (Education & Inclusion officer, UK Black Pride), Tom Guy (National Student Pride founder) and Adrian Hyyrylainen-Trett (UK's 1st Openly HIV+ Parliamentary Candidate), all signed up to support the mission.
Some are so confident in our approach, like Joe Lycett (comedian and TV presenter) they've become a lifetime member, to secure the future of this work.
Even more, are reading our newsletter and making our vital work possible. Are you?

Why do they chip in?
It's because they know our newsletter is more than just a good read. It's where we commission underrepresented LGBTQIA+ writers to share stories with you and the community.
Our new community-led platform is a place where the editorial decisions are in your hands. We think readers, not gatekeepers, are our most valuable editors.
And members, who pay for our newsletter, fund our vital work training a new generation of LGBTQIA+ creatives. And that's where we need you.
What does the newsletter fund?
We're doing all of this because we believe the UK media industry thrives when it's bursting with queer talent.
And that's crucial because only a media industry that represents, hires, and understands us – can help shift the narrative on being queer in the UK.
To build this new kind of media, we need to remove barriers for people with marginalised backgrounds. We need to give amazing queer talent a head start. QueerAF's mission is to make that change possible. That's what our newsletter funds.
And yes, our newsletter is free to all because information about LGBTQIA+ shouldn't be a luxury - and we love all our readers, regardless of their ability to pay. But if you can chip to make this vital project a success, your contribution will make a huge impact.
Will you join our movement to change the media?
Become a member from as little as £4.20/m
Chip in (the price of a coffee) once - £3
Get our weekly newsletter to support queer creatives (for free)
---