During my last year in middle school had two sex education sessions. I missed the second one due to a nasty flu.
Even more annoying than my burning fever was knowing I had missed my once-in-a-lifetime opportunity to ask what "kinks" were.
Questions like that could soon be banned from Relationship, Sex and Health Education (RSHE) lessons in schools in the UK. Rishi Sunak has announced that the government will review existing teaching guidelines "to ensure schools are not teaching inappropriate or contested content."
The announcement came in response to unsubstantiated concerns voiced in Parliament by Tory MP Miriam Cates. Using emotional language, she said pupils are being exposed to "age-inappropriate" and "graphic" lessons.
These claims came even though many schools are already able to opt out of including information about LGBTQIA+ lives in sex ed, with a variety of justifications available, including faith ties.
It's important to see this in the bigger picture. In the US, what started as 'age-appropriate' concerns soon morphed into a "moral panic" against the LGBTQIA+ community. This led to 'Don't Say Gay' bills censoring LGBTQIA+ books and educational materials altogether.
Cates's long-standing anti-LGBTQIA+ rhetoric relies on textbook "moral panic".
Mentions of kinky sexual practices like choking, and exaggerations like the reference to "72 genders" in her prejudiced parliamentary speech, are a clear attempt to depict queerness as sexually deviant and dangerous to young people.
Basing a review of RSHE on one MP's anti-LGBTQIA+ prejudice is not only unreasonable. It reeks of America's 'Don't Say Gay' trend.
Laïla El-Métoui, founder of LGBTQIA+ education charity Pride in Education, stressed the detrimental impact censorship has on young people who are queer or questioning. Sex education, she told QueerAF, should teach about healthy relationships, consent and diversity "to support learners' wellbeing and development."
Rather than catering to adults' moral panics, any review of RSHE should begin with pupils' real-life experiences and needs in mind.
At age 14, most people in my class had watched porn.
Some of us were realising they weren't straight or had growing feelings of discomfort about their bodies. All of us were clueless about issues like consent, abusive relationships, and yes, even the fact that queer people existed.
Sure, putting condoms on bananas is a useful exercise. But it would have been helpful to also talk about our most pressing issues and curiosities.
Sex education gives young people the opportunity to discuss topics they wouldn't normally talk about with adults.
Sex education should be age-appropriate - no doubt. But it should also be taboo- and prejudice-free to help young people navigate sexuality happily and safely.
Get the Queer Gaze in your inbox each week with our free weekly newsletter or pitch to write an edition for us now.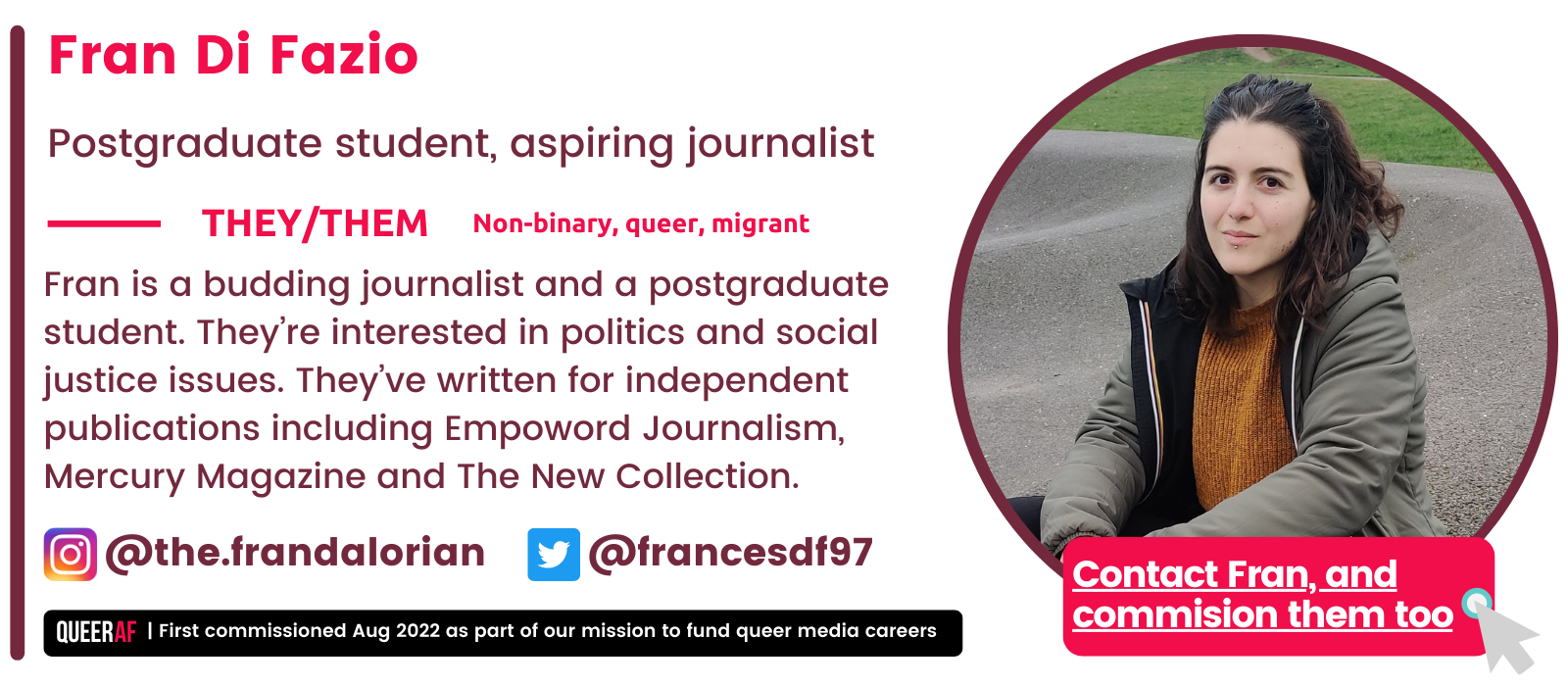 ---
Support Queer Creatives
This article was just one part of our free weekly newsletter that helps you understand the queer headlines and stay on top of the latest LGBTQIA+ content - all while we support queer creatives.
It's written by Jamie Wareham and a different queer creative each week. Hundreds of people trust us to give them everything they need to navigate the ever-changing queer world every Saturday morning. 🏳️‍🌈
We are an independent platform launching the careers of emerging and LGBTQIA+ creatives driven by people, not advertisers.
The Queer Gaze is our landmark scheme, commissioning, mentoring and running skill sessions with queer writers.
We rely on members like Louise to directly commission queer creatives - join in and see your name here too?