"Kito" is a word coined by the Nigerian LGBTQ+ community.
It's a word for when a queer person is set up by homophobic people, beaten up, extorted and outed to their contact list, especially to close friends and family.
It is almost ten years in Nigeria since the anti-same sex marriage law was implemented. LGBTQIA+ people, especially the poor and middle class, live without full access to human rights. They play to the rules of forced heterosexuality. The possibility of  Kito looms heavy over many queer Nigerians.
And now an election is approaching. You might hope that change could be on the cards. But it's leaving queer Nigerians torn between the three most popular candidates: PDP, APC and Labour party.
None of the contenders are looking to change LGBTQIA+ lives for the better. The PDP candidate resonates with Nigerian youth but has allied with the Labour Party, which has a worrying track record.
Recently, a video of Labour Party Presidential candidate Peter Obi's running mate Yusuf Datti Baba-Ahmed speaking in the early 2010s resurfaced. It showed he was among those who implemented the anti-same-sex marriage law.
While those in the parliament decided to bring in a law that called for 14 years in prison, he went further, calling for queer people to be stoned.
Nonetheless, many LGBTQIA+ Nigerians are left feeling like the Labour Party is their best choice. But that's largely because they are voting on other issues.
I have been considering whether to vote at all. I don't want to be an accomplice to an elected leader who believes in violating queer bodies. When Obi was asked how he felt about the opinion of his running mate, he chirped in benevolent allyship but said the country has something more important to focus on.
We need a change in the media. Join the movement to make it possible with our free newsletter.
I don't want to ally with anyone who restricts my right to love.
I am aware that any president declaring their inclusivity towards LGBTQIA+ people will lose the majority vote. But it remains disappointing that they would rather remain silent and constantly allow their supporters to fester queerphobia. What about if they lose my vote?
All that said, I still hold out hope for the future. Despite bills to fine 'cross dressing' (even though African dress is hardly hinged on gender binaries), or J.K. Rowling's gender-critical views emboldening anti-LGBTQIA+ campaigners, people are fighting back.
Just look at author Akwaeke Emezi and lesbian social commentator Olutimehin Kukoyi, who called out transphobia and queerphobia despite knowing they'll be the subject of a pile-on online.
Nigerian gen Z and millennial activists are fighting for our rights, and I stand with them.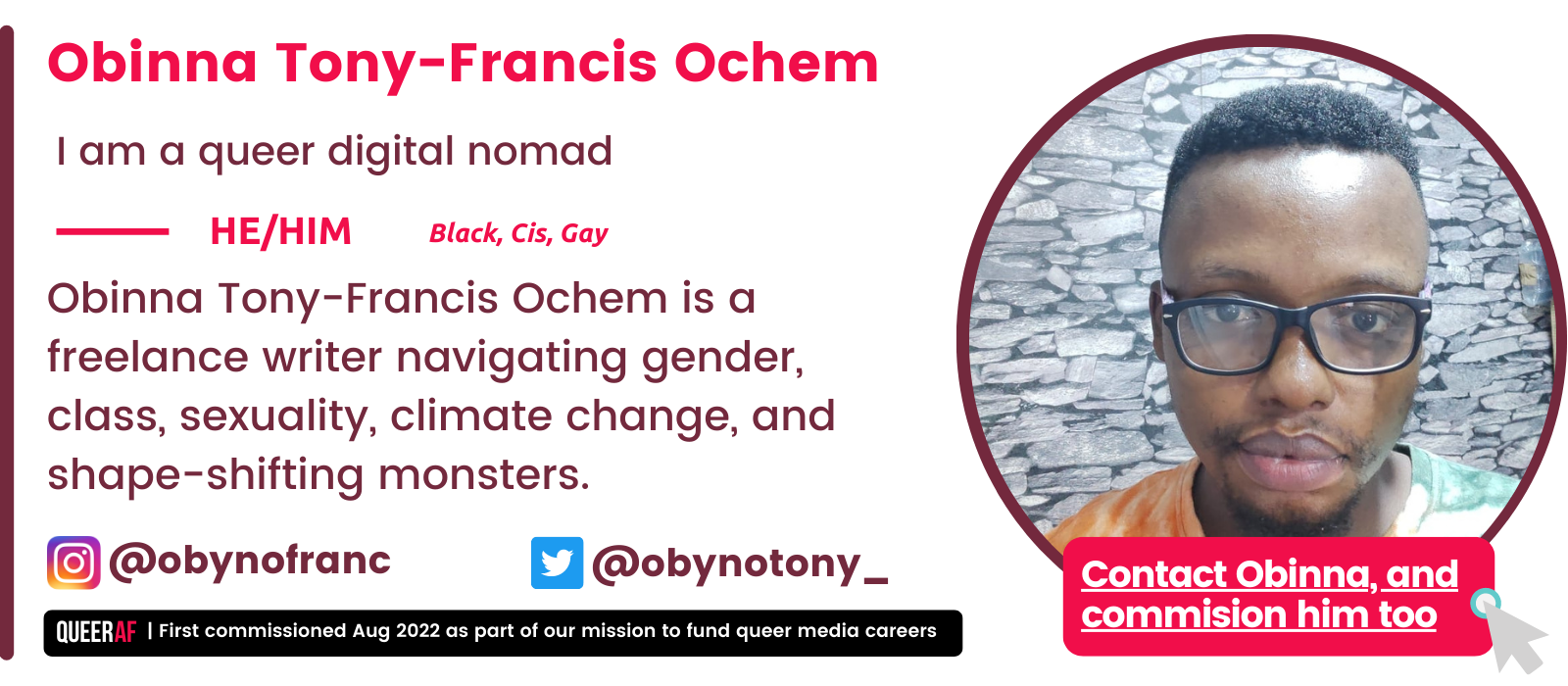 ---
Will you forward this to a friend?
This article was just one part of our free weekly newsletter that helps you understand the queer headlines and stay on top of the latest LGBTQIA+ content - all while we support queer creatives.
It's written by Jamie Wareham and a different queer creative each week. Hundreds of people trust us to give them everything they need to navigate the ever-changing queer world every Saturday morning. 🏳️‍🌈
We are an independent platform launching the careers of emerging and LGBTQIA+ creatives driven by people, not advertisers.
The Queer Gaze is our landmark scheme commissioning, mentoring and running skill sessions with queer writers.
We rely on members like Char Bailey, who directly funded this piece. Become a QueerAF member to commission queer creatives directly - and see your name here too.
We are QueerAF, and so are you.