TL;DR: The trans and non-binary people featured in Channel 4 documentary Gender Wars, broadcast this week, have spoken out against the film, saying the final edit misrepresents their message. It focuses heavily on 'gender critical' academic Kathleen Stock and perpetuates narratives of trans people being a danger to women.
The documentary Gender Wars, directed by Pamela Gordon and produced by Carlo Lavarini, was broadcast on Channel 4 on Tuesday evening. It claims to platform voices from "various sides of the debate", but focuses primarily on 'gender critical' academic Kathleen Stock - Channel 4
Last Saturday, having seen previews of the documentary, seven trans and non-binary participants published an open letter condemning Channel 4 and the filmmakers.
They said they had been "misled and misinformed" by the production team, who did not tell them that the film would focus on Stock and her claims to have been victimised by trans activists - open letter
Channel 4 defended the documentary and told QueerAF it was "fair" and that participants were "clearly informed of how their contributions would be used."
Elsewhere the director published a feature on Broadcast outlining her experience of making the film. She claimed that the crew "gained the trust of trans contributors", but made no mention of the open letter or the direct communications its signatories made with her team - Broadcast
On Monday, Rishi Sunak spoke to The Telegraph in defence of Stock, who was due to deliver a talk at the Oxford Union debating society on Tuesday evening. The talk went ahead but was significantly disrupted by student protesters, with one glueing themself to the floor - Sky News
"Edited out"
In a review of Gender Wars published on Monday, journalist and documentary maker Patrick Strudwick wrote that the film "fails women, fails trans people, and fails at journalism" - iNews
He points out that the film narrowly focuses on the question of whether trans rights and women's rights are incompatible – a major gender critical dogwhistle – while failing to address the dangerous developments of recent years, such as:
Gender Wars doesn't even mention Brianna Ghey, the trans teenager who was murdered in February while the film was in the midst of production. It's an appalling oversight.
So why was all this crucial context about the threats to trans lives left out of the documentary? Not because of a lack of material.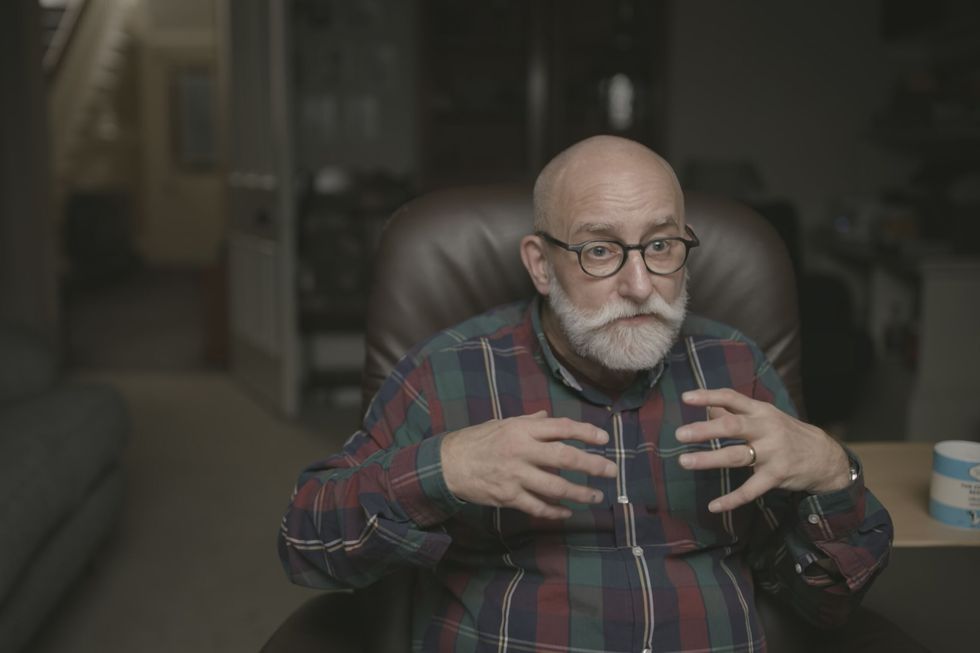 Speaking anonymously, two of the trans participants in the film told QueerAF that "All of us spoke at length about our own experiences of discrimination, [...] the rights that are being taken away from us, [...] the NHS waiting lists, the problems of homelessness and poverty in our community -- all of which was edited out".
These participants were "promised" by the filmmakers that the message they delivered would come across in the film.
Instead, they feel their words were "spliced to fit around the Kathleen Stock narrative", "undercut entirely", and reduced "to sound bytes".
Professor Stephen Whittle OBE, another of the trans people featured in the film, was filmed speaking about students staging anti-trans protests in his lectures.
Unlike Stock, who willingly resigned from her role at the University of Sussex while claiming she was 'victimised' by trans rights activists, Whittle could not walk away from his post. None of this footage made it into the final cut of the film - PinkNews
Analysis: The mainstream media are burning bridges
Not every review of Gender Wars was negative. Writing in The Guardian, Lucy Mangan gave the film four stars out of five, reiterating Stock's victimisation narrative while failing to mention the open letter and the criticisms of trans participants - Guardian
Channel 4 responded to criticism by doubling down, reiterating that the aim of the documentary was to "create a respectful and inclusive look at what gender means in 2023" - Metro
The refusal of Channel 4, the filmmakers, and other media figures to take criticisms from trans people seriously is indicative of a common prejudiced attitude in mainstream media.
It is an attitude that reduces trans lives to the question of who gets to use women-only spaces. That sensationalises the supposed struggles of gender critical 'feminists' while erasing the oppression and deaths of trans people. That amplifies transphobic government rhetoric by continuing to platform those who think trans lives are up for debate.
In her Broadcast piece, director Pamela Gordon writes about how difficult it was to convince any trans people to participate in the film.
But despite her interest in building trust, she rejected the idea of having a trans sensitivity reader review the film, as recorded in notes from a meeting with some trans contributors seen by QueerAF.
The result is a film that will only worsen LGBTQIA+ people's opinion of Channel 4.
Channel 4 may not admit it, but Gender Wars has only burned more bridges between the media and the LGBTQIA+ community.
QueerAF contacted Channel 4 for a response which was provided after publication. A Channel 4 spokesperson said:
"Contributors to the programme were clearly informed of how their contributions would be used. The programme is fair and duly impartial and complied with the Ofcom Broadcasting Code."
---

While the big media players betray our communities again and again, we're building our own kind of media on the margins.
Research shows that most people pay for at most one monthly media subscription. Perhaps you pay for ad-free streaming from a major TV station, or to skip the paywall on a big newspaper's website. But that subscription fee could do so much more.
This Pride month, we urge you to think carefully about who you give your hard-earned cash to. Who do you want your money to support?
As a not-for-profit publisher with a purpose, we rely on readers like you to donate, support and get involved.
Our memberships deliver more than just funding for us, though. They're an opportunity to join a community that helps define our editorial philosophy.
Every reader is important to us, and responses to our annual survey have been incredibly valuable. But as a member, you'll join a community that tell us what kind of content and creators we should focus on.
Every penny you give us supports a mission to change the media - vital and urgent work in the current climate.
This Pride month, consider upgrading your media sub. Help us fund quality queer journalism and marginalised LGBTQIA+ creatives all year round.