TL;DR: Following years of media and government anti-trans messaging, a young trans person has been murdered in what appears to have been a targeted attack. Two people have been charged and the police have not yet ruled out classifying the attack as a hate crime.
The murder of Brianna Ghey, a teenage girl, rocked the LGBTQIA+ community this week. Two teenagers have been charged with stabbing and killing Brianna in a popular dog park in Cheshire on Saturday.
I wish I could write that we were shocked by the murder.
But given the rhetoric peddled by the media and government in the last few years, this terrible incident is little surprise. Just days after the murder, the new Conservative party Chair argued the Tories should fight the next election on 'culture wars and trans debate' - The Mirror
This in a country where hate crimes against LGBTQIA+ people have risen 348% in just under a decade. This case hasn't yet been labelled as a hate crime, but that line of enquiry is still open - BBC
Everyone should grow up feeling safe, happy and secure at school and in their hometown. This country failed Brianna Ghey.
And it's failing thousands of young queer teens who are heartbroken, scared and angry in the aftermath of this murder.
UK's rising transphobia is the backdrop to this saddening murder
In the days since the news broke, it's become clear that Brianna - who, like many her age, was popular on TikTok - was being bullied at school.
Her friends have suggested that transphobia was the source of the bullying, with one saying she was 'constantly' tormented at school 'because she was trans' - Daily Mail
The irony that the Daily Mail is the source of this information isn't lost on me.
The same paper also went to great lengths to find and publish Brianna's deadname as part of its coverage of the teenager's murder.
We must be careful not to speculate on the causes and circumstances of Brianna's murder. But what requires no speculation is the media's role in the rising tide of transphobia the UK is seeing.
Indeed, if the media doesn't turn the tide on it's rampant transphobia, more will die - Hacked Off
Take the curious case of The Times article about Brianna's murder.
So entrenched is the paper's tacit anti-trans editorial stance that it went as far as amending its coverage of the murder.
It removed the word 'girl' from the article when it became clear she was trans and added Brianna's deadname (the name she was given at birth). These changes were eventually reversed amid social media furore.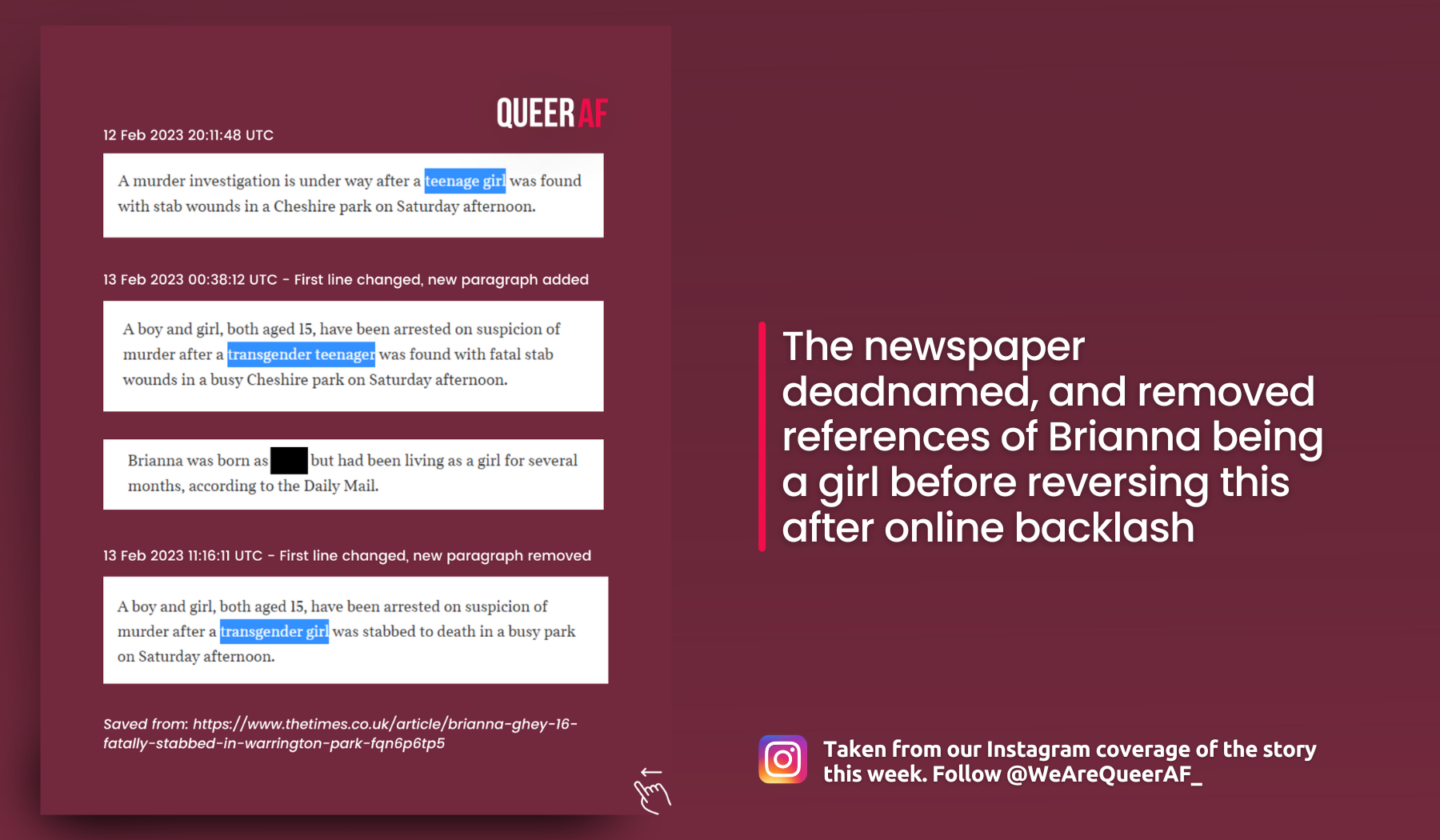 The 'culture war' against transgender people must end
Brianna has been described as a "much loved" daughter, granddaughter, and sister. Her friends have described how she helped them access medical care for their transitions, even while she dealt with constant transphobic bullying - VICE
Her murder has united a grief-stricken but ever-resilient LGBTQIA+ community. There have been no less than 50 vigils held all across the UK. The anger and sadness is palpable.
When journalists and commentators talk about transgender lives or issues that don't directly affect them, it can be easy to distance themselves from it.
It's just content, right? Another news story, another video. Having worked in a newsroom, I can assure you how easy and, sometimes, necessary it is to move on from a story once it's filed.
That's why I also know how easy it is for some journalists to forget that every word debating the validity, existence and livelihoods of trans people is a blow to trans lives.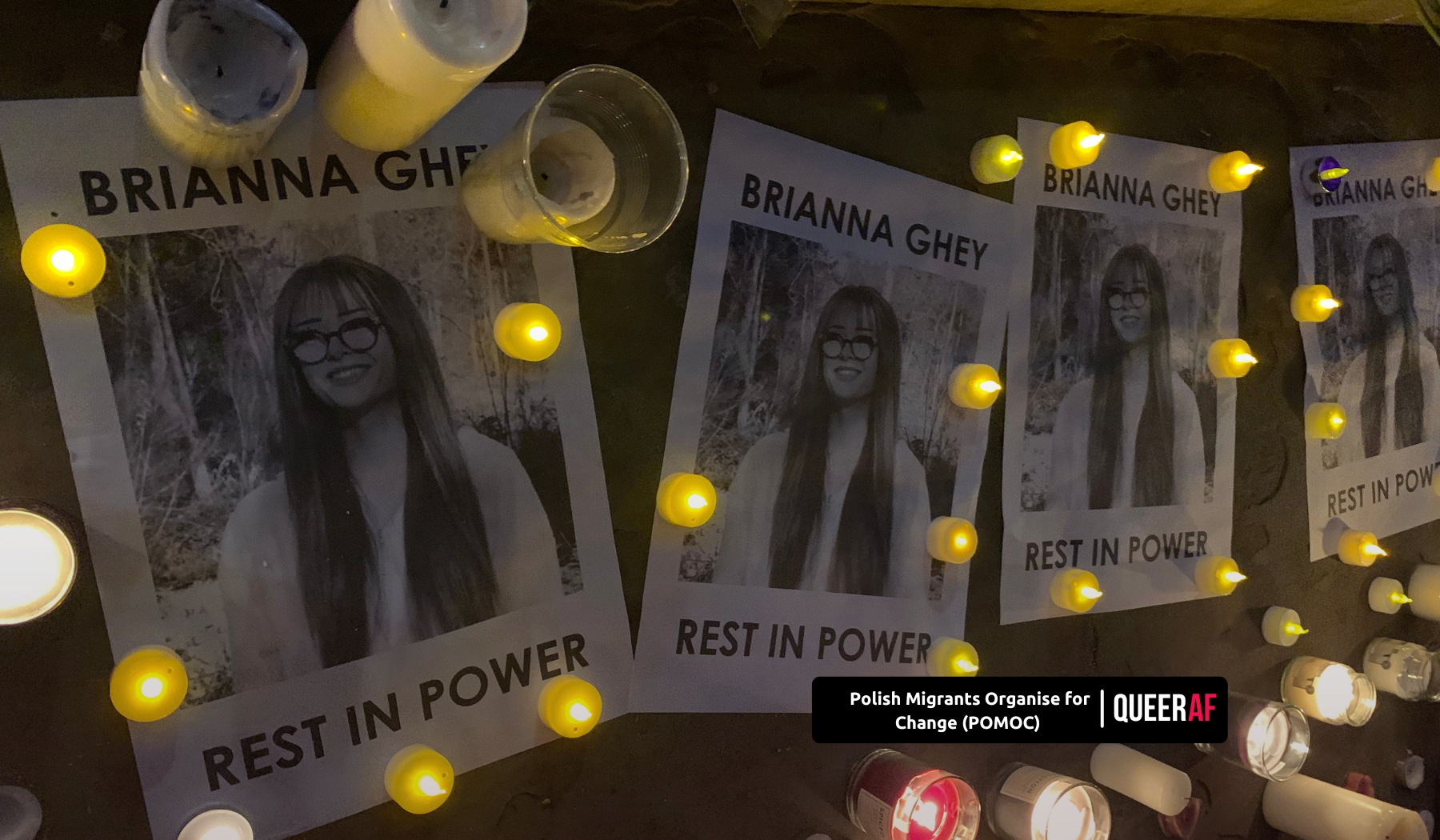 All too often, journalists and editors make these devastating choices just to generate clicks for ad revenue.
It's time for media owners, journalists and producers to take accountability. To recognise the long-term impact of their words, stories and videos.
Five years of bombarding the British public with transphobic messaging has created a torturous culture.
Hate crimes are rising substantially. Bullying and questioning of trans and queer kids at schools is rife. In homes up and down the country, trans people are the butt of the joke. That rising tide of transphobia is spilling out into the streets.  
That's the culture in which two teenagers decided to stab a trans girl in a targeted attack. Rest in power, Brianna Ghey.
---

It's clear - we can't trust the mainstream media to report on our community fairly or with justice.
That's why we're on a mission to change the media. And look, I get it - at times like this, that change can feel insurmountable. That's why I wanted to assure you. QueerAF? We're in this for the long haul.
We're passionate about training, supporting and mentoring a new generation of LGBTQIA+ journalists to get into the industry – so we can work together to change it.
Although memberships are the best way to support us, right now, we're running our annual crowdfunder for LGBT+ History Month. We're well over halfway - but we need your help to reach our target.
It's the sort of money gender-critical campaigns can raise in a few hours. But our funds will go direct to queer creatives who want to counter that narrative.
Can you help get us there and keep this newsletter thriving? Every donation helps us do justice to reporting on LGBTQIA+ lives.