As a boy, I had a teddy bear named Thierry Henry. I have supported Arsenal since I was six, when I watched on in awe of their unbeaten run in the 2003-04 season.
I grew up living less than an hour from the Emirates Stadium. So why did it take until age 23 to go to my first game?
The answer is simple: I am transgender, and I was unsure if I would be safe.
My trip to a game in January was very different from what I'd imagined. Arsenal invited trans and non-binary members of the 'GayGooners' - an LGBTQIA+ Arsenal supporters group - to attend a match against Brentford in an executive box.
The idea was simple: to encourage fans to return who had stayed away due to fear.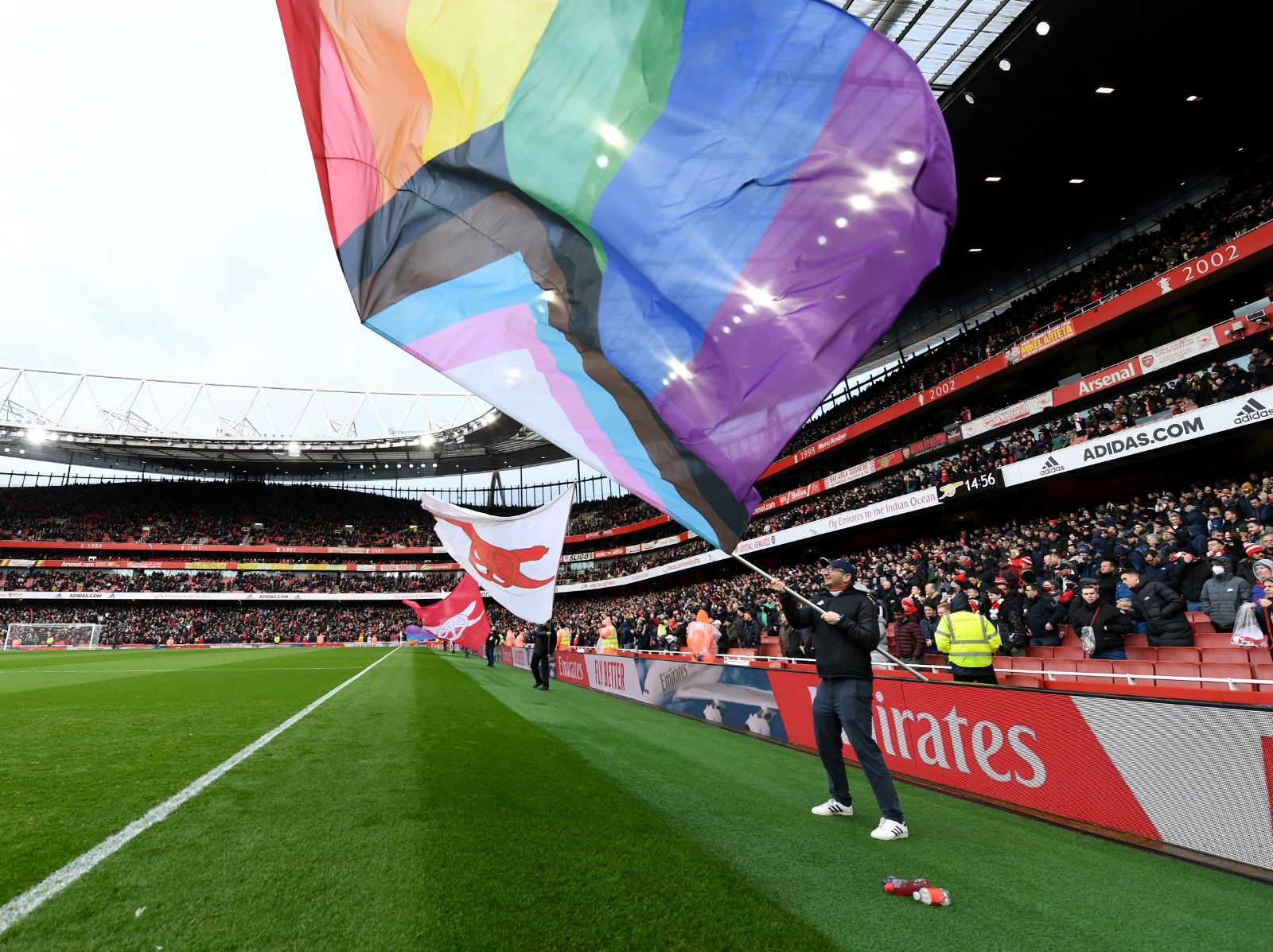 The atmosphere was unlike anything I had seen at a football match before - and I'm not talking about the three-course meal in the executive box!
I walked into a vibrant room almost overflowing with fellow transgender people, with an array of ages and gender identities. Several people knew who I was, thanks to my terminal case of being online. Hopefully, I didn't disappoint.
Until then, I had never experienced the opportunity to tell a joke about my prosthetic penis falling off over a pint before kick-off.
I asked the others: how does it feel to go to a football match surrounded by other trans people? "Liberating." "Magical." "Privileged." "Freedom."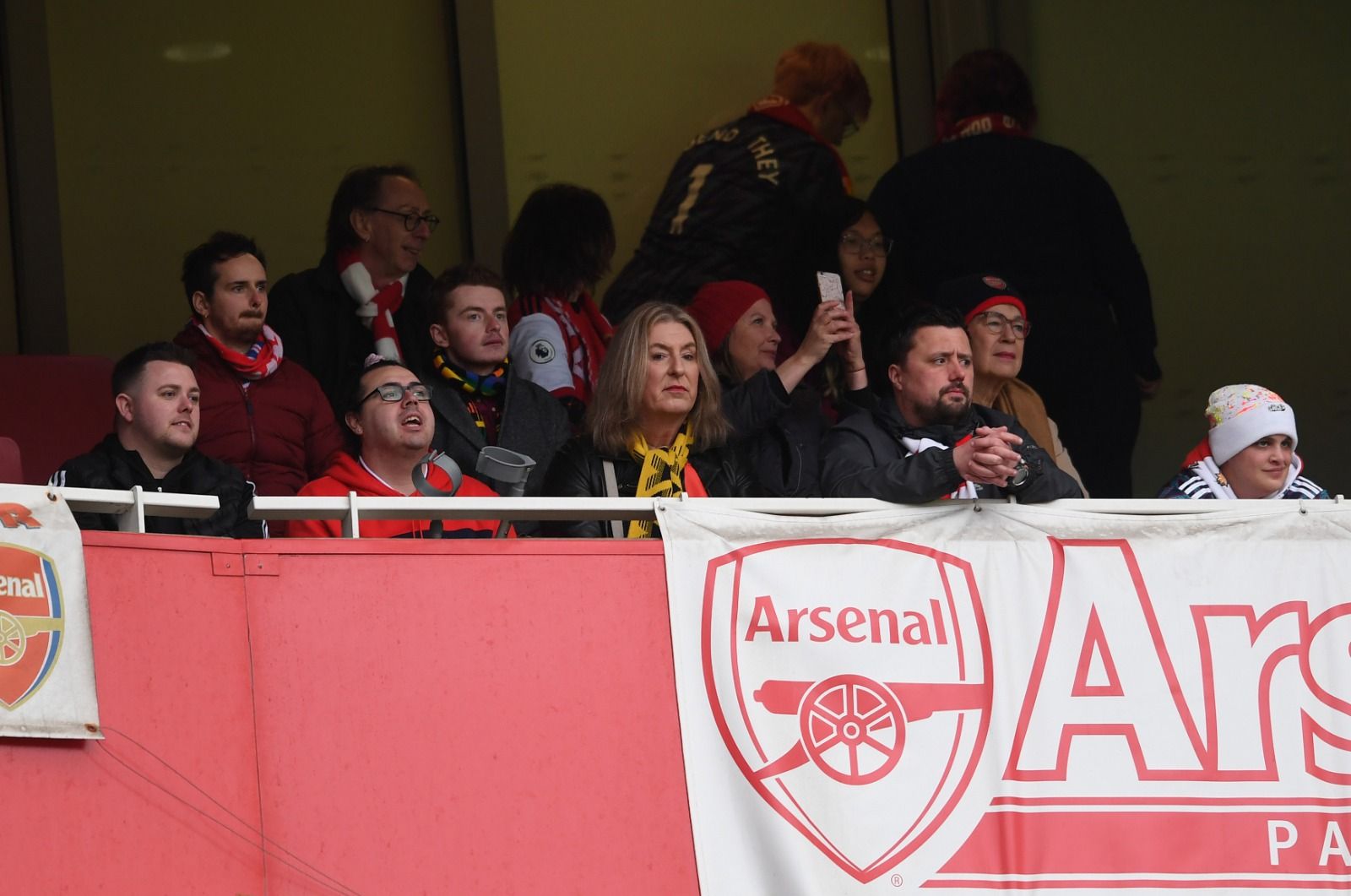 But I went knowing that as part of this experience, I'd been interviewed for Arsenal's LGBT+ History Month campaign video. Alongside others from across the community, I spoke about my difficulties as a transgender supporter. My worries about being outed. About being treated differently to other fans.
Whilst filming, we toured the stadium for those classic candid shots you see in marketing. Someone mentioned that it would be nice to have posters up to encourage others to report discriminatory chanting.
And when I arrived for the Brentford match, I discovered posters everywhere. In the stadium, the match brochures, the pubs frequented by supporters. I knew then that I had a voice, and Arsenal had listened.
Our video aired at halftime. Due to how high up the box was, our view was obscured by the stadium's infrastructure. I think my chin conveyed the message spectacularly, though.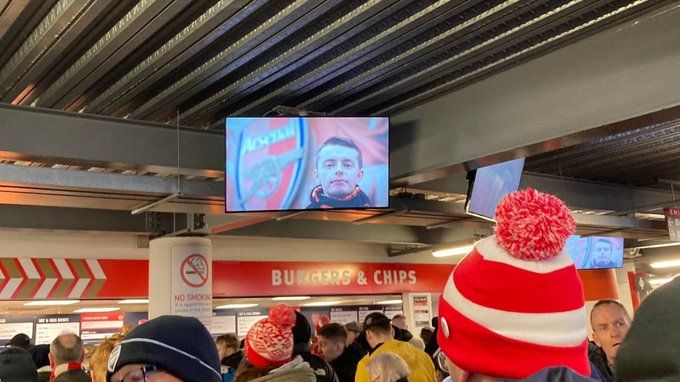 After the match, we added each other on Facebook and set up a WhatsApp group to discuss games we are going to, and invite each other to meet up beforehand.
Arsenal hasn't just given us an incredible experience, they've given us a community where we didn't think one existed.
Arsenal is still playing the video today, despite history month being over. The posters remain up. The initiative to encourage fans to return who had stayed away due to fear continues.
It stands as the perfect model of how even top-flight clubs can show the action they are taking to tackle discrimination against our community in football.
Had six-year-old me known about this level of love and support from Arsenal, I would not have waited 17 years to attend a match. I hope others never have to.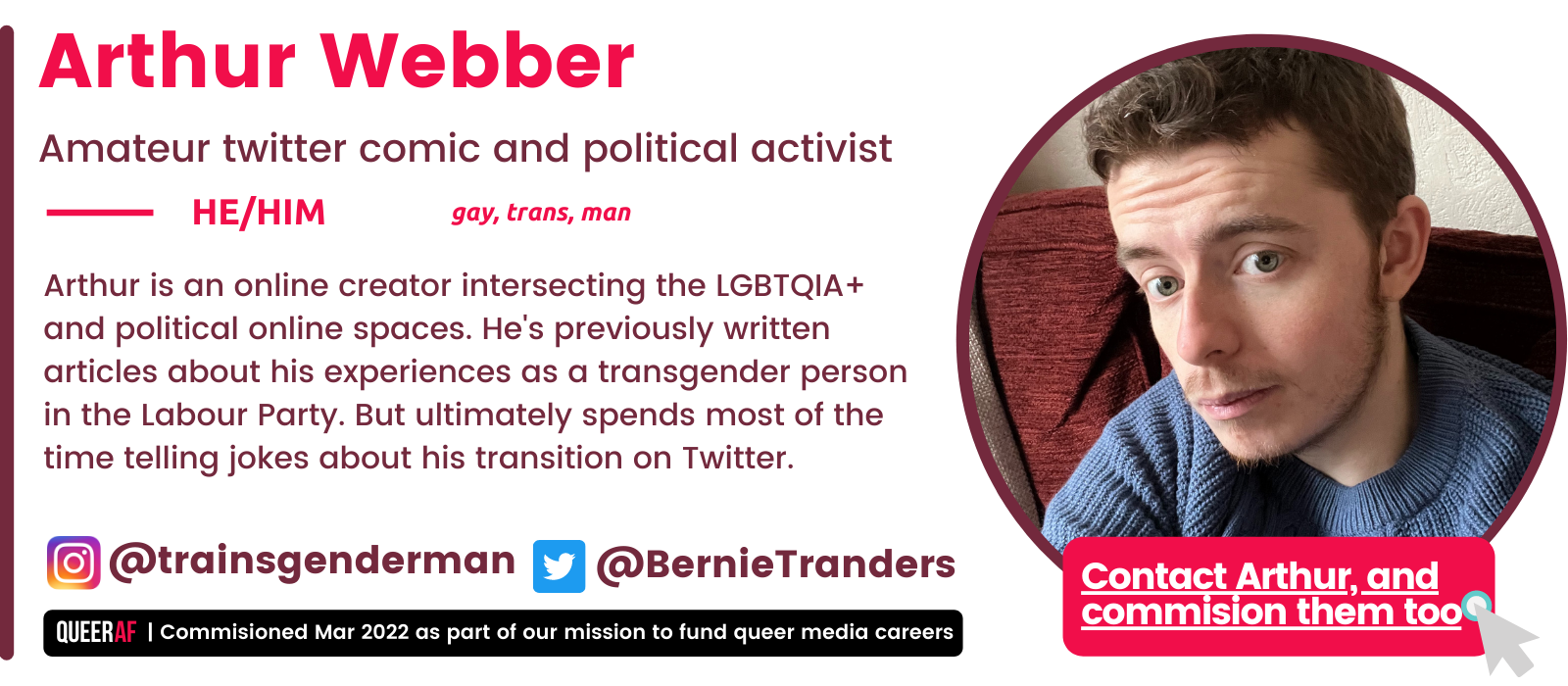 PS. This piece is part of Football Vs Transphobia week! Find out more in this post by our friends at Sports Media LGBT+.
Don't forget the Queer Gaze is just one part of our weekly newsletter that summarises, understands and explains the queer news of the week. Support queer creatives by signing up and sharing this piece.
---
We are an independent platform launching the careers of emerging and LGBTQIA+ creatives driven by people, not advertisers.
We rely on members like Adrian Hyyrylainen-Trett who directly funded this piece. Adrian asked us to focus their membership to fund stories from different cultures but sport in particular.
It was produced by queer creative Arthur Webber. You can support them and other underrepresented LGBTQIA+ creatives now. Join Adrian. Become a QueerAF member to directly fund more Arthur's incredible storytelling - and see your name here.
We are QueerAF, and so are you.