Our community has underlying toxicity. It stems from a lack of acceptance of our differences and a pressure to adhere to societal norms to fit in.
Fundamentally, we need to remind ourselves that we all face similar struggles and challenges.
Like many of us, I want to be visible on social media platforms and inspire others and celebrate our differences through my acting career.
Art can mend prejudice and educate audiences on how discrimination can impact all of us, both within and outside of the queer community.
I've seen first-hand how theatre can lead to greater self-awareness - for the actors and audience.
That's why we need to focus more time on the stories of underrepresented and marginalised groups.
Like in the theatre production Proud, we meet Amir and Roland, who fall in love but have to deal with the difficulties associated with coming from Syrian or Jamaican backgrounds.
The play explores how racial and religious communities can deny queer rights, leading to internalised homophobia.
Like with Gary - Roland's son who has to deal with the struggles of stereotypes, teenage male identity and coming from a broken home.
While playing  Amir, I see first-hand how he struggles to accept his authentic self. How high the stakes are for him.
Yet, we also see how it is better to live authentically than to live a life of fear.
Honest communication can forge bridges between us that result in greater happiness.
Despite what the papers might want you to believe, people at home are more open to hearing the stories of some of the most marginalised in our community.
Take the likes of Matthew López's The Inheritance and Russell T. Davies's It's a Sin!. Laurie Nunn's Sex Education they all share our community's stories - and audiences at home connect, and love them.
Pop culture helps people at home embrace equal love, acceptance. They introduce and celebrate our community's differences and uniqueness.
Proud is at the King's Head Theatre London until March 19th.
PS: This article was just one part of our weekly newsletter that summarises, understands and explains the queer news of the week...
---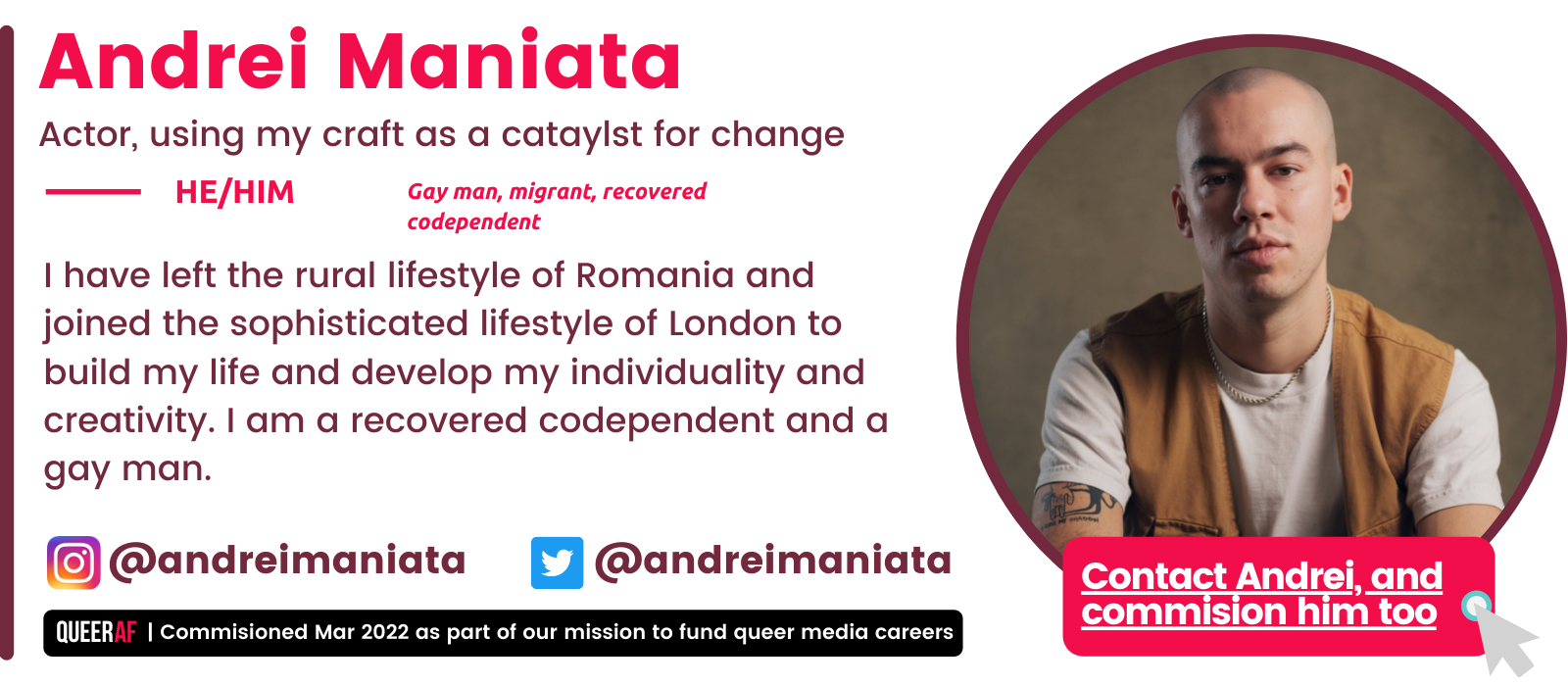 We are an independent platform launching the careers of emerging and LGBTQIA+ creatives driven by people, not advertisers.
We need to build the resilience and craft of more LGBTQIA+ creatives like Andrei, to change the representation of our community in the media. Will you become a QueerAF member to directly fund more of Andrei's work?