Before we set you up with the LGBTQIA+ news this week - I need you to read this.
At the beginning of last year, I wrote to you about the complexities of my disability, my health, and my fight with multiple organ transplants.
Last week that took another complex and unexpected turn.
I had very much planned to take the week off - and go on my first solo trip since surgery in November last year - hence the summer holigay edition of QueerAF you got.
But that didn't happen. I had to travel from Cornwall to Cambridge for an emergency hospital admission instead, where I'm writing to you from today.
What's been scary is we've been investigating whether I've rejected my transplant.
As a gut and pancreas transplantee, I can assure you that is as scary as it sounds.
We hope we can largely rule that out for now - but it remains a possibility. We've avoided what otherwise could have been another managing end-of-life care moment. But I'm still very unwell, in a great deal of pain - and I need bed rest.
Why am I telling you all of this? Talking about my disability does not come easy.
And what's clear now is I need to come up with a plan for you, QueerAF and the work we do in the coming weeks so that:
I can recover properly
Our queer creatives can continue to benefit from our award-winning schemes
At a time of unprecedented hate crimes and attacks - our journalism can help you cut through the noise and play your part.
To fill this gap - we're running a membership drive.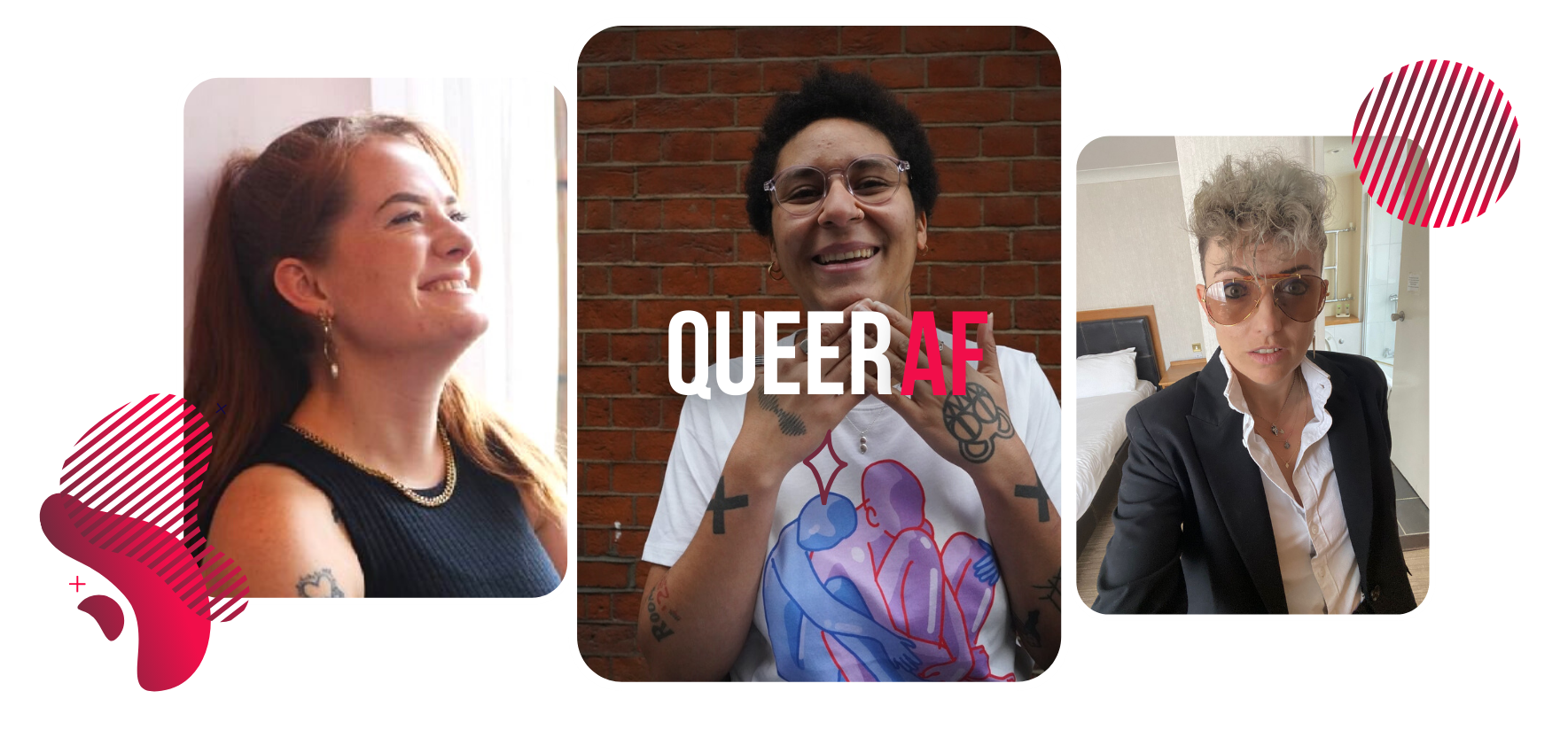 Change the media, change the country.
Imagine what more QueerAF could do for LGBTQIA+ people with a little extra capacity?
I know you probably have subscription overload - who doesn't? But QueerAF is more than a subscription - it's a movement.
We need just 15 members to sign up in the next three weeks. I know that's totally doable, especially when memberships start at just £3.59 a month, and we have such an incredibly loyal audience.
When we last ran this flash sale on our new plans, it was really popular. So we're rerunning it. Instead of our usual prices, you can grab perks, and support us while locking in these discounts forever: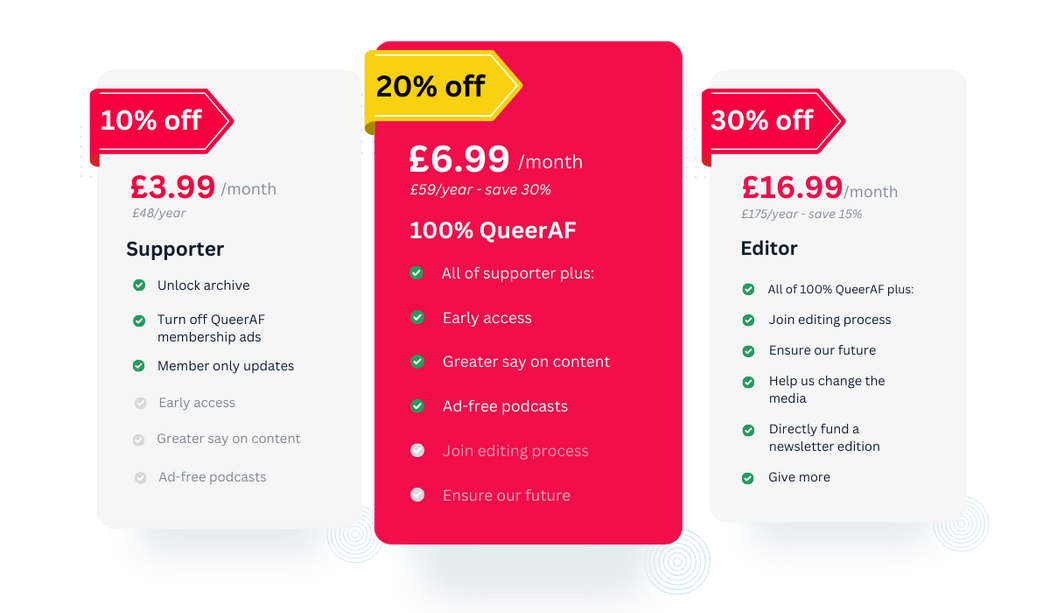 I'll be transparent with you - this membership drive will help:
Pay a team of queer creatives to run this incredible newsletter while I rest.
Help continue to progress towards the new Audience Development Role that we've shortlisted for to help more people understand the news.
Give me the stability to return to QueerAF and do something I've been excited about for a while - turning QueerAF from a part-time gig into a full-time commitment. Admittedly, this is not how I imagined I'd be announcing that!
It's a potentially monumental shift to our ability to make the difference we do week in and week out - not only for you, but for the queer creatives we work with and our behind-the-scenes lobbying work.
We'll let you know about progress toward our goal - and we've put a tracker on the membership page to help you keep an eye on it too.
I literally don't do pictures of me in hospital - I've spent three years of my life on a ward, and not a single one exists.
So here is one of me (and my moustache) on one of my longest bike rides in nearly a decade just a fortnight ago. If that doesn't scream militant gay agenda enough for you, I don't know what will.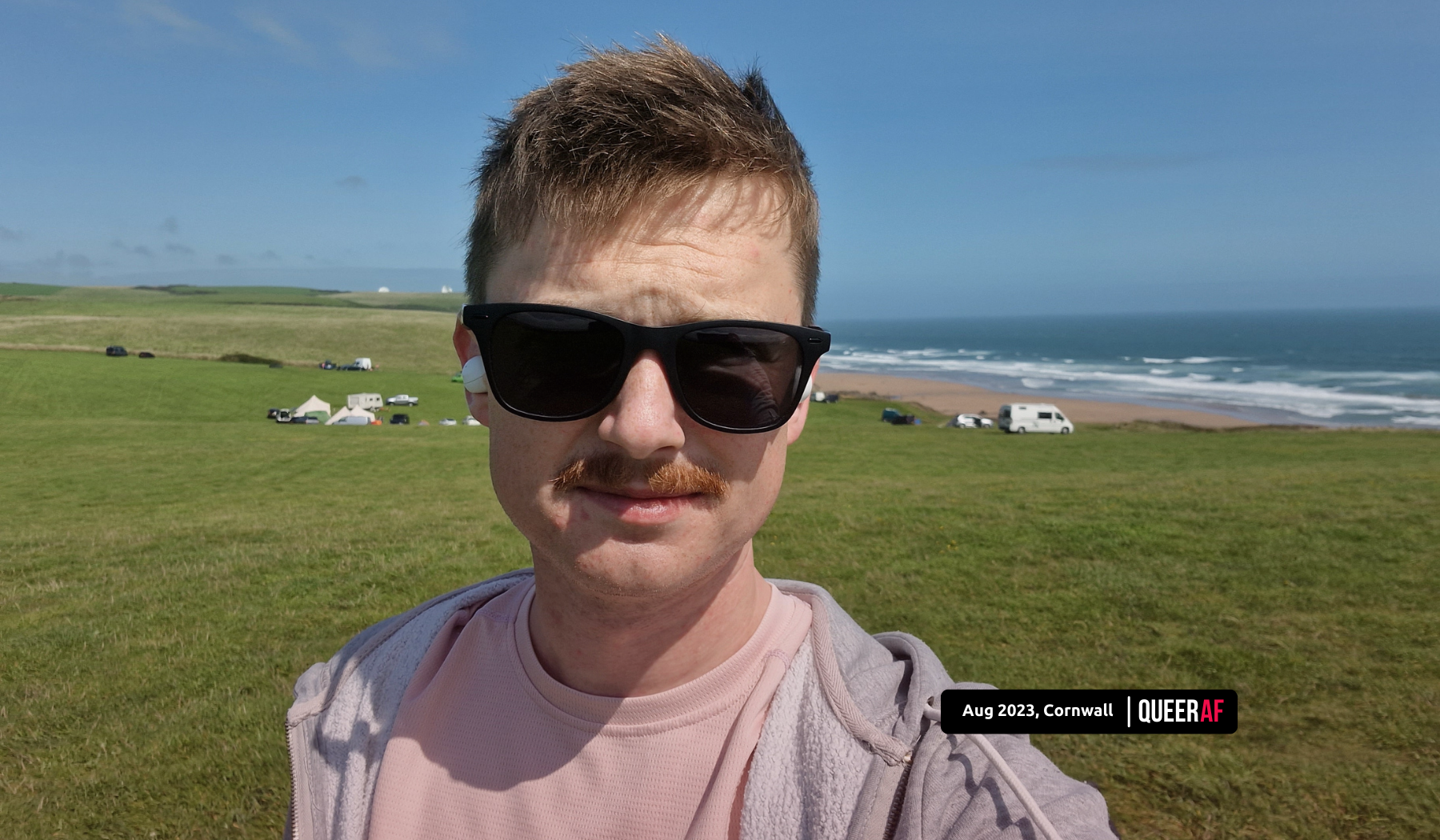 I can't wait to get back on the bike and feel 100% QueerAF again. For now I wanted to send you something - here's what I could muster up. By next week, we'll have some cover sorted, thanks in part to the new memberships.

---
📰 In brief
Five queer senses (hospital edition)
🎵 Music: Perhaps less of a music rec than a general audio one. Hospitals are noisy, disruptive places - not that unlike the rest of the world nowadays. Recently, I came across Endel, an AI-generative music app which uses as much or as little data as you want to give it to help you sleep, relax or focus with calming sounds. This code gives you an extra trial, but I don't get any kickback.
🎥 Film: The first time I watched Tick Tick Boom, I knew it would quickly become a comfort movie. It's the second musical by the infamous Jonathon Larson, who created RENT but never saw its incredible impact on the HIV movement, dying just a day before opening night. It's semi-autobiographical and set just before RENT. Touching stuff, with queer vibes and wonderful music - Netflix
👾 Games: I am a gaymer anyway - but when in hospital, I love a tycoon game where you can lose hours making small decisions. Cities: Skylines has been of particular comfort this trip, and I'm now all the more excited about its second edition - due out in just a few weeks - Paradox
📚 Book: I'm currently reading the Hunger Games prequel - which is great. But for a more queer recommendation, Dear Evan Hansen hit Netflix recently. It's a beautiful film, but I'd really recommend the book. The film and musical don't go into the depths of the queer vibes behind Conor, the young lad who takes his life at the story's start. The book adds a layer of wonder and emotion to the existing music - and was written after the musical came out.
💄 Carmex: My Nan always says don't forget to go out without your lippy on - you never know who you might meet. My take is: never spend time in a hospital without some stuff to keep those puckers moist. I'm addicted to my cherry Carmex.
---
Here are those flash member discount links again
I've sent these to everyone in case our most loyal and already paid members can find a friend to sign up.
Please, if you can, support our membership drive: