I've been targeted by parents, by organised groups - and I've watched as my livelihood has been hit by anti-trans hate.
I've even felt personally at risk as a transgender professional working with young people in UK schools.
Last spring, as I arrived in Halifax to deliver training to youth workers, I watched the MPs' debate on legal non-binary recognition. It was initiated after a petition to include non-binary genders in the Equality Act had gained over 140,000 signatures.
Conservative Miriam Cates, MP for Penistone and Stocksbridge used emotional language and described children learning about trans and non-binary experiences as "a failure in safeguarding".
Using inflammatory language, she told parliament this was "an indoctrination" and "a risk to women, children and people who were gay and lesbians."
At the time, the language used in this debate was shocking and uncommon. But in the last year, countering these dog whistles and anti-trans fear-mongering has become part of my day-to-day routine.
I've received increasing amounts of emails from teachers telling me they've had complaints from parents. One parent demanded the school 'balanced the debate' by inviting the anti-trans lobby group, the LGB Alliance, to speak as well as me.
What began as rare last-minute cancellations have become a regular part of my week.
I now have to navigate headteacher's concerns about delivering LGBTQIA+ inclusive lessons, assuring them it won't damage their school's reputation after other local schools faced backlash.
The government recently announced new RSHE (religious sex and health education) guidelines after - you guessed it - Miriam Cates repeated her dog whistles in PMQs. The PM announced he'd review LGBTQIA+ inclusive relationships and sex education as a result.
But I don't need to wait for the results of the review to know we're already seeing an impact in schools.
One school I know of banned external speakers with PowerPoint presentations, just to try and stay within government guidance.
My aim has always been to be the voice I needed to hear when I was at school, to help inspire and empower the next generation.
What we're seeing now is the impact of a long-running campaign of anti-trans hate in the media and by politicians.
It's having a clear impact on schools, like a second Section 28 through the back door.
But it's more than that - we're now starting to see the clear impact it's having on trans people's livelihoods. I know fellow education professionals and well-known LGBTQ+ youth charities facing the same issues as me. And just this week, a new survey by Just Like Us found 56% of young trans people are unemployed.
Even businesses and brands I've contacted seem to stall at my suggestion of LGBTQIA+ inclusive training. But there's never been more of a need for it.
Transgender professionals aren't being invested in or uplifted anywhere near enough as we need to be.
Politicising transgender experiences as a 'debate' is fuelling employment inequality and impacting our ability to earn a living.
While politicians 'debate us' and the media cash in on anti-trans content, it's easy to forget how hard people's lives are being hit.
No one should live in hardship because of who they are. That's why we must talk about the way this hate is hurting our lives. Let's remind people of the very real consequences their hate is creating.
Get the Queer Gaze in your inbox each week with our free weekly newsletter or pitch to write an edition for us now.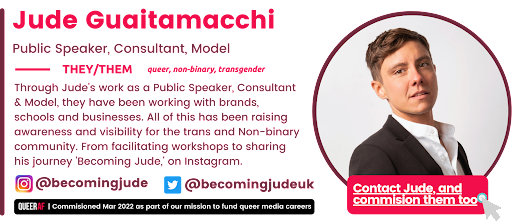 ---
Support Trans Creatives
This article was just one part of our free weekly newsletter that helps you understand the queer headlines and stay on top of the latest LGBTQIA+ content - all while we support queer creatives.
It's written by Jamie Wareham and a different queer creative each week. Hundreds of people trust us to give them everything they need to navigate the ever-changing queer world every Saturday morning. 🏳️‍🌈
We are an independent platform launching the careers of emerging and LGBTQIA+ creatives driven by people, not advertisers.
The Queer Gaze is our landmark scheme, commissioning, mentoring and running skill sessions with queer writers.
We rely on members to directly commission queer creatives - join in and see your name here too?