All over the world, conversations about gender diversity and transgender rights are gaining momentum.
Yet, within the community pushing for this change, there's a storm brewing, a stark reminder of our collective struggle: transphobia within the trans community.
Take right-wing creator Kelly Cadigan. She's used her large social media platforms to share harmful content concerning trans rights, notably trans kids' healthcare. It is deeply concerning.
This kind of transphobia within the trans community isn't an isolated incident - it indicates a larger issue. It's counterintuitive and counterproductive, yes, but also an opportunity for us to delve deeper into why such situations arise.
Despite the seismic shift in societal norms, the world is too often an unwelcoming place for trans folks. The world's transphobic norms teach us that our identities are worthless from an early age.
We internalise this negativity. It can later show up as self-hate or transphobia directed towards others in the community.
While this behaviour is not excusable, it's important to approach such situations with empathy.
When we encounter transphobic trans individuals, we should remember that they are likely grappling with internalised prejudices and societal conditioning.
This doesn't absolve them of the harm they inflict, but offers a path for growth.
The behaviour should be called out, but we should also extend compassion and grace.
They are, after all, victims of the same hostile environment that many trans people are born into.
That's where our power lies: in unity. In our shared experiences and collective struggles. In our vulnerability.
Instead of ostracising those who echo the prejudices of a world that hasn't accepted us, we must approach them with understanding. To utilise our vulnerability to build a stronger, more supportive trans community.
Together, we can break the cycle of transphobia, help individuals unlearn discriminatory behaviour, and work towards building a better community. One that thrives on empathy, acceptance, and mutual support.
When we approach transphobia within our community with compassion and grace alongside criticism, we strengthen our collective voice. We must let that voice be heard, for our community and for our future.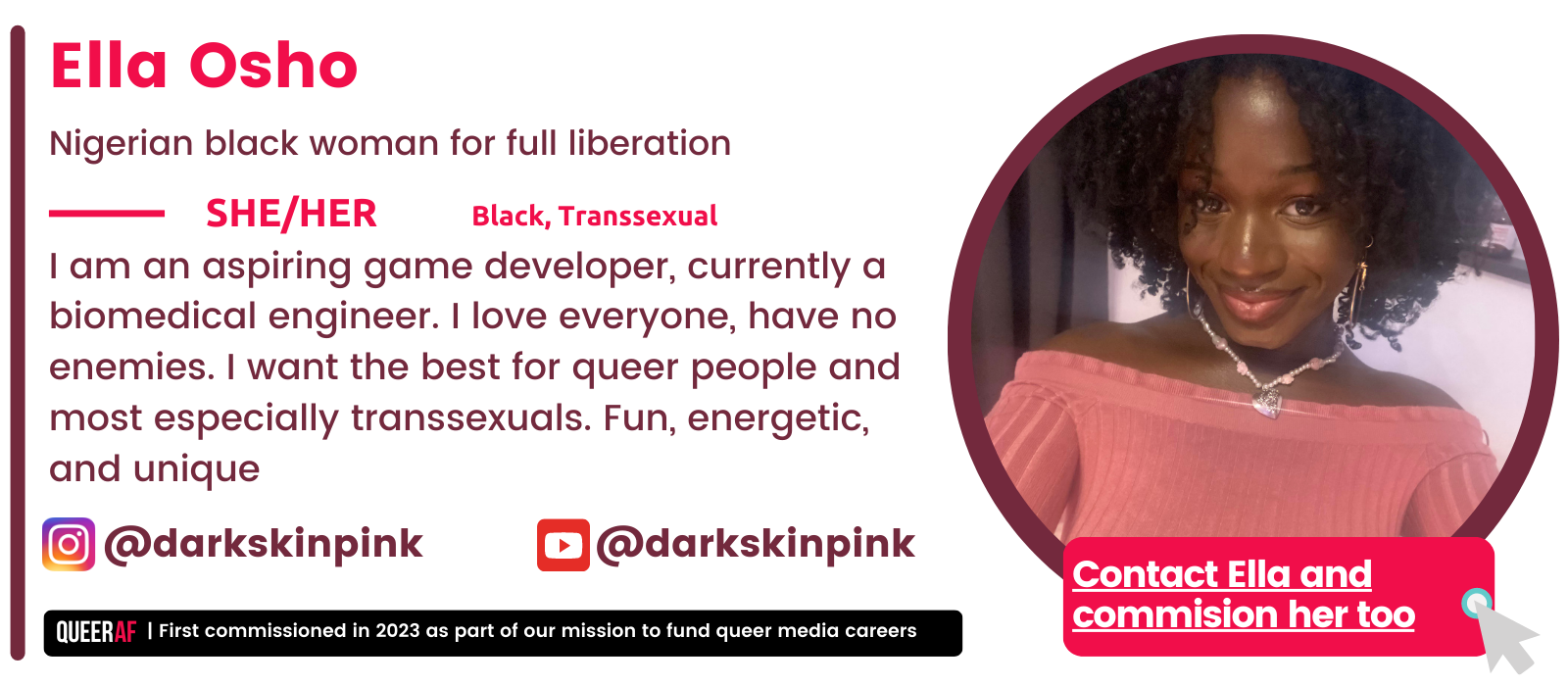 Get the Queer Gaze in your inbox each week with our free weekly newsletter or pitch to write an edition for us now.
---
The idea is simple.
Support queer creatives to get into the newsroom - and then help them change it.
One of the biggest barriers to starting a media career is getting those first and early commissions. That's what we deliver to our creatives, like Ella Osho, while you get award-winning content from fresh new voices.
We ask every creative to rate our process. 90% gave us a perfect score on our communication and approach. The retro, our unique way of editing their work, has an average rating is 9.8/10.
Our approach is award-winning and industry recognised across multiple platforms, including our newsletter and podcast scheme - but we can't do it without you.

We believe there's a better way to be seen, heard and celebrated. Join us to change the media for good.