Become an early adopter of our new platform
QueerAF is the award-winning one-of-a-kind podcast that has been paying, mentoring and supporting LGBTQIA+ people with vital stories to tell for four seasons.
With collaboration and funding from National Student Pride, it's given young queer creatives a crucial leg up on the career ladder. For many, it was their first paid audio commission.
And now we're taking our next step. QueerAF is launching as an independent community interest company (CIC) that does this work all year round.
Are you one of our early adopters - who loves our podcast and wants to see it come back?
Claim our early adopter discount
As a QueerAF member, you'll join a platform, where you the reader, have the commissioning power. All while funding our schemes - like our podcast - aimed at paying emerging, marginalised and underrepresented queer identities to create content.
To thank you, we'll send you our weekly newsletter that skips divisive algorithms which divide our community, disrupts the media landscape and filter out our lives. Each week you'll read it, knowing you made it possible, get early access to content. And as an early supporter (there are only a limited number available) we'll give you a shout out on social media.
Plus, if you sign up to pay annually we'll give you this discount forever - plus we'll put your name, next to the queer creative you directly fund.
Annual memberships are the quickest way to bring the podcast back and make our work, changing the media, possible.
40% discount forever - £50/y
40% discount for 12 months - £4.20/m
Get our newsletter

This work is urgent
Our work is a direct response to the shocking rise of LGBTQIA+ hate crimes, in the UK - there were 20,000 last year. The building undercurrent of transphobia in society led by the press. Plus attacks in the media on even our community's largest and most respected charity Stonewall - that saw media regulator Ofcom, and now the BBC devastatingly withdraw their support.
But history has shown us time and again when we get to know others - our prejudice fades away. With a new generation of queer creatives working in and with the media, creating LGBTQIA+ inclusive media coverage - there will be a natural reduction in hate crime. Because there will be less hate.
What do members fund?
Together QueerAF members are building a pot of money, so we can restart our podcast. This while we are changing the media by funding queer media careers.
Members also fund schemes like 'The Queer Gaze', a space in our newsletter to commission emerging and underrepresented queer creatives. It gives our readers eye-opening insight into the experiences and viewpoints in our community they may not have encountered before.
The format was developed and designed by our first commissioned emerging queer creative since we launched as a CIC, Matilda Davies.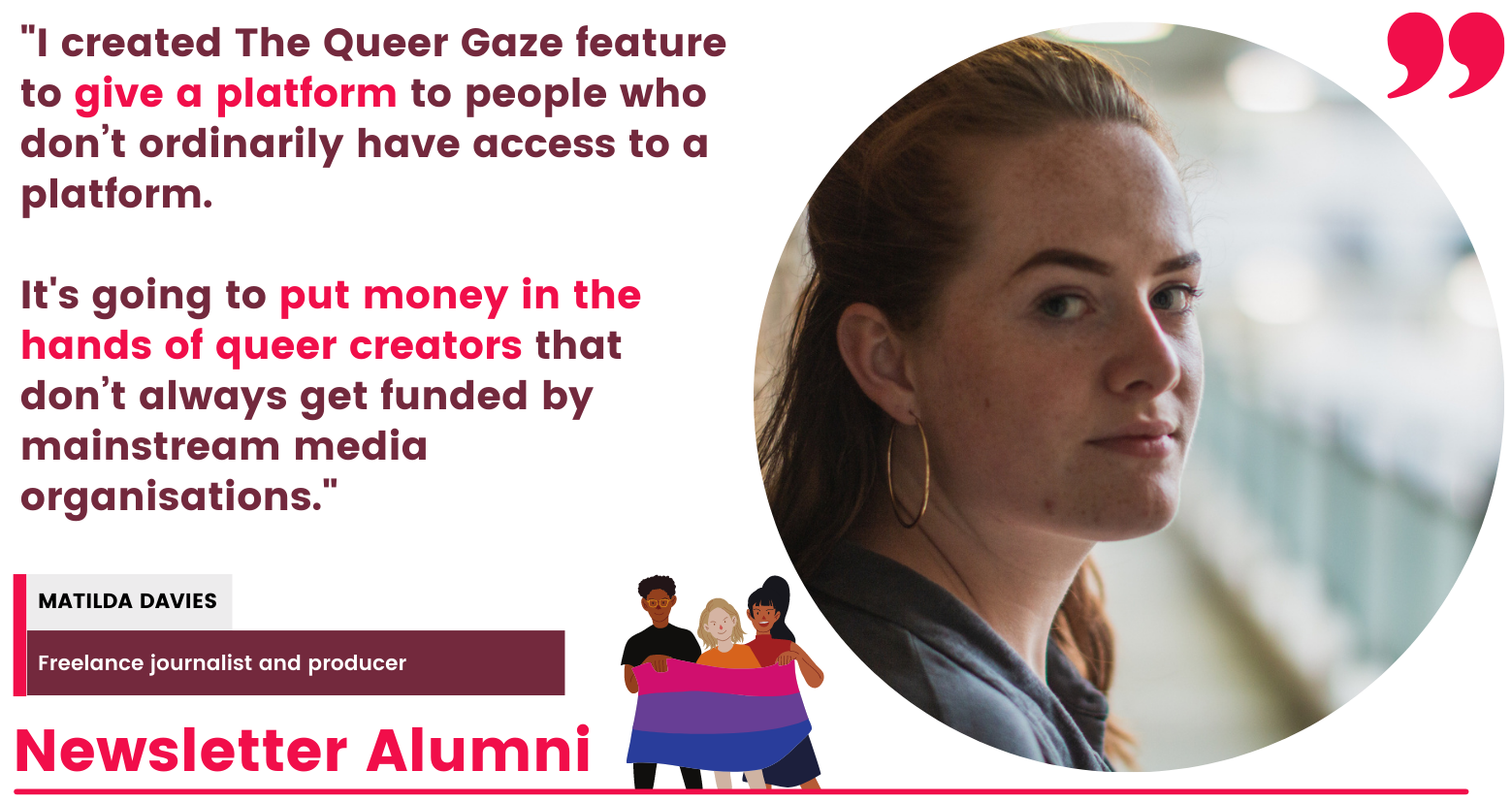 Become a QueerAF Member
Read the queer gaze
What do we do?
Our mission is to support, mentor, and build the resilience of queer creatives to get their first commissions and kickstart their media career.
Ultimately, QueerAF is a place for underrepresented creatives to get published, receive mentorship and be part of a movement led by queer creatives.
We've set up as a community interest company (CIC) and locked its assets into helping the LGBTQIA+ community and underrepresented creatives, so our work will always be tied to our founding mission.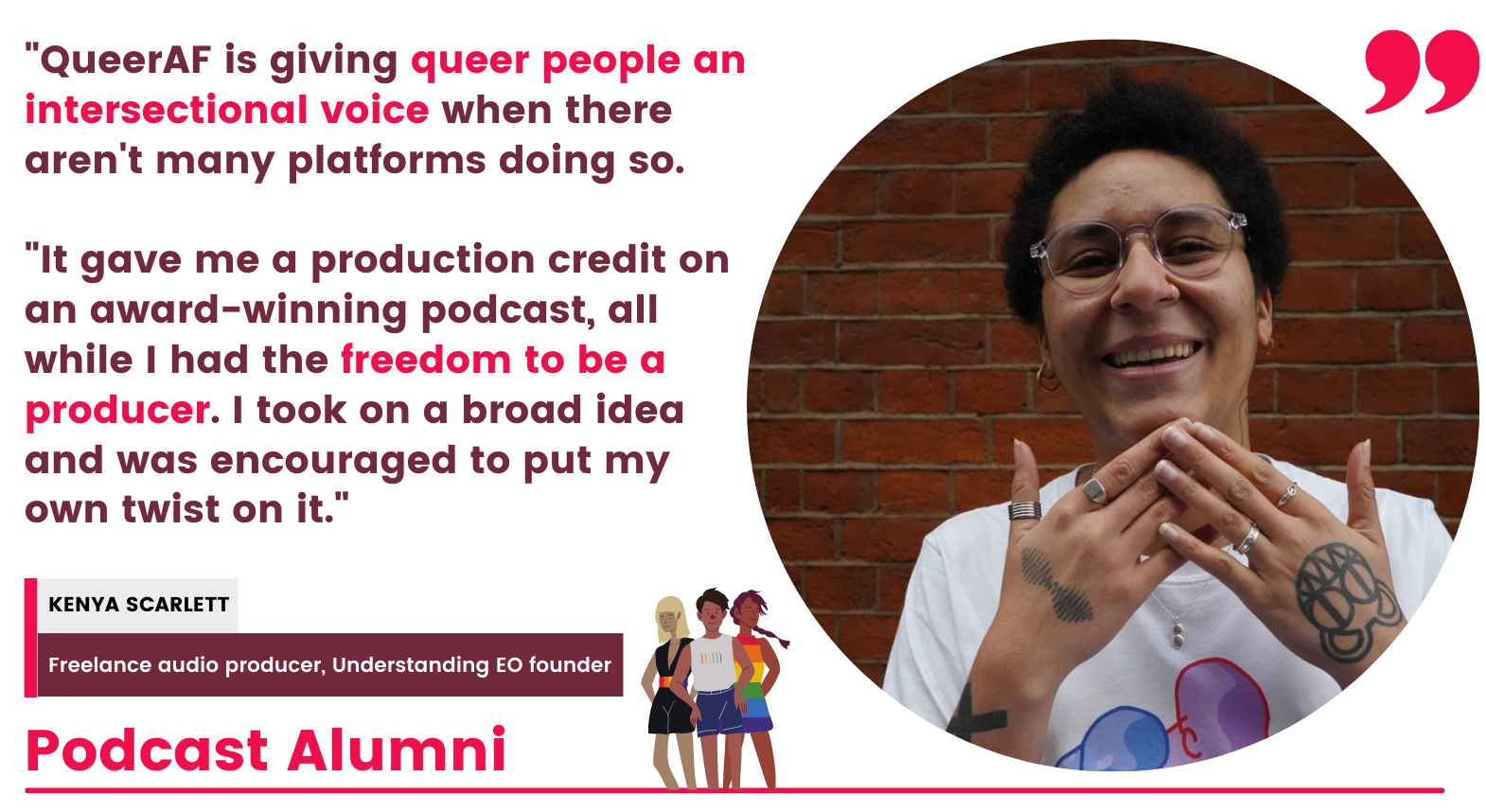 Why become a QueerAF member?
You recognise the value in a UK media industry bursting with queer talent because it represents, hires and understands us.
Be part of a movement that builds a media that shifts the narrative on our lives and the issues that matter most to queer lives.
Whether you are queer, or an ally, you want to help get the weekly QueerAF newsletter to people who are aching for LGBTQIA+ stories and content made by queer voices.
You want to see the QueerAF podcast come back!
We have a growing circle of members like Alex Wood (Managing Director, Forbes Europe), Steve Parkinson (Chief Strategic Partnerships & Events Officer, Bauer Audio UK), Kaven Bevan (Producer, AudioBoom), Adrian Hyyrylainen-Trett (UK's 1st Openly HIV+ Parliamentary Candidate), Jon Holmes (Sky Sports), James Barr (Hits Radio, Gay and a NonGay presenter), and even more already on board.
Join the movement
---

I started QueerAF as a response to an editor who told me to stop pitching 'gay stories' because there was no 'money' or 'audience' for them.
So far with QueerAF, we've built an award-winning podcast with an international audience – that even Fox News has talked about. We've also picked up some sponsorship along the way...
No one should be told their lives aren't worth telling a story about. One reason newsrooms create awful experiences like I faced, is because they are locked into a system. One that rewards stories, who feed hungry divisive algorithms. All to serve enough ads, to simply repeat the cycle over again.
That's why we're building a platform funded by people, not adverts. So we can tell stories because they matter to the community, not for clicks. Content for the LGBTQIA+ world, not advertisers.
There are some great queer media organisations out there in the UK already, with a rich history. From Gay Times to Attitude, PinkNews to Diva, Gray Jones Media to GSN.
We're excited to bring a new force to the way queer content is made, and develop a new generation of resilient underrepresented creatives. Queer media professionals, who can go on to change the way stories about our lives are told.
But, we are just starting this audacious project, and it's a massive undertaking.
The good news? You can help QueerAF expand our capacity to launch the careers of brand new queer voices by joining our growing circle of founders.
Do you support new queer voices who can go on to change the media?
Yes, I want to make this possible
Get to know us
See our mission
Take a look at our newsletter
Become a QueerAF member