Every Saturday we send you a summary of the week's top LGBTQIA+ news, queer content you don't want to miss and a beyond the binary spotlight on the voices that deserve to be heard.
💬 In this week's issue:
Olympic history. Transgender sports stars win gold, and a lot of stories about Laurel Hubbard, we take a look 🏊
Man enough? All-round rockstar Alok V Menon turns the tables on gender 👏🏿
DaBaby. We need more than an apology. Emerging creative Matilda's queer gaze calls for reparation, not cancellation  💙
Skip the doom scrolling. Live your best queer life, on your own terms.
We are QueerAF – and so are you.
What should you expect from a QueerAF newsletter?
Analysis and explainers on what happened this week
This week's top LGBTQIA+ headlines
Social media that you'll love (laugh and live for)
The long reads you'll want to catch up on
A queer gaze on the week from an emerging creative
Queer senses: What to watch, listen and play
New voices to follow
Transgender Olympians made history this week – and we should all rally behind them
This week Canadian footballer Quinn made history by becoming the first transgender person ever to win Olympic gold. They told Canadian broadcaster CBC "I'm doing this for the people I grew up looking up to."
But the story that caught the media attention, and thrust an unnecessary debate about trans lives into homes everywhere - was Laurel Hubbard.
Hubbard, a 43‑year‑old weightlifter from New Zealand, became the first openly trans woman athlete to compete at an Olympic Games. And among intense focus on her gender, life, and her right to compete - she failed to register a lift - The Guardian.
It was a devastating end to Hubbard's Olympic dream this year. But a historic moment for our community nonetheless.
The question that was asked around Hubbard competing created an overwhelming focus on hormone levels.
A loud minority argued having male hormones gives you an advantage - The Times. Many, including the International Olympic Committee, however, explained the science around all of this is much more nuanced - The BBC.
"There is a lot of research to ascertain the residual advantage after going through male puberty, but you have to weigh that against all the other disadvantages of going through transition. It is not something any individual would take lightly,"
- Richard Budgett, the medical and scientific director of the International Olympic Committee
And indeed, it's a conversation that's been going on as far back as 1936 when Heinrich Ratjen competed as a woman. They were later arrested for fraud and began living as a man - though many now think they were intersex - Openly.
But what's clear throughout all these years is we should all be able to access sport.
Our world is beginning to move beyond the binary and recognise the spectrum of unique needs we all have. Sports will need to go on that journey too.
And IOC, have among all of this praised Hubbard's tenacity, something she was incredibly grateful for.
"I think that they reaffirmed their commitment to the principles of Olympianism, Hubbard said.
"They've demonstrated, I think, that sport is something all people around the world can do. It's inclusive, it's accessible, and I think that's just really fabulous. I know that my participation in these Games has not been entirely without controversy. But they've been just so wonderful. They've been such a help, and I'm so grateful to them all. Thank you."
And if you were to take anything away, and unpack the noise that made it sound like an impending invasion:
"[Given] there's been no openly transgender women at the top level, until now, I think the threat to women's sports in general is probably overstated."
- Richard Budgett - the medical and scientific director of the International Olympic Committee

🏅 More queer Olympics
We loved this look at trans representation at the Olympics across recent history in an ace Twitter thread - Openly
And another one through the gaze of Caster Semenya who was banned from competing in certain races because they are intersex or have high levels of testosterone - Openly
Ana Marcela Cunha wins Olympic gold medal in the 10km swim event for Team Brazil (and Team LGBTQ) - Out Sports
Tokyo Olympics sparks anti-LGBT slurs on Russian TV - BBC
Olympic boxer Nesthy Petecio dedicates silver medal to LGBTQ community - NBC
---
Elsewhere in the news for queers
🕺🏻 Strictly gives us an 'all-male partnership'
The delightful celebrity chef John Whaite has been named in this year's Strictly Come Dancing lineup - with a male dance partner.
It's a huge moment and will send queer shockwaves into living rooms and the  LGBTQIA+ kids watching the duo dance. Lovely TV Critic Scotty Bryan perfectly sums up why this is such a moment in The Guardian.
And might be just me but there was something odd about calling the coupling an 'all-male partnership' when it was anounced this week. Like it was a heterosexual masc business partnership. But perhaps it's mostly because it wasn't the first same-sex couple, after boxer Nicola Adams took that title last year.
Either way - we're looking forward to see you Rumba, John.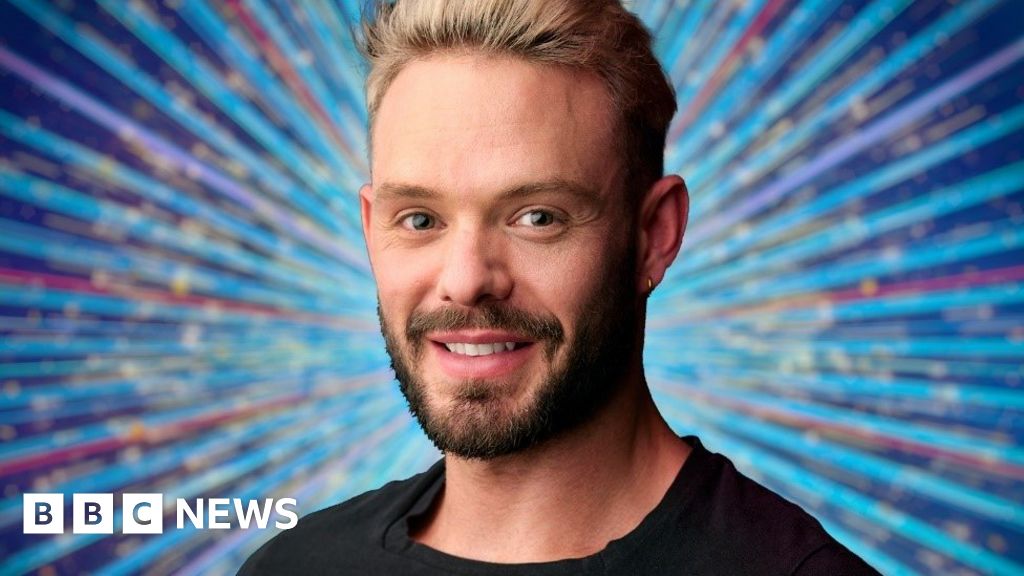 🏳️‍🌈 Single Telegraph article inspires Government review
This week the Health Secretary Sajid Javid pledged to take "fresh advice" on policies issued by NHS Trust following an article published by The Telegraph.  
It suggested equality policies meant "male sex offenders who self-identify as women can be placed on female-only wards".
Unpack this and of course, the instances where this could happen, or have happened are next to none. The story was barely even picked up by other papers. But it was enough for Javid to announce an investigation in a tweet.
LGBTQIA+ charities have condemned the call to review the policy on trans patients' access to hospital wards - i News. Everyone should feel safe on a hospital ward, including trans patients.
Stories like this create a false - and often unconscious - perception, that trans people are akin to sex offenders. They are dangerous because when these unconscious biases play out, they impact the very real fragility of people's lives.
🤦 Matt Damon stopped using the word 'fa****t'
To the bemusement of all of us - Matt Damon shared that he updated his language (and retired the f-slur) this week after his daughter explained why it wasn't OK - US Magazine.
It was obvious to us of course, why this word is not cool to use. For so many of us, it represents a word designed to demean, diminish and destroy our sense of being. It's a word that represents hate - GQ Magazine.
Matt Damon has even 'played queer', including in hit film Behind The Candelabra about infamous queer and world-famous pianist Liberace. So the idea he wasn't up to speed was particularly painful for all of us. And he did later clarify his comments - BBC.
But I also wonder if we need to find a way to celebrate people who learn, grow and apologize for their mistakes too. We know all too well the world doesn't exist in binaries. It's not simply free speech, or cancel culture we need - it's somewhere in between.
And there are times when we will need to lean almost solely on condemnation. Especially in cases like Da Baby where remorse is far from sight even when an apology does finally come - Newsbeat. (More on this below in the queer gaze, by this week's emerging queer creative).
But, if we are able to find a way to let people know when they've got it wrong, giving them the opportunity to do this by inviting them in for a conversation? I wonder if there will be more opportunities for change, and for people to show they're growing and making amends.
This is exactly what happened when Matt Damon's daughter took the time to write a letter to share why it was wrong. Perhaps we can use this as a model for the conversations we have on social media too.
Related reads:
In Brief
DaBaby apologies for his homophobic HIV comments - Capital . (And again in a second apology saying he is thankful for 'education' as more festivals dropped him - BBC Newsbeat)
New Zealand announces conversion therapy ban with prison sentences for abusers - PinkNews
Sexuality pay gap: Gay men 'earn £1,500 less than straight men' - Independent
Well known transgender parents Jake and Hannah Graf share how a nurse did not let them see their newborn baby - Independent
A Trans Rights Protest took place outside Downing Street yesterday. It was yet another peaceful reminder of our communities compassion while protesting - Thread by @VicParsons_ for PinkNews
Did we miss a story? Be our news editor. When you share queer stories on social media, tag us use @QueerAFmedia or #QueerAFnews, and we'll scan the internet to include them next week. You can also slide into our DMs 😉
---
Live, Love, Laugh: Are you ready to heal?
Each week we bring you a social post that made us feel alive, in love, or laugh out loud.
The acclaimed writer, performer, and public speaker,  ALOK shared clips from their appearance on the 'Man Enough' podcast this week. This one, in particular, is a response to one of the co-hosts asking what he could unlearn in order to better support gender non-conforming people. And it's an explainer on gender that makes us feel alive. One that asks: Are you ready to heal?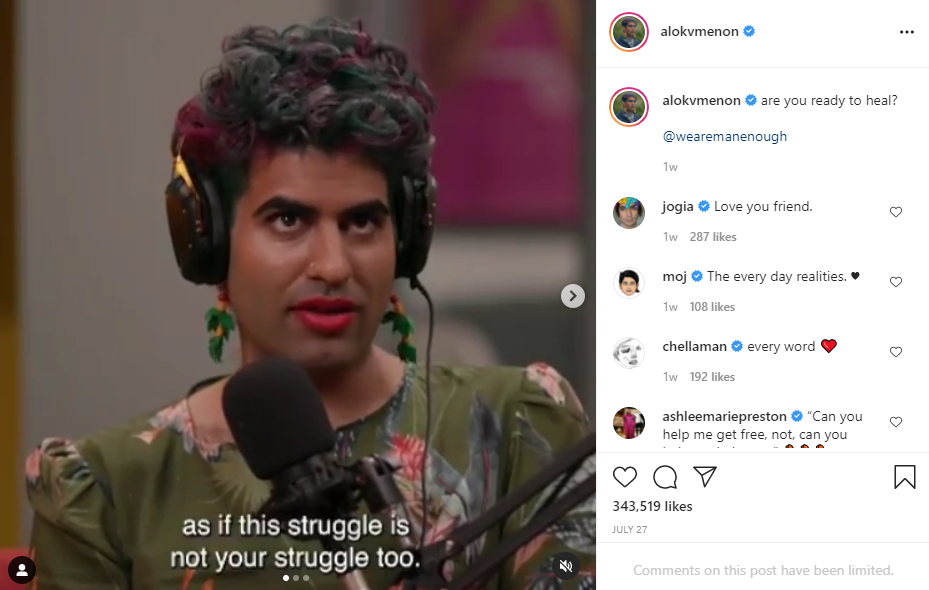 ---
Must reads
Anti-trans misinformation
The story of a viral claim that, spread, mutated, and incited violence in the street. A powerful reminder of just how much power even small accounts have on social media to create division and whip up hate.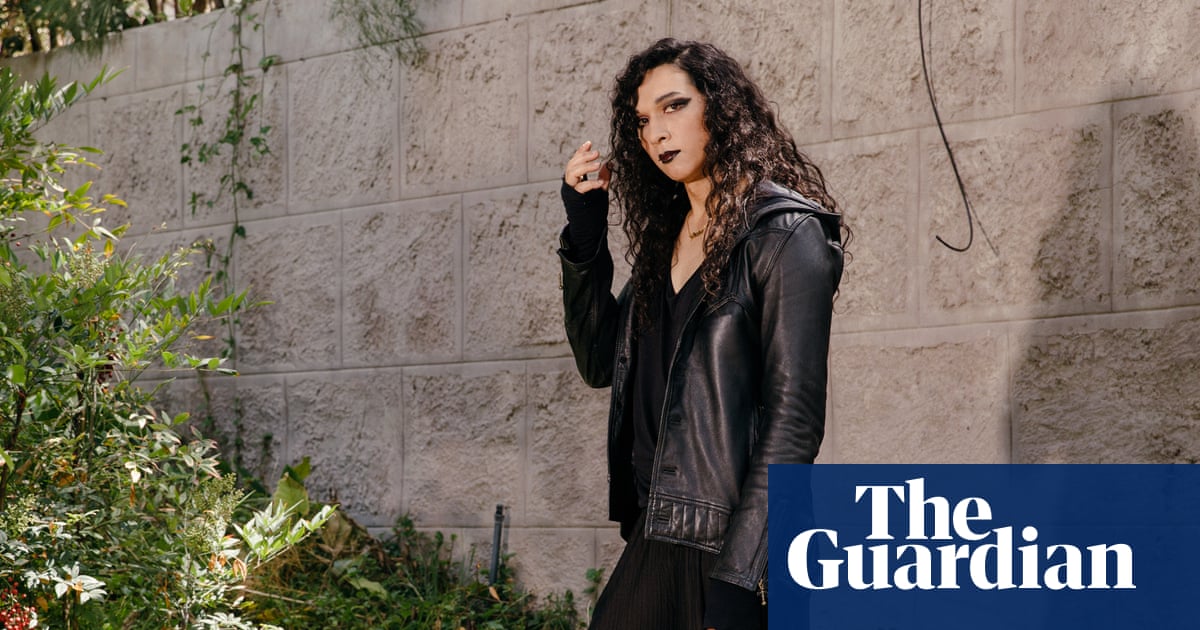 A genderfluid TikTok challenge
Last week we shared a gender-fluid TikTok challenge taking the app by storm. So this week, a deeper dive into how young queers are using the platform to find themselves - with a Blue & Red filter.
Bonus TikTok story: A group of thirst trap TikTok guys is being accused of having different 'straight' and 'queer' accounts to appeal to multiple audiences - Insider
Is social media changing our morality?
This one is not strictly queer - but has great implications for our lives given the other two must-reads this week. Another vital piece from Vox.
---
The Queer Gaze: Queer people deserve more than an apology from DaBaby
Each week an emerging queer creative shares their view on the week, through their unique queer sensibilities. Content Warning: Violence against women, homophobic abuse

When I think about the homophobia I have faced during my life, I don't want the perpetrators to be 'cancelled', I want them to be held accountable.
This week, rapper DaBaby made a number of derogatory comments towards queer men and those with HIV at the Rolling Loud festival.
The comments sparked a furore. He has been dropped by festivals, and widely condemned including by Elton John and Madonna. On the other side, he's had offers from the likes of Miley Cyrus to educate him. The former have - of course - been accused of 'cancelling' DaBaby. But that critique misses the point.
And it made me wonder, what is the right response?
Like most queer people, I have been the victim of homophobic abuse. I don't even remember all of the perpetrators: they have been friends, strangers, acquaintances, colleagues, even partners. Almost always, they have been men.
Impressionable straight men reflect the toxic masculinity they see in the world - and I have often been the victim.
As a queer woman, I am over-sexualised, I am called a dyke and a tease, I am asked invasive questions and threatened.
DaBaby's comments validated a violent culture. The same culture my abusers learned their behaviour from.
When people get this wrong, I do want them to be educated and grow.
But there should be consequences for feeding an ideology that leads to violence against queer people and women. Especially when it contributes to HIV stigma.
As a public figure in an industry filled with toxic masculinity, his comments at that concert told boys that homophobia is acceptable. It perpetuated the idea that queer men are 'less than' and undoes the incredible work of artists like Lil Nas X who are trying to make the industry better.
DaBaby may educate himself - which is great - but will all of his fans? Should his apology mean he faces no consequences?
I want to see DaBaby educate himself and his fans, promote queer creators and organisations. Then make real reparations.
Queer people deserve more than an apology when public figures make these mistakes. We need them to actively work towards a culture that values and respects us. We deserve that.
If you have been affected by the issues in this article, reach out to Galop, Terrence Higgins Trust, or Victim Support for help or advice.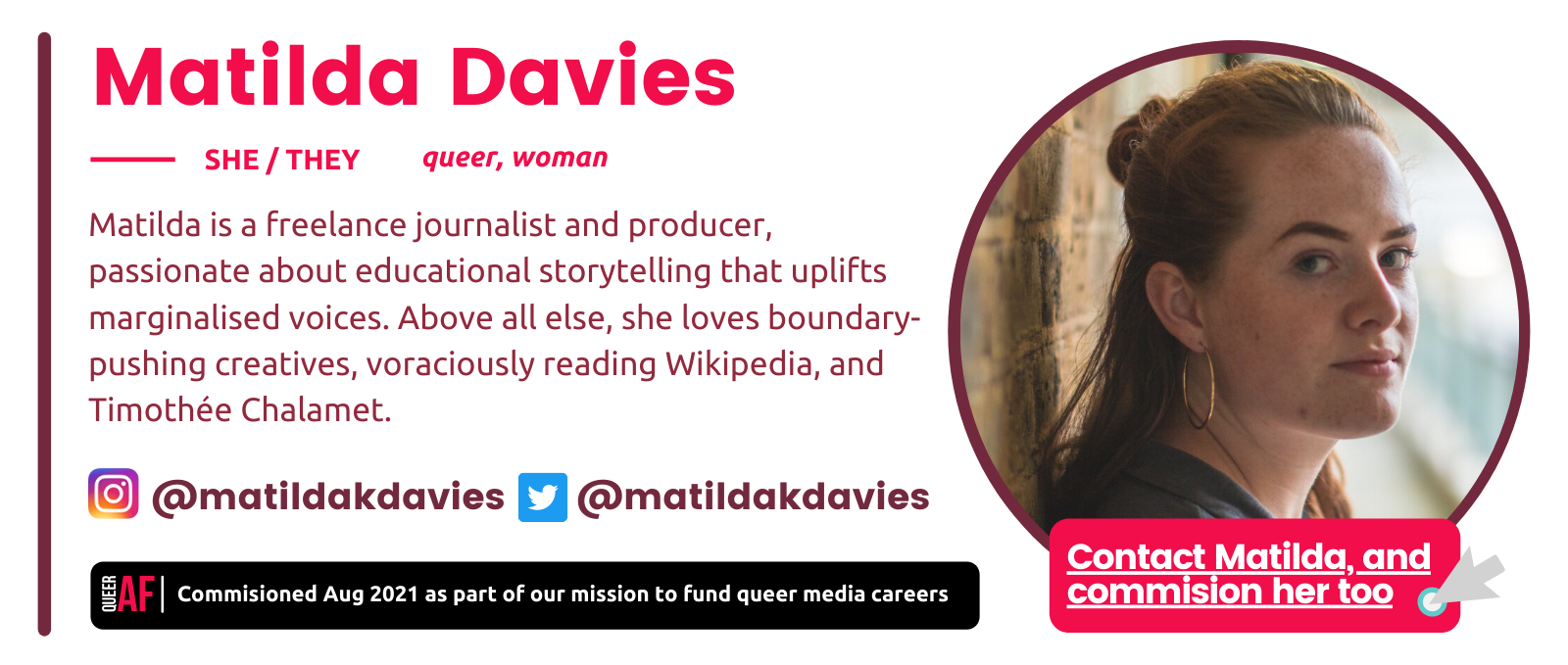 This content was funded by our members and produced by emerging queer creative Matilda. You can support them by; following them on social, sharing their work, or becoming a QueerAF member to directly fund more of their incredible storytelling.
---
Tickle Your Queer Senses
⏯ TV and Film
Autostraddle has got an ace introduction to Netflix's He-Man reboot, Masters of the Universe: Revelation. It's the latest offering on the streamer's 80s nostalgia altar - and it's got some seriously strong queer women vibes.
Elsewhere, in the children's television show Muppet Babies the beloved character Gonzo revealed themself as Gonzerella, in what was a cute message to gender non confirming kids.
🎮 Gaming
Seer, the latest addition to Apex Legends, has been confirmed as canonically pansexual by the game's developer.
Meanwhile, in Halo land, the voice of its multiplayer Jeff Steitzer has posted a Cameo video saying "trans rights!" In fact, it's a two minutes long heartwarming video and was posted by  Twitter account tanisthelesbiab.
You can also play as Lil Nas X in Fortnite now too.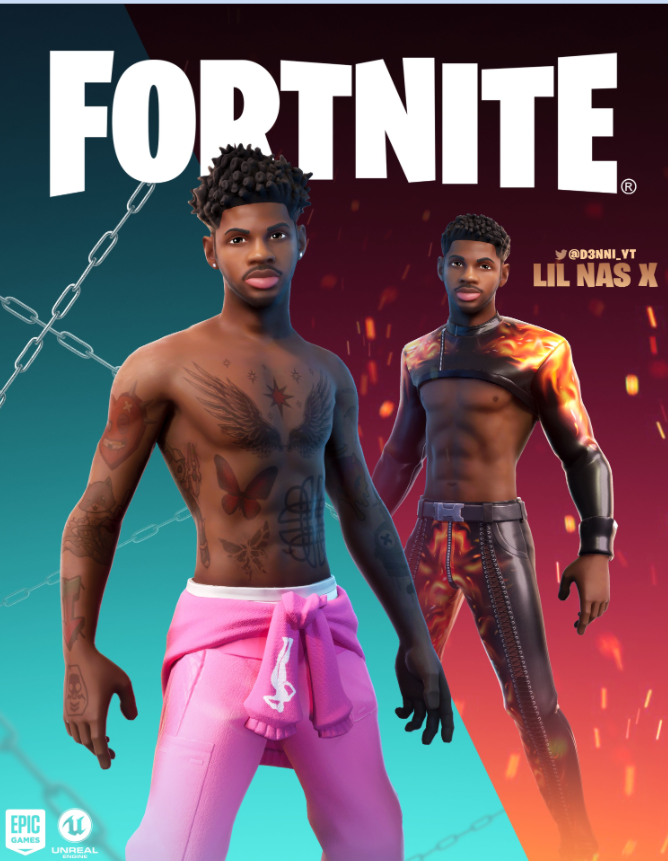 Created by Fortnite Concept Artist @D3NNI_yt
🦻🏽Listen
Trans 20:20s by Studio Voltaire, an arts organisation based in South London, and Gendered Intelligence's podcast series look at life for young trans and non-binary people at the start of the 2020s, hosted by writer and filmmaker, Juliet Jacques.
📺 YouTube
We're obsessed with Ben Platt, it's official. So here is his latest YouTube drop.
📚 Books
The Transgender Issue is a landmark work that signals the beginning of a new, healthier conversation about trans life. It is a manifesto for change and a call for justice and solidarity between all marginalized people and minorities. Shon Faye is an incredible writer, and this latest book from her is no different.
Follow of the week: Yasmin Benoit
Each week we bring you a QueerAF social account to follow to build out our social timelines and burst those filter bubbles.
This week, it's asexual lingerie model @theyasminbenoit who is ace in every sense of the word.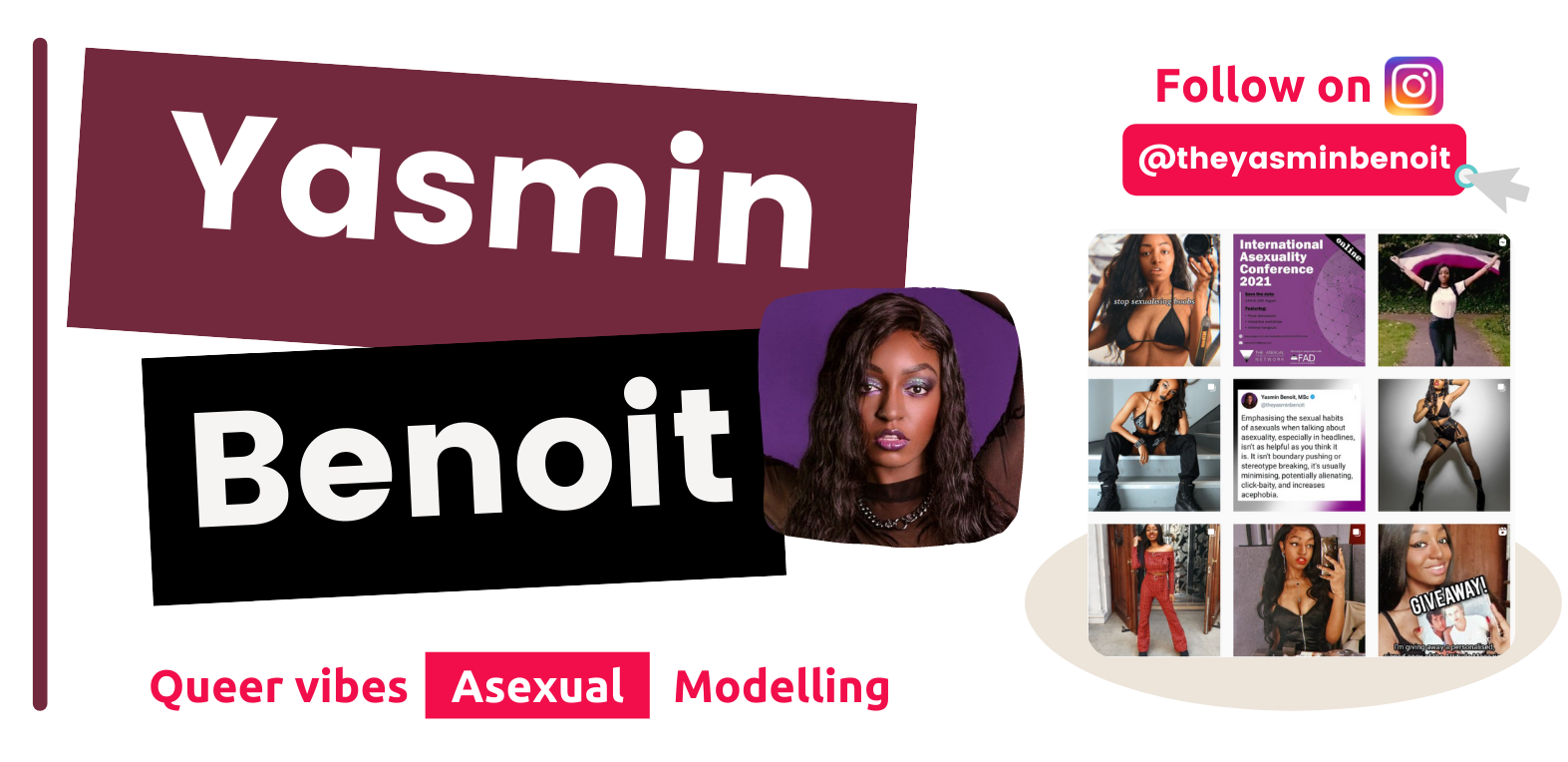 ---
Be more QueerAF 🦄
Thanks for inviting us into your inbox. We're on a mission to help queer creatives kickstart their career, get their first jobs and change the industry so it represents all of us.
If you want to help us change the media, here are three easy things you can do:
Take our one-minute survey to make the newsletter better for our whole community.  Tell us what you did (and didn't) like.
Share our queer emerging creative's work on social (or forward it to a friend). Matilda has an amazing career ahead, and her work deserves to be seen by as many people as possible.
Become a member, so we can fund more emerging and underrepresented queer creatives. And so we can build a community centred platform that works for our community, not advertisers.
Reading on our website, or someone has forwarded this email to you?
Get QueerAF in your inbox for free, every Saturday morning - Subscribe now
With thanks to our developer Grace Hayhurst, for their work on our site.
In pride,
Jamie Wareham - QueerAF Founder