We've partnered with Inclusive Journalism Cymru to run a content series and bring our unique approach to LGBTQIA+ emerging and marginalised journalists in Wales.
QueerAF has partnered with Inclusive Journalism Cymru.
Together we'll run a dedicated series of think pieces as part of a unique set of Queer Gaze commissions - our landmark writing scheme.
The articles will be written by three LGBTQIA+ journalists from Inclusive Journalism Cymru's network.
The Queer Gaze is a space in the QueerAF newsletter to commission emerging and underrepresented queer creatives to get published, receive mentorship, and kickstart your career.
Each commission comes with a unique 'retrospective' sub-editing session designed to put you in control of your article. It will help Welsh LGBTQIA+ creatives build journalistic craft and strategic communication skills. The opportunity is for members of Inclusive Journalism Cymru's network - you can join up here.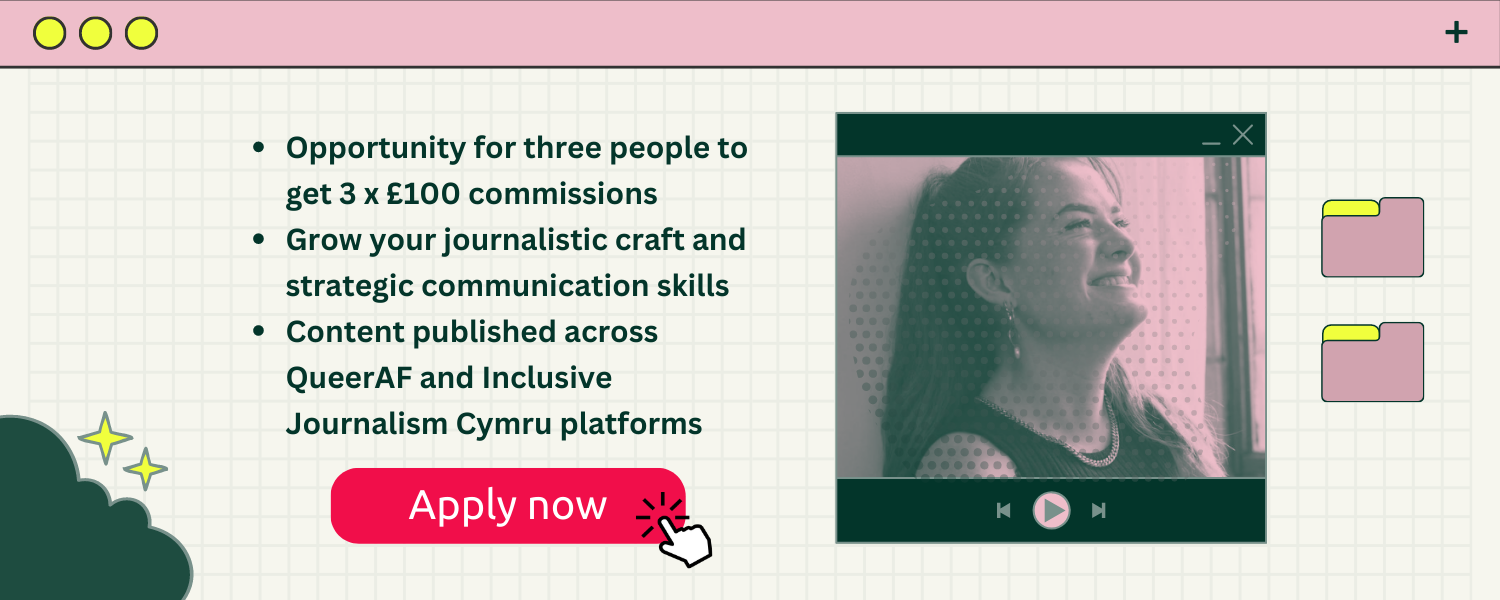 This opportunity is great for writers with little or no experience who want to get into writing and journalism. It's also great for those looking to build their portfolio and hone their craft.
"Our unique sub-editing and skills sessions have been described as 'like therapy, but for your writing," says QueerAF founder Jamie Wareham.
"This exciting partnership will help us continue to model the change we want to see in the media industry by sharing our approach and methods with another organisation doing vital work in this space."
Only when a media industry represents, hires, and understands us – can it help shift the narrative on being queer in the UK.
"As an organisation that stands for togetherness, we're delighted to be partnering with QueerAF, who represent the supportive, sustainable approach to journalism that we're so passionate about," says Inclusive Journalism Cymru's Project Manager, Silvia Rose.
"It's such a valuable opportunity for our members to develop their writing skills, giving them the confidence to keep pitching ideas and share their unique perspectives."
The opportunity
Three LGBTQIA+ journalists from Inclusive Journalism Cymru's network will each be given:
Three QueerAF commissions of a 500-700 word think piece, using the Queer Gaze format - paid at a rate of £100 each
QueerAF's unique 'retrospective' skills-based sub-editing sessions with each commission so you can understand the editing process, grow your journalistic craft and strategic communication skills
Multiple portfolio-building opportunities with content published across QueerAF and Inclusive Journalism Cymru platform
The deadline is August 7th 11:59pm. We'll let you know if you've been successful by August 24th. The first commissions will begin in September.
---
About Inclusive Journalism Cymru
Inclusive Journalism Cymru is a network to protect, support and represent people who've been marginalised or excluded by the journalism industry in Wales. It's open to anyone who feels they or their community has been systemically under-represented in the industry. Together, we're supporting each other and working towards journalism which better reflects society.
About QueerAF
QueerAF is an independent platform launching the careers of emerging and LGBTQIA+ creatives driven by members, not advertisers. As a not-for-profit publisher, we redirect our funds from our weekly newsletter into helping marginalised queer people build a media career, so they can work in the industry - to change it.