I am a journalist which means I read the news a lot. The more I read and watch, the more I wonder; how do I make sense of aging as a queer woman in my 30's in a world obsessed with youth?
I remember this National Coming Out Day in October gleefully reading about Maybelle Blair, a retired pro-baseball player who inspired the recent (glorious) remake of A League of Their Own. She came out as a lesbian this year at the age of 95.
For me, Blair's coming out is an important corrective to the youth-washed queer narratives that are celebrated in mainstream pop culture.
I am not 95 – I am 31. But already I can see that I am aging. Anyone who has dyed their hair, tattooed their skin, or rejoiced or despaired in the cut of a jacket knows that how we look often shapes how we feel.
I have also recently lost the particular comfort and reassurance that comes with a long term (11 year) partnership. I am now a single queer woman in my 30's, in a world that culturally prizes monogamous heterosexual coupling, and youth.
When I look to mainstream film, television, and music, I see straightness and youth extolled as the paragon of a virtuous and worthwhile life.
When I look to queer culture, although I do see people who are more like me, a great many of them are teenagers (Heartstopper, Sex Education), or they give a depiction of queer life that is filled with misery and death (The Favourite, Killing Eve).
But when I look to Maybelle Blair, I see old age. I see queerness. I see fun.
I see a lighthearted person who is full of courage and joy and reports a life well-lived. Blair isn't pretending to be young and now she is not pretending to be straight either. Blair shows me that being old and queer is not at odds with being vibrantly alive.
In her, I see an example of both old age and queerness which gives me hope for my own future.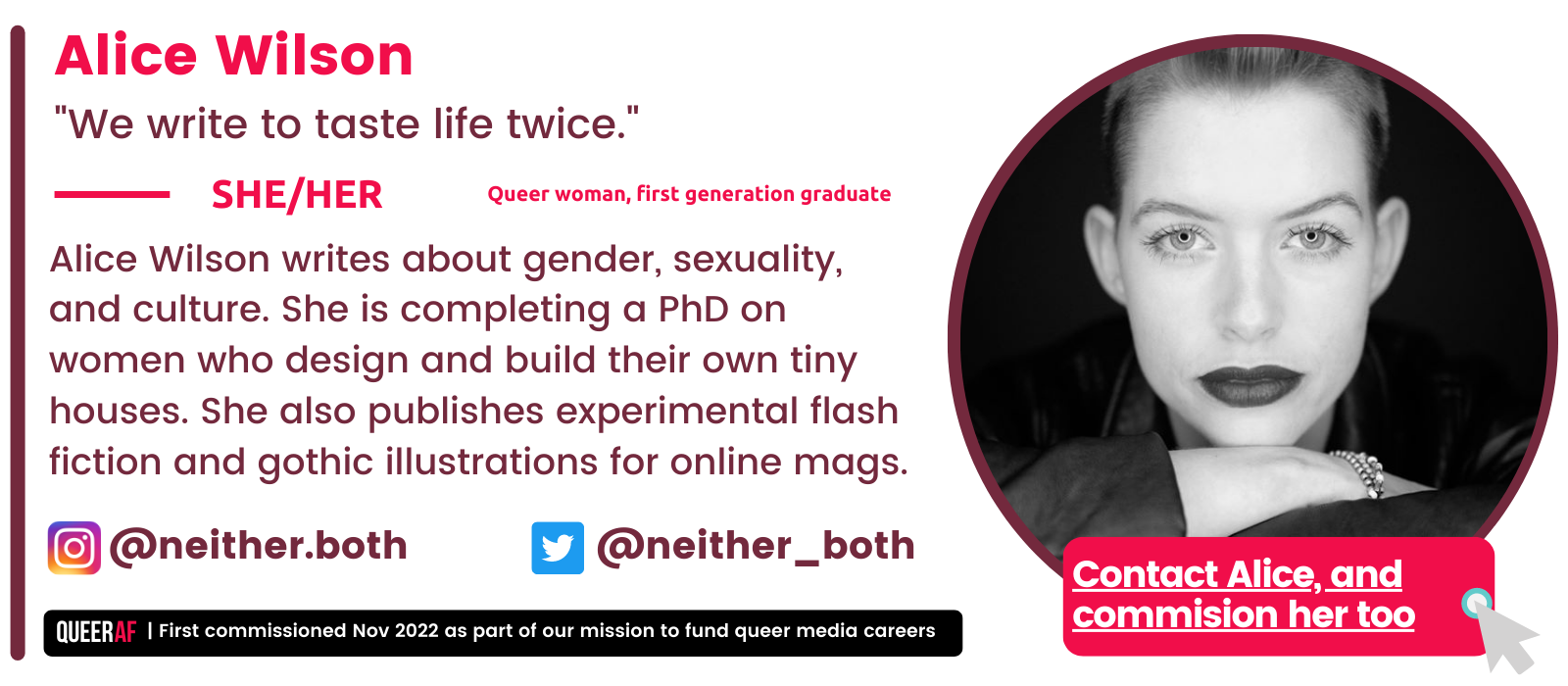 ---
It's different, we know.
The way QueerAF works with contributors is different from most outlets.
When we work with emerging and marginalised writers who want to build their craft we offer them a skills session with every commission.
The session is designed to put them in control of their edit and to help them understand the reasons behind any changes we suggest. Understanding why, not just what, helps them grow their journalistic flair - and get more commissions.
It's been described as "like therapy, but for writing" - and it's helping.
We ask every creative to rate our process. 90% gave us a perfect score on our communication and approach. The retro, our unique way of editing their work, has an average rating of 9.8/10.
But this approach, which means you get free award-winning content from fresh new voices without outside pressures, is only possible with your support.
So why not take a look at what our creatives say about our work, and find out how to become 100% QueerAF?