Emotionally speaking, queer activism can be back-breaking work.
I often find myself finishing a panel, submitting copy, or clicking 'send' on an email and having to pause to let out a deep, deep breath.
As an activist and journalist, I share my lived experience to educate others and help them better understand what it means to be a queer Muslim.
I make myself incredibly vulnerable in the process, without realising in the moment the toll that can take in the long run.
It's like a papercut - you might not even notice in the moment that you're bleeding, but later on, you'll feel that sting, and it hurts.
Then I see the latest on the news, and the stinging worsens. Whether it's another delay on the conversion therapy ban or alarming findings about the public's attitude towards sportswashing in Qatar, each day brings more impending doom, signalling a bleaker future for my people.
But as activists, we plod on, rinse and repeat. By the end of the week I am utterly exhausted. Eventually, I always run out of steam and end up running on fumes.
I'm sure I'm not alone in feeling the toll of activism, and in wanting to change the world. I like to think it's in our queer natures, to do our utmost to make the world a better place, whatever the cost on us personally.
I've likened my dual identity as a closeted queer Muslim to being a superhero. Yet the reality is, I'm not invulnerable or invincible.
That doesn't mean I can't change the world, but I have to start by changing my own outlook on self-care.
That's why when I was the most burnt out I'd ever been about six weeks ago, I took a fortnight out to do absolutely nothing.
No emails, no writing, no pitches. It was hard, and I felt awful for missing a deadline and not getting back to some people in time.
But it was at the advice of my supervisor at Hidayah that made me realise I needed the time out. Most importantly, he told me not to apologise for needing it.
In the words of Audre Lorde, "Caring for myself is not self-indulgence, it is self-preservation, and that is an act of political warfare."
Helpful links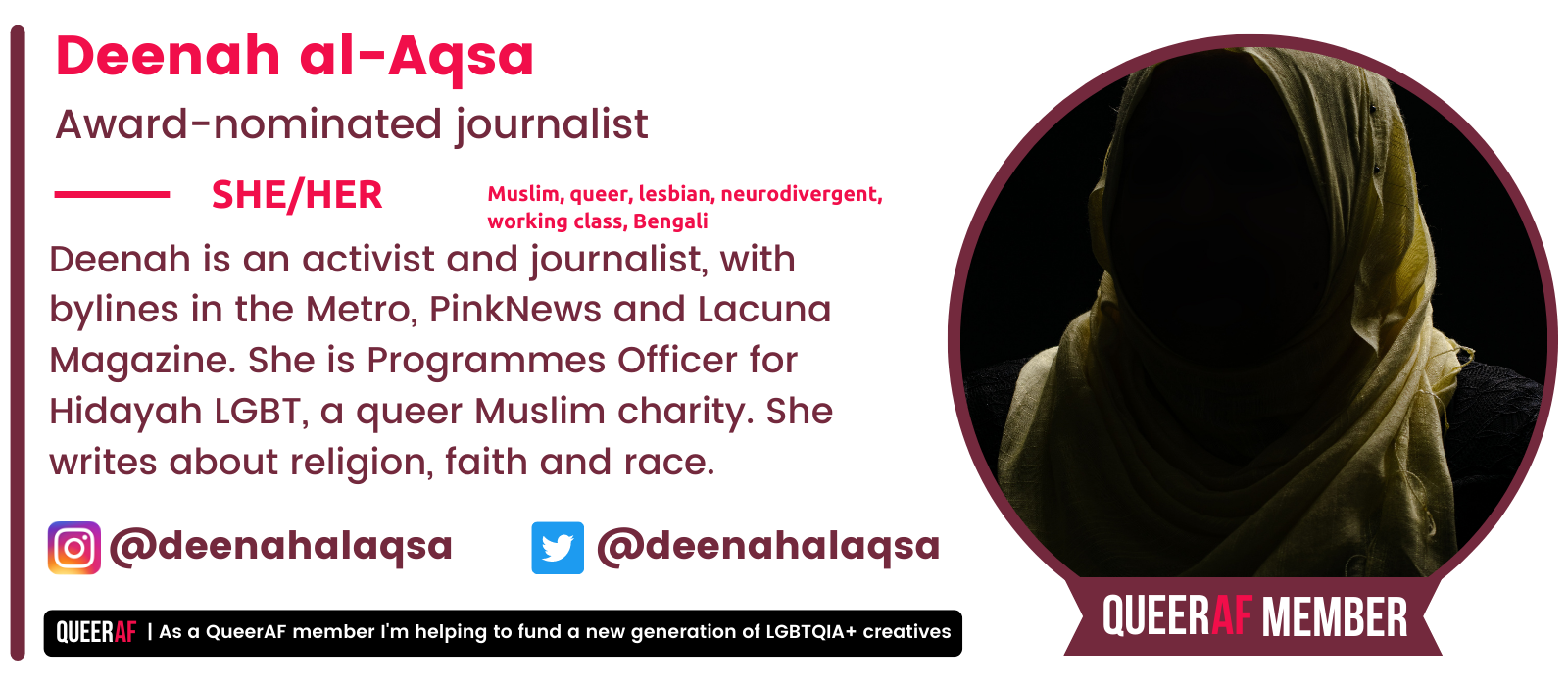 ---
It's different, we know.
The way QueerAF works with contributors is different from most outlets.
When we work with emerging and marginalised writers who want to build their craft we offer them a skills session with every commission.
The session is designed to put them in control of their edit and to help them understand the reasons behind any changes we suggest. Understanding why, not just what, helps them grow their journalistic flair - and get more commissions.
It's been described as "like therapy, but for writing" - and it's helping.
We ask every creative to rate our process. 90% gave us a perfect score on our communication and approach. The retro, our unique way of editing their work, has an average rating of 9.8/10.
But this approach, which means you get free award-winning content from fresh new voices without outside pressures, is only possible with your support.
So why not take a look at what our creatives say about our work, and find out how to become 100% QueerAF?